Iris: The Movie
(2010)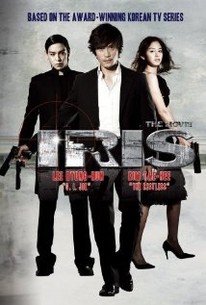 AUDIENCE SCORE
Critic Consensus: No consensus yet.
Movie Info
Hyunjun and Sawoo are both friends and rivals in the Korean 707 Special Forces unit. They are both recruited into a top-secret military agency called NSS and quickly become the best of the best. Their paths are divided as they take on differing, top-secret missions, but cannot avoid running into one another forever. When a beautiful yet lethal specialist with a secret comes between them, they are forced to make their final choice when her secret is revealed.
Critic Reviews for Iris: The Movie
There are no critic reviews yet for Iris: The Movie. Keep checking Rotten Tomatoes for updates!
Audience Reviews for Iris: The Movie
I thought this film was based on the series, ie: like a continuation of it, and not the actual show edited down to a 2-hour film. If I knew this beforehand, I probably wouldn't have bothered watching this film. I've seen about 4-5 Korean TV series. They're, usually, one and done, this series is one of the exceptions as it has a spin-off series AND a sequel series. Each season lasts from about 16-20 episodes that lasts a little over an hour. This series last 20 episodes. Think about that. This is a series about espionage, nuclear strikes, North Korea vs South Korea, a New World Order-type organization trying to influence world events for their own benefit, all that government conspiracy shit...and, with all this information to get out and all these characters they have, they thought it would be a good idea to edit 20+ hours of a show down to a 2-hour film. Of course the film doesn't work. There's just so much information and story to get out in such a limited time span that it's no surprise that the film is an absolute mess. What is given room to breathe and develop in the series is rushed through in the film. There's plenty of characters that don't even get a proper introduction. Like Yuki and that guy that dressed like a priest at the beginning. The main plot of the film is certainly easy enough to understand and follow. It's basically trying to avoid the nuclear bomb from being set off in Seoul and keeping a war between the North and South from happening. You can at least get that from the film, but all the little subplots and everything else that's going on, and there's really a lot of it, is the problem. So much goes on and so much information is expected to be consumed in these 2 hours that you really end up forgetting most of it by the end of the film. It's not that it's hard to keep up with it, again, it's just that there's too much information, developments, betrayals, twists, that it all becomes a little numbing by the end. If you've got two hours left to live, this movie will make them feel like four. There's just things in the film that give it away that you're watching an extremely edited down version of the show. You'll see one character with curly hair and the next scene they're completely bald, for example. It's something minor, but it is noticeable. A haircut isn't really that big of a deal, but the film doesn't really do a good job at showing the passage of time, the series would've definitely done a better job at that. There's no real sense of the timeline in which everything is taking place, which is also a negative. Just all kinds of problems with this film really. Problems that wouldn't have been there if I had just watched the series instead. I may have had other problems with the series, like its melodrama, which is inevitable in a Korean series. Thankfully, that part of the series isn't present here. Well, there's a bit of it...but not much. Yes, the plot is certainly very preposterous, but a lot of espionage films are the same way, so that's not a problem. If you tell a good story with interesting characters, it doesn't matter how preposterous it is, it'll be a good movie/series. Only reason I watched this film was because of Byung-hun Lee, I think he's great and he's very good here as well. But it's clear that there's simply way too much story in the series for it to make the transition to an edited down, 2-hour film smoothly. And you can see that when you watch this film. I can't really imagine how this would appeal to fans of the series. Maybe they just wanted to get fans unfamiliar to the series hooked on it and maybe entice them on checking out the original show. I have no idea, but there's no real reason to watch this film, as it's not particularly good.
Jesse Ortega
Super Reviewer
Iris: The Movie Quotes
There are no approved quotes yet for this movie.