Iron Cross
(2010)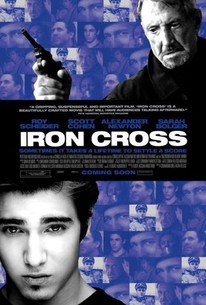 AUDIENCE SCORE
Critic Consensus: No consensus yet.
Movie Info
A retired New York police officer (Roy Scheider, in his final film role) travels to Nuremberg to visit his estranged son, only to find the belated reunion becoming a bitter mission of vengeance. When Joseph's son Ronnie (Scott Cohen) gave up a promising career in law enforcement to marry a pretty artist, his decision tore the family apart. Now, years after turning his back on his only son, Joseph travels to Nuremberg in hopes of reuniting with Ronnie and his family. No sooner does Joseph arrive in Germany, however, than he becomes convinced that the same SS commander who killed his family during World War II has adopted a false name and now lives in the apartment above his son. Realizing that the chances of seeing the former officer stand trial are slim to none, Joseph convinces Ronnie that his neighbor is not whom he appears to be, and together they prepare to exact bloody justice. Meanwhile, a mysterious woman named Gaby with her own secret agenda appears seemingly out of nowhere, sparking Joseph to recall his teenage romance with a heroic Polish girl named Kashka, who narrowly helped him to escape the massacre that claimed his entire family.
Rating:
NR
Genre:
,
Directed By:
Written By:
In Theaters:
Studio:
Critic Reviews for Iron Cross
All Critics (2) | Top Critics (1) | Fresh (1) | Rotten (1)
Writer-director Joshua Newton's portentous revenge drama wants to say something meaningful about retribution and forgiveness but is overwhelmed by its own sense of dour significance.

What he's achieved here is a beautifully crafted movie likely to have audiences talking long afterward.

Audience Reviews for Iron Cross
½
Unfortunately, Iron Cross was only in the theater for a week or so in LA, and I think that was just to put them up for Oscar contention. I'm a big fan of Roy Scheider's, and I had heard some of the buzz about his final performance. It was absolutely worth sitting in that little West Hollywood theater to see this film. The movie is gripping, emotional, moving, and suspenseful. Roy Scheider's acting is absolutely terrific. He plays what must have been an extremely difficult character, aging and plagued with these nightmares he has of the nazis responsible for the murder of his entire family. He plays the character with such subtlety and intensity. And Zander Newton, who I think is the director's son, is impressive as the younger version of Scheider's character. He seems to resist the urge to chew the scenery during the love scenes with Sarah Bolger, or afterwards when he vows revenge. I read somewhere that people think he's the next Robert Pattinson, but I don't really see the resemblance. The other person who really stood out to me was Scott Cohen as Roy Scheider's son. I hadn't seen him before, but he really stands out. I wish I could give more details, but I saw it a couple months ago. It just really stuck out in my mind. I will say that the editing was a little choppy at times, and some of the music seemed like it was from CSI or something. But otherwise, this was a super cool thriller. See it!
larry barkowitz
Iron Cross Quotes
There are no approved quotes yet for this movie.