Chinese Iron Man
(1975)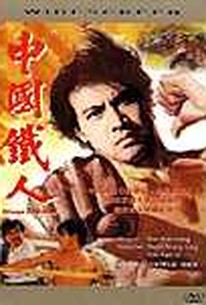 AUDIENCE SCORE
Critic Consensus: No consensus yet.
Movie Info
A Chinese Boxing student's fighting skills prove too powerful for his own good in this rousing kung fu revenge flick. Despite his status as a lowly student at the Chung Hwa Chinese Boxing Gym, Leung Siu-Fu nevertheless challenges and defeats a fearsome Japanese Judo instructor and his students when he finds them harassing an innocent waitress in a local restaurant. The embittered teacher soon seeks out Sui-fu to teach the powerful youngster a lesson, and in the ensuing battle many of his students lose their lives. As the police begin to close in on Sui-fu, he must remain stealthy if he is to retain his freedom. ~ Jason Buchanan, Rovi
Rating:
NR
Genre:
,
Directed By:
On DVD:
Runtime:
Critic Reviews for Chinese Iron Man
There are no critic reviews yet for Chinese Iron Man. Keep checking Rotten Tomatoes for updates!
Audience Reviews for Chinese Iron Man
[font=Arial Narrow][size=4]I absolutely loved watching this movie. So enjoyable to watch, especially with RDJr. playing the role. Incredible action, a decent villain in the end, and a damn cool suit if you ask me! Can't wait for the DVD![/size][/font]
James Lays Bad
[color=black]To say that I enjoyed this movie would be an understatement. From the very start, [i]Iron Man[/i] grabbed me by the arms and told me "here, let's take a fun ride." It sure was a fun ride. The movie is well executed, the dialogue is witty and flowy, the camera angles superb, the music rocks and the actors deliver. Some people may critic the [i]Transformerish [/i]special effects, but not me. Oh, no...I want that house, and I want that suit. Most of all, I want Tony Stark. RDJ has never been better or seemed more in his element with a character. Good for him and good for us. Too much talent to let it go to waste. Paltrow and the rest are also very good, and her chemistry with RDJ sparkles. And to Jon Favreu, man, keep making movies please. Thank you for respecting our intelligence and our money and honor us with such an excellent film. [/color]
Ro Me
I went to go to see Iron Man Thursday with my daughter and her school friend. That is what they wanted to see. Because my daughter is in her mid-teens, for once, I ask her and her friend to sit somewhere else. I don't like to be distracted when I watch movies at $7.50 a pop and the last thing I want to hear is two chatty teen-aged girls during a movie. Any way, I thought the movie was great. I have read many a comic book while growing up, and Iron Man was one of my favorites. I liked how they modernized the movie plot to fit the story to present day. I enjoyed the character development and included some references to the comic book stories. Of course, Stan "[url="http://en.wikipedia.org/wiki/Excelsior"][u][color=#0000ff]Excelsior![/color][/u][/url]" Lee had a cameo as a [url="http://en.wikipedia.org/wiki/Hugh_Hefner"][color=#0000ff]Hugh Hefner[/color][/url]-like character. Too bad Jack "The King" Kirby has passed on (Died 1994). I think he would be proud. Stan Lee and Jack Kirby, along with Larry Lieber and Don Heck, created Iron Man for Marvel Comics. Other movie items I liked were the special effects and the "Super Hero" scenes. "Super Hero" is short for saving the innocent from evil, fighting super villians, overcoming personal shortcomings, etc... I would recommend others to see it if they are a comic book fan or like the action. 'Nuff Said!
Kent Bierley
Chinese Iron Man Quotes
There are no approved quotes yet for this movie.