Ironweed
(1987)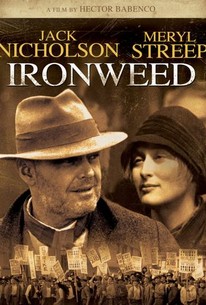 Movie Info
Based on the William Kennedy novel of the same name Ironweed is set in the waning years of the Depression. Jack Nicholson plays Francis Phelan, a washed-up ballplayer (a onetime infielder for the Washington Senators) who deserted his family back in the 1910s when he accidentally killed his infant son by dropping him. Since that time, Phelan has been a shabby barfly, living from drink to drink; he spends his days palling around with Rudy (Tom Waits), with whom he works a motley series of jobs in exchange for a place to lay his head and an occasional jug of wine. Wandering into his hometown of Albany, New York, Phelan blearily seeks out his girlfriend and erstwhile drinking companion of nine years, Helen Archer (Meryl Streep), who has begun prostituting herself for drink and lodging. The two derelicts touch base in a mission managed by minister James Gammon, and later in Fred Gwynne's squalid gin mill. Over the next few days, Phelan takes a few minor jobs to support his habit, while his mind wavers between past and present. Eventually, a chance for a reconciliation with his wife (Carroll Baker) emerges. Directed by Hector Babenco following his enormous success with Kiss of the Spider Woman , Ironweed netted Oscar nominations for Nicholson and Streep.
Critic Reviews for Ironweed
Audience Reviews for Ironweed
Nicholson and Streep simply just can't do it. What a tragedy for the finest actors of their generation. The script writer is at fault as this film bobs and weaves out of the control of its leads.
John Ballantine
Super Reviewer
Brilliantly acted but profundly sad. A sense of gloom hangs heavily over the entire film.
½
An utterly heartbreaking film about the people on the very fringe of society in the 1930s. It features one of the best performances Jack Nicholson has ever given. It allows him to have the crazy angry moments he is known for as well as the more subdued that he is also very good at. Meryl Streep is her usual fantastic self here and she makes you cry with just a facial expression. Outside of their performances its a powerful exploration of the fact that "bums" are not just bums. They have stories and lives that are just as important as everyone else. As Nicholson's character says, "Before they were bums they were somebody."
Alec Barniskis
Super Reviewer
Ironweed Quotes
There are no approved quotes yet for this movie.
Discussion Forum
Discuss Ironweed on our Movie forum!