Is Paris Burning? (Paris brûle-t-il?)
(1966)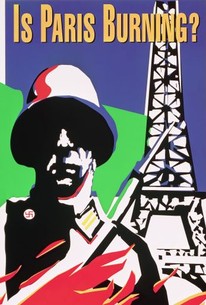 Is Paris Burning? (Paris brûle-t-il?) Photos
Movie Info
In 1944, with Paris on the verge of Liberation by the allies, Adolph Hitler ordered that the City of Light be blown up and burned to the ground. General Dietrich Von Choltitz, after much rumination, decided that he didn't want to go down in history as the man who destroyed Paris. His refusal to follow Hitler's orders would make him a pariah in Germany for the rest of his life; nor was his gesture ever rewarded by the Allies. From this very human story in the midst of one of the most inhuman conflicts in history grew the screenplay (by Gore Vidal and Francis Ford Coppola) of the all-star, internationally produced Is Paris Burning? Whereas the earlier The Longest Day was able to support a castful of celebrities and brief subplot vignettes, Is Paris Burning? seems more weighted down than weighty. Still, a modern audience will have fun playing "spot the star" throughout the film, especially when those spotted stars include the likes of Gert Frobe (as Choltitz), Jean-Paul Belmondo, Alain Delon, Kirk Douglas (as Patton), Glenn Ford (as Bradley), Yves Montand, Simone Signoret, Robert Stack, and even Anthony Perkins as a wide-eyed GI. Filmed on a gargantuan scale, Is Paris Burning? was based on a book by Larry Collins and Dominique LaPierre. The film was lensed in black and white, save for the Technicolor finale (in the original road-show prints).
Rating:
NR
Genre:
, ,
Directed By:
Written By:
In Theaters:
On DVD:
Runtime:
Studio:
Paramount Pictures
Critic Reviews for Is Paris Burning? (Paris brûle-t-il?)
All Critics (5) | Fresh (4) | Rotten (1)

Filme loooooongo sobre os últimos dias da ocupação nazista em Paris, é recheado de pontas célebres, mas seu ufanismo acaba tornando-o lento, repetitivo e cansativo.

Audience Reviews for Is Paris Burning? (Paris brûle-t-il?)
½
This probably works better if you were raised knowing exactly what happened here. I read the book this was based on years ago and I had trouble following it. That's largely because there's no real narrative behind it, just a series of events happening at once. The closest thing to a central arc is Gert Fröbe (Goldfinger)'s Choltitz and his gradual decision to disobey Hitler's orders and not burn Paris. This could have been focused on more or they could have given the resistance fighters more of an individual focus. The last half of the film is especially odd since it features a long march into Paris which doesn't feature much fighting in the end. Mostly they get there and party. Which is exactly what I'd do, but it doesn't make for exciting cinema. Some of the large scale scenes in Paris were impressive though, and unlike anything I've seen before. They also have a few bizarre casting choices, such as Kirk Douglas for General Patton. When they revealed who he was supposed to be I couldn't help laughing.
Stuart McCunn
Nominated for 2 Academy Awards. A significant departure from the usual Hollywood style, this French (Paramount) film has substance (grit). You know right away that the Germans plan to destroy the city despite its non-strategic value. In black and white, it continues from the opening footage of WWII Paris. You will recognize soon that Gert Fröbe (from the James Bond "Goldfinger") plays the role of the new German general assigned by Hitler himself to destroy Paris. [img]http://static.programmes-cinema.com/photos/37/143873.jpg[/img] Is Paris Burning? is a 1966 film, starring an ensemble cast, about the 1944 liberation of Paris by the French Resistance and the Free French Forces during World War II. [img]https://encrypted-tbn3.gstatic.com/images?q=tbn:ANd9GcQ3TjO8WtOAMV7K9jFl05ePF8XizXUn-QjxphXld-w9tyfkp_0M[/img] The new general arrives in Paris There is a barely human portrayl of the typical German staff when they find out the destruction of the city is imminent. Of course the portrayl is not the stereotypical one, i.e. the propaganda one you would expect. [img]https://encrypted-tbn2.gstatic.com/images?q=tbn:ANd9GcQQ8GYUhubOZx0v-_qMgEkp74W-i3SkZI8EwAt-L6auTcpc1LrG[/img] Actually, the newly assigned general obeys (but later disobey's) and his subordinate is baffled by the destruction they plan for the city. NOT because it's wrong, immoral or inhumane, but because there is no strategic value to doing so. [img]http://3.bp.blogspot.com/_94wGm5Prdv0/SfNqkz0-6mI/AAAAAAAACcE/TUFABoOfMII/s400/Leslie+Caron,+Orson+Welles+is-paris-burning-26-10-1966-86-g.jpg[/img] Orson Welles So I guess these guys are "beasts" after all. At any rate, Hitler is so upset with the city he orders it destroyed to deny the Allies the satisfaction of recapturing it. So Hitler didn't feel Paris was his beloved city either. (Paris wasn't particularly my beloved city either in "Casablanca" for reasons purely romantic.) The title, Is Paris Burning?, is a reference to a phone call late in the film from German High Command to Paris to ask "is Paris burning?", anticipating orders were obeyed. Music soundtrack by legend Maurice Jarre (Lawrence of Arabia). SEE the entire film (with Japanese subtitles no less) as that's the only complete version I could find: http://www.youtube.com/watch?v=chOURTnEz1U [img]https://upload.wikimedia.org/wikipedia/en/thumb/0/02/Paris1324.jpg/220px-Paris1324.jpg[/img] REVIEWS by the unpaid: 80% IS PARIS BURNING? (1966) 70% Kind of Propaganda-y The history of Paris in World War II is not half so simple as this film would have you believe. 50% It's a shame that a version of "Is Paris Burning?" with the original multi-language soundtrack isn't available in one form or another. NOTES for the noteworthy: 1 The film is based on the best-selling book by Larry Collins and Dominique Lapierre and was directed by René Clément, from a screenplay by Gore Vidal and Francis Ford Coppola. 2 The film was shot in black and white primarily because, although the French authorities would allow swastika flags to be displayed on public buildings for key shots, they would not permit those flags to be in their original red color; they were made in green for the film. 3 The film was nominated for two Academy Awards: Best Art Direction (Willy Holt, Marc Frédérix,Pierre Guffroy) Best Cinematography (Marcel Grignon) 4 After learning that the Germans plan to destroy Paris (the Eiffel Tower and other landmarks are rigged with explosives), a messenger from the Resistance is sent across enemy lines to contact the Americans. CAST Alain Delon as Jacques Chaban-Delmas Jean-Paul Belmondo as Morandat/Pierrelot Charles Boyer as Monod Gert Fröbe as Gen. Dietrich von Choltitz Leslie Caron as Françoise Labe George Chakiris as G.I. in tank Jean-Pierre Cassel as Lt. Henri Karcher Anthony Perkins as Sgt. Warren Kirk Douglas as Gen. George Patton Simone Signoret as Cafe proprietress Orson Welles as Consul Raoul Nordling Glenn Ford as Gen. Omar Bradley Yves Montand as Marcel Bizien Robert Stack as Gen. Edwin Sibert Marie Versini as Claire Morandat Skip Ward as GI with Warren Bruno Cremer as Col. Henri Rol-Tanguy Claude Dauphin as Colonel Lebel Pierre Dux as Parodi/Cerat Daniel Gélin as Yves Bayet Michel Piccoli as Edgard Pisani Sacha Pitoëff as Frédéric Joliot-Curie Claude Rich as Gen. Jacques Leclerc Directed by René Clément Produced by Paul Graetz Written by Gore Vidal Francis Ford Coppola Starring Kirk Douglas Glenn Ford Gert Fröbe Yves Montand Jean-Paul Belmondo Robert Stack Alain Delon Music by Maurice Jarre Cinematography Marcel Grignon Editing by Robert Lawrence Distributed by Paramount Pictures Release date(s) 26 October 1966 (France) 10 November 1966 (United States) Running time 173 minutes Country France Language French [img]http://annyas.com/screenshots/images/1966/is-paris-burning-title-screen.jpg[/img]
monsieur rick
Snore. Like a really boring history lesson with corny theme music and the same shots over and over... the cameos are amusing but not nearly enough to hold up the movie. Also I find it unacceptable to have a WW2 film about occupation that doesn't even /allude/ to all of the Jews that were kicked out before the French decided to resist. Overall it's not a terrible film, it's just about an hour and a half too long and has no interesting characters. Wasted talent.
Jenna Ipcar
Is Paris Burning? (Paris brûle-t-il?) Quotes
There are no approved quotes yet for this movie.
Discussion Forum
Discuss Is Paris Burning? (Paris brûle-t-il?) on our Movie forum!