Island in the Sun
(1957)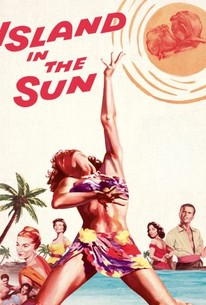 AUDIENCE SCORE
Critic Consensus: No consensus yet.
Movie Info
Featuring splendiferous on-location cinematography, this dramatic adaptation of Alec Waugh's novel tells the story of Caribbean lives torn assunder by passion and racism. The story begins amidst a political race for control of the island between James Mason, the white, wealthy son of a prominent family and Harry Belafonte, a powerful black union leader. It is a close race. While Mason plots to exploit rumors that he is part black to his advantage, Belafonte begins an affair with a white woman, Joan Fontaine. Meanwhile, another white man begins a relationship with Belafonte's ex-girl friend Dorothy Dandridge and Mason's little sister Joan Collins dreams of marrying Stephen Boyd, the son of the governor and to this end allows herself to get pregnant. When Mason begins fearing that a snooty wanderer has been dallying with his wife, murder is added to the steamy brew.
Rating:
NR
Genre:
,
Directed By:
Written By:
In Theaters:
On DVD:
Runtime:
Studio:
20th Century Fox Film Corporation
Critic Reviews for Island in the Sun
All Critics (2) | Fresh (1) | Rotten (1) | DVD (1)
Rossen (Oscar winner for All the King's Men) may not have been the right director for such a juicy and colorful ensemble melodrama, which at the time was considered audacious and controversial due to its handling of interracial relationships.

Daring for its era, but creaky and unintentionally funny today.

Audience Reviews for Island in the Sun
½
now seems hokey and contrived. the points of the story line are clear enough but the acting is over dramatized and stodgy. mason is particularly dreadful. scenery is well shot and holds the film together as does john Williams' character.
bob weakley
A Bit Muddled, But Awfully Pretty Apparently, Joan Fontaine got a fair amount of hate mail after the release of this movie because she played a woman in a romantic relationship with Harry Belafonte. The letters suggested that, if she was hard up enough to take the part, she might need the dimes and nickels enclosed in the letters. It seems implausible at best, even leaving aside what is said to be near-identical phrasing, that this could have been the idea of a lot of individuals. Having seen the movie, it strikes me as more notable that she played such a small role in it. It's an ensemble piece, but her character is one of the least important in the story and really only serves to highlight certain hypocrisies which exist in both movie and real world. The fact that she was ten years older than Harry Belafonte also seems to have passed without notice, or at any rate wasn't deemed important enough to make the IMDB page. The island of Santa Marta, like so many colonies of the day, is in the process of gaining its independence. This, of course, leads to conflict between the white landowners and British officials, represented by Maxwell Fleury (James Mason), and the black workers, represented by David Boyeur (Belafonte). We are told at the beginning of the movie that some ninety percent of the population has at least some African ancestry, and this turns out to include the Fleury clan. It is revealed that old Julian Fleury (Basil Sydney) is the son of a mother who was one quarter black. This leads to concern that perhaps Jocelyn Fleury (Joan Collins) will not be deemed suitable to marry Euan Templeton (Stephen Boyd), son of the governor (Ronald Squire). The governor's secretary, Denis Archer (John Justin), has fallen in love with Margot Seaton (Dorothy Dandridge), a beautiful local girl formerly wooed by Boyeur, who is also captivated by the lovely Mavis Norman (Fontaine), related by marriage to the Fleurys. And so on. It's a huge soap opera. Max thinks his wife, Sylvia (Patricia Owens), is having an affair. There's Hilary Carson (Michael Rennie), the man Max suspects. There's the whole thing about the new government. This came out at about the same time as [i]Peyton Place[/i] (we'll get to it), and there seems to have been a fad at the time for dense, racy pictures wherein a lot of attractive people have complicated relationships with one another. Like [i]Peyton Place[/i], this contains an unwanted pregnancy, though of course whose it is could have been a lot more daring. Actually, the book version of [i]Peyton Place[/i] even includes a multiracial couple, and this movie has several. (The [i]Peyton Place[/i] one is historical and never appears in anything approaching the time of the story.) Both stories also have class issues as an important feature, though change is coming to Santa Marta much faster than to Peyton Place. At the beginning, we are set up to expect Harry Belafonte to end up with Dorothy Dandridge, and that certainly would have been the safe way to go. To be honest, though, it's hard to imagine anyone finding either unattractive who didn't have, let us say, issues with their heritage. Dorothy Dandridge in particular was just stunning. It is said of her that she could have been a true star if she'd been born just twenty years later, and it's true that she is sadly forgotten today--was before she died, which she did too soon. (She is now believed to have been bipolar, which explains a lot.) In 1965, when she died, it was impossible to think of a black actress as being a big name to white people other than as, say, the Hattie McDaniel type. I'm not sure he'd agree with this statement, but Harry Belafonte has had it relatively easy. He gets a speech at the end about how a black man can't walk into a high-class gathering with a white woman, but a black woman couldn't have walked in unless she [i]was[/i] with a white man. Or else serving drinks. The consensus about this movie seems to be that it's beautiful but kind of dull. I, personally, have always been fond of James Mason histrionics, and Joan Collins was ravishing when she was young. The [i]Crime and Punishment[/i] references are almost enough for me to wish I'd finished it. (Almost.) I admire the courage in letting at least one interracial couple stand--and in the fact that Sylvia Fleury does not seem to care that her husband turns out to have a black great-grandmother. Her problems with her husband have a lot more to do with his personal weakness than anything else. However, all that said, this movie is indeed beautiful but kind of dull. There's only so much melodrama I can take, and this movie is ripe with it. It's also one of those movies trying to say something important but feeling the need to draw attention to itself with sex first. Only the sex is pretty tedious and understated. You almost wouldn't know anyone had any.
Edith Nelson
60/100. Another one of those in the middle movies. It's very well produced, the art direction is quite interesting. Beautiful cinematography and the Carribean setting makes it more quite beautiful. (Barbados mostly, and Grenada). The story is just too melodramatic though, as are the performances. The score is a little overdone at times as well. Good costumes. A waste of the lovely Joan Fontaine.
James Higgins
Island in the Sun Quotes
There are no approved quotes yet for this movie.
Discussion Forum
Discuss Island in the Sun on our Movie forum!