Island of Doomed Men
(1940)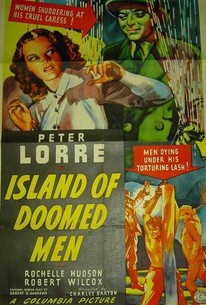 AUDIENCE SCORE
Critic Consensus: No consensus yet.
Island of Doomed Men Photos
Movie Info
Following in the footsteps of Boris Karloff and Charles Laughton, Peter Lorre turns sadist in this routinely made but efficient little potboiler from Columbia Pictures. Lording over Dead Man's Island where he uses paroled convicts as slaves, Stephen Danel frames G-Man Mark Sheldon (Robert Wilcox) for murdering a colleague and then arranges for the convict's transfer to the island. Mark immediately becomes attracted to Danel's glamorous wife, Lorraine (Rochelle Hudson), beautifully gowned and bejeweled but like the slaves, a caged bird susceptible to her husband's rages. With the assistance of Cort (Charles B. Middleton), the two attempt to escape, but are eventually caught by Danel's spy, Brand (Don Beddoe). Happily, when all seems lost, the sadistic Stephen is killed by one of his own men, the disgruntled Siggie (George E. Stone). Although most of Island of Doomed Men was produced on sound stages, some scenes were filmed at famous Bronson Canyon in Los Angeles' Griffith Park.
Critic Reviews for Island of Doomed Men
There are no critic reviews yet for Island of Doomed Men. Keep checking Rotten Tomatoes for updates!
Audience Reviews for Island of Doomed Men
Island of Doomed Men (Charles Barton, 1940) Pretty amazing that you could get away with this sort of thing as late as 1940, though they did soften the racist blow by having the male lead be white (and, of course, devastatingly handsome); uneasy undercurrents watching it today, but it's still surprisingly compelling. Much of this, of course, is down to Barton, one of the best-loved directors no one's ever heard of; he helmed this while in the middle of his first much-beloved film series (the Five Little Peppers movies), then went on to be a late addition to one of early filmdom's biggest franchises, Abbott and Costello. Barton directed what may be their best-remembered movie, Africa Screams, before turning to television, where he was synonymous with some of the iconic shows from the fifties and sixties (including Hazel, Dennis the Menace, McHale's Navy, and Petticoat Junction) before ending his career topping them all with Family Affair. And where does this sordid little prison romance fit into all that? I'll let you figure it out, because I haven't. Stephen Danel (Peter Lorre) is an humanitarian, of sorts. He likes to hire people who are just being paroled from prison. What he never tells the prison officials is that he takes them back to the island where he lives, chains them up, and makes them slaves in his mines. His wife Lorraine (Rebel Without a Cause's Rochelle Hudson) is also there on the island, just as trapped as any of the prisoners, but she sees a possible way out when her husband brings back wrongly-convicted Mark Sheldon (The Man They Could Not Hang's Robert Wilcox), a guy who's got that kind of jaw that says "I'm not going to take any of this guff." Sure enough, as soon as Sheldon finds out what's really going on on this little island paradise, he starts trying to organize slaves and overseers alike into a mob to overthrow their tormentor, all the while passing love notes back and forth to Mrs. Danel through a house servant. It's shallow, it's unintentionally funny, it's ludicrous, and it's a great time. At only a little over an hour, it's not like you're putting a huge time investment into it, either. Lorre chews scenery with the best of them, Wilcox stands around and looks grim when he's not evangelizing, and Rochelle Hudson has a great look of trepidation. Which is good, since it's the only look she wears in about three-quarters of the scenes she's in. All well and good, and watchable to boot. If you want to do more thinking about it, mull over how the painfully obvious pro-union message would have been received ten or twelve years later. (I'm half-surprised Barton didn't get blackballed.) Otherwise, just sit back and turn your brain off. ***
Robert Beveridge
Island of Doomed Men Quotes
There are no approved quotes yet for this movie.
Discussion Forum
Discuss Island of Doomed Men on our Movie forum!