Island of the Dead
(2000)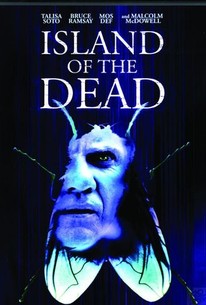 AUDIENCE SCORE
Critic Consensus: No consensus yet.
Island of the Dead Photos
Movie Info
A man who fails to respect the dead pays a high price for his arrogance in this horrifying thriller. For decades, the city of New York has buried the bodies of the unknown and the destitute on Hart Island, a tiny slip of land near the Big Apple's harbor, with inmates from a nearby prison on hand to do the labor. Now, multi-millionaire land developer Mr. King (Malcolm McDowell) has decided to buy the island and build a resort. King scoffs when he's told it's bad luck to disturb the resting place of the dead, but he soon learns there's a kernel of truth in their warnings -- Hart Island is also home to huge swarms of disease-carrying flies, and when King, his associates, and a crew of prisoners are trapped on the island, there's no telling if they'll make it out alive as the insects try to claim the humans as their prey. Island of the Dead also stars Bruce Ramsay, Talisa Soto, and hip-hop artist Mos Def.
Critic Reviews for Island of the Dead
All Critics (1) | Fresh (0) | Rotten (1)
If it wasn't for Malcolm McDowell slumming in this B film, it would have been a lot worse than just a bad film.

Ozus' World Movie Reviews
Audience Reviews for Island of the Dead
This has nothing to do with zombies but evil flies that terrorize a greedy businessman a cop and a convict all staying on this island for different reasons...Insepid comes to mind.
Michael Anthony
Freakin ridiculous! If anyone owns a copy of this, take it and burn it. Wait, first spit on it then burn it. I borrowed this copy and will strongly advise the owners to dispose of this in the proper manner.
Michelle Draper
For starters, if you are expecting a zombie film, then you will be totally disappointed as I was. Island of the Dead features a somewhat promising premise about the desolate island where unclaimed bodies from NYC are buried. Somehow, the the film got Mos Def to not only act in but also offer music for the film. Plus, Malcolm McDowell's in it.....Ultimately, the film never quite makes sense as it opens like a television series about missing persons, becomes a film about corporate takeovers of mass graveyards, and then becomes a bizarre kind of creature-feature in which mutant flies turn people into the lamest zombies ever. A real piece of crap from beginning to end, Island of the Dead thinks it is way cooler and artistic than it is.....
Al Miller
Island of the Dead Quotes
There are no approved quotes yet for this movie.
Discussion Forum
Discuss Island of the Dead on our Movie forum!