Istoria 52 (Tale 52)
(2008)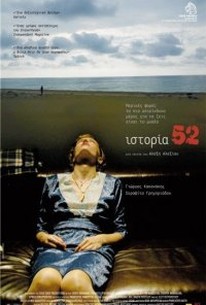 AUDIENCE SCORE
Critic Consensus: No consensus yet.
Movie Info
Love leads to madness when an unstable man falls for an unsuspecting woman in this thriller from Greece. Iasonas (Giorgos Kakanakis) is throwing a party one evening when a friend introduces him to Penelope (Serafita Grigoriadou); the two quickly hit it off and soon she's sharing his home. However, before long it becomes obvious that something isn't quite right -- each of them tends to see things in different ways, Iasonas has a hard time making his memories skew with what has actually happened, and tension between them reaches the boiling point. But when the relationship finally explodes into violence, what actually happens between Iasonas and Penelope? Istoria 52 (aka Tale 52) was the first feature film from writer and director Alexis Alexiou.
Critic Reviews for Istoria 52 (Tale 52)
All Critics (2) | Top Critics (1) | Fresh (1) | Rotten (1)
Freshman helmer Alexis Alexiou enters into the fevered mind of a schizophrenic man in the meticulously crafted thriller Tale 52.
apostasi toy senarioy ap' ti skinothesia pou megalonei oloena, ospoy na ftasei sto hasma poy metatrepei tis epiblitikes ki entyposiakes eikones, se epideiksiomania dihos antikrisma
Audience Reviews for Istoria 52 (Tale 52)
½
A maze of a film which thankfully the moment it starts to feel that your are aimlessly going in circles it starts to really bring new dimensions and questions that cannot and will not be explained. A young Lynch in the making?
Nicolas Korovessis
Super Reviewer
Istoria 52 (Tale 52) Quotes
There are no approved quotes yet for this movie.