It Came from Hollywood
(1982)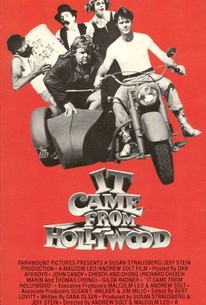 AUDIENCE SCORE
Critic Consensus: No consensus yet.
It Came from Hollywood Photos
Movie Info
Latter-day comedy stars like Dan Aykroyd and John Candy host this compilation of clips from Hollywood's most famed bad movies, including Plan 9 From Outer Space, Untamed Women and Robot Monster.
Critic Reviews for It Came from Hollywood
There are no critic reviews yet for It Came from Hollywood. Keep checking Rotten Tomatoes for updates!
Audience Reviews for It Came from Hollywood
You might remember this one from the early 80s playing a bunch on HBO. A love letter to b movies of all types by SNL and SCTV alums. Breaks down the genre into sub-genres like Brains, Gorillas and Aliens. Also features a loving tribute to the King of B Movies, Ed Wood well before Tim Burton's film. Each sub-genre is covered by a different comedian, like Cheech and Chong covering giant and tiny people movies and Gilda Radner covering gorilla movies. Has tons of clips of obscure and funny films ranging from the 50s to the 70s. This is the biggest reason this has not yet had a DVD release: the rights nightmare movies like this create. Also a kind of precursor to Mystery Science Theater 3000, taking a bad movie and making a joke about it's ineptness. I have asked the folks from MST3K , on several occasions, and they claim that this was not a direct influence on the show, but they enjoyed this once they saw it. They are nice folk and I believe them. If you like MST3K and or bad movies, this is one to seek out. I say seek out because it is not yet available on DVD (rights issues) and might never be. VHS copies were released and you can find them occasionally on eBay. I got one several years ago and don't regret it at all, even if it was a bit pricey.
Jon Wagner
A precursor to MST3K, this features clips of some of the worst movies of all time. Dan Aykroyd, John Candy, Gilda Radner, and Cheech and Chong host segments that feature some of the most bizarre movies ever put to celluloid. From alien invaders to drug abuse to giant insects to really bad musicals, you'll be amazed at how low some movies sank for the sake of entertainment. The hosts running commentaries are fun (if too scripted), and add quite a few laughs themselves. Another bit of fun would be to turn the sound off, and add your own commentary. Hey, you'd be surprised how easy it is.
RJ MacReady
Super Reviewer
It Came from Hollywood Quotes
There are no approved quotes yet for this movie.
Discussion Forum
Discuss It Came from Hollywood on our Movie forum!