It Conquered the World
(1956)
It Conquered the World
(1956)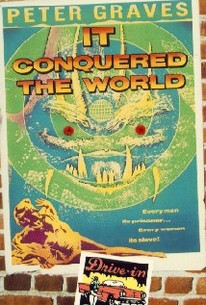 TOMATOMETER
Tomatometer Not Available...
——
It Conquered the World Photos
Movie Info
Though Roger Corman was still new to sci-fi in 1956, he made up for lost time with the above-average quickie It Conquered the World. Peter Graves heads the cast as Paul Nelson, who suspects that his best friend, eccentric genius Tom Anderson (Lee Van Cleef), is up to no good. Sure enough, Tom has contacted the denizens of the planet Venus, who hope to exploit Tom's weak nature in order to take over the world. Before long, the Venusians have taken over the minds and bodies of virtually all of Tom's friends and loved ones. It is up to Paul and a handful of un-brainwashed earthlings to halt this subversive alien invasion. Scripted by Charles Griffith (of Little Shop of Horrors fame), It Conquered the World is a thinly disguised attack on totalitarianism, from both the Left and Right. Corman regulars Beverly Garland, Dick Miller and Jonathan Haze make brief but significant appearances. The film represented first "monster" creation of Paul Blaisdel, whose Venusian leader looks like a surly carrot. It Conquered the World was remade--badly--as Zontar, the Thing from Venus (1968).
American International Pictures
People Who Like this movie also like
Cast
News & Interviews for It Conquered the World
Critic Reviews for It Conquered the World
Audience Reviews for It Conquered the World
Phil Hubbs
½
A Body Snatcher rip off with good intentions, but the campiness cannot redeem the film to make it more enjoyable.
Sylvester Kuo
One of the best examples of the drastic disconnect between what a film is attempting to convey and what it actually manages... an essential characteristic of B-Films. There is supposed to be something of earth-shattering significance occurring, but the most people can express is mild concern... at best. The main joy that can be extracted from this film lies in that fundamental flaw... as well as one of the most absurd monster-designs of the 1950's. Still, "It Conquered the World" isn't bad enough to be utterly fun, yet still seems "serious" enough, in its ham-fisted but depressing defense of humankind, to be considered as an actual sci-fi movie rather than a B-Film. As such, it is best saved for a time when you seriously have nothing else to watch.
Daniel Hetteix
Anthony Valletta
Discussion Forum
Discuss It Conquered the World on our Movie forum!
News & Features
debug
http://movie-api-2.aws.prod.flixster.com/movie/597101384?include=%5B%22images%22%2C%22reviews%22%2C%22movieCast%22%2C%22movieCast.person%22%2C%22videoClips%22%2C%22criticSummary%22%2C%22reviews.critic%22%2C%22reviews.publication%22%2C%22genres%22%2C%22franchise%22%2C%22affiliates%22%2C%22audienceSummary%22%2C%22audienceReviews%22%5D&filter=%7B%22videoClipsLimit%22%3A20%2C%22reviewsLimit%22%3A12%2C%22movieCastLimit%22%3A1000%2C%22imagesLimit%22%3A20%7D
{
  "id" : "597101384",
  "type" : "movie",
  "advisory" : null,
  "lastModifiedDate" : "2016-06-11T20:18:33-07:00",
  "tomatometer" : {
    "state" : "fresh",
    "value" : 80
  },
  "year" : 1956,
  "releaseScope" : "wide",
  "studioName" : "American International Pictures",
  "dvdWindow" : "on-dvd",
  "heroImage" : {
    "id" : "n-564667",
    "thumborId" : "v1.bjs1NjQ2Njc7ajsxNzAxNjsxMjAwOzEyODA7NzIw",
    "height" : 720,
    "width" : 1280,
    "format" : "JPG"
  },
  "synopsis" : "Though Roger Corman was still new to sci-fi in 1956, he made up for lost time with the above-average quickie It Conquered the World. Peter Graves heads the cast as Paul Nelson, who suspects that his best friend, eccentric genius Tom Anderson (Lee Van Cleef), is up to no good. Sure enough, Tom has contacted the denizens of the planet Venus, who hope to exploit Tom's weak nature in order to take over the world. Before long, the Venusians have taken over the minds and bodies of virtually all of Tom's friends and loved ones. It is up to Paul and a handful of un-brainwashed earthlings to halt this subversive alien invasion. Scripted by Charles Griffith (of Little Shop of Horrors fame), It Conquered the World is a thinly disguised attack on totalitarianism, from both the Left and Right. Corman regulars Beverly Garland, Dick Miller and Jonathan Haze make brief but significant appearances. The film represented first \"monster\" creation of Paul Blaisdel, whose Venusian leader looks like a surly carrot. It Conquered the World was remade--badly--as Zontar, the Thing from Venus (1968).",
  "releaseDates" : {
    "dvd" : "1991-06-26",
    "theater" : "1956-07-15"
  },
  "runningTime" : 68,
  "creationDate" : "2007-03-01T10:27:54-08:00",
  "title" : "It Conquered the World",
  "posterImage" : {
    "id" : "m-12023663",
    "thumborId" : "v1.bTsxMjAyMzY2MztqOzE3MDE0OzEyMDA7MjE0OzQwMA",
    "height" : 400,
    "width" : 214,
    "format" : "JPG"
  },
  "vanity" : "it_conquered_the_world",
  "officialUrl" : null,
  "cummulativeBoxOffice" : null,
  "mainTrailer" : null,
  "boxOffice" : null,
  "openingWindow" : "NA",
  "mpaaRating" : "NR",
  "genres" : [ {
    "id" : "7",
    "type" : "genre",
    "name" : "Cult Movies",
    "tag" : "cult"
  }, {
    "id" : "9",
    "type" : "genre",
    "name" : "Drama",
    "tag" : "drama"
  }, {
    "id" : "10",
    "type" : "genre",
    "name" : "Horror",
    "tag" : "horror"
  }, {
    "id" : "14",
    "type" : "genre",
    "name" : "Science Fiction & Fantasy",
    "tag" : "science-fiction-fantasy"
  } ],
  "audienceReviews" : [ {
    "id" : "39709",
    "type" : "audienceReview",
    "score" : 1.5,
    "ratingDate" : "2016-05-11T14:27:47-07:00",
    "userImage" : {
      "thumbnailUrl" : "graph.facebook.com/v2.2/604841808/picture"
    },
    "superReviewer" : true,
    "movieId" : 597101384,
    "comment" : "Lots of movies revolved around an alien or creature simply referred to as 'it' back in old days. This time instead of being awoken from a deep slumber in some deep Earth crevice somewhere, this time its an alien, from Venus, that looks like an upside down ice cream cone, and it wants to take over the Earth using mind control. Yeah I got nothing here.\n\nBut yes that is literally the plot here, an alien from Venus contacts a lonely human scientist on the phone or whatever, and convinces him to assist him in taking over the Earth. The end goal...complete human mind control, using something, for some reason that I don't know, but by God its dastardly! Oh no wait! the alien is claiming to want to bring peace to the human race by eliminating all our emotions through mind control, somehow. How this would help us? I have no clue, why the human scientist agrees to help? I have no clue, why does this even bother the alien? I dunno, guess it needs a hobby, just accept the situation.\n\nThe lone scientist in question just happens to be Lee Van Cleef so simply down to that, I can give the movie some slack and understand why the alien chose him. Anderson (Cleef) agrees to help the alien presumably because he thinks he's doing the right thing, bringing peace to Earth. Naturally the tall, good looking all American protagonist played by Peter Graves doesn't agree, and fights back with all his American might. Not really sure how this alien intends to control the entire planets population though. You see it uses these flying alien bat things to prey on victims, bite them or something, and then they are under the aliens control. But we discover the alien clearly has a money problem because he only has like seven or eight of these bat things, and they only bite one specified person, like a homing bat thing. So how the fuck is he gonna control millions of people without millions of bat things?? I don't believe the controlled humans do anything to non controlled humans (in a zombie-esque sense), so I have no clue how this plan would work. Of course landing in some small American town in the middle of nowhere probably doesn't help either, these aliens love small American towns in the middle of nowhere.\n\nThe alien itself is one of the most horrendously bad alien suits you will come across in 50's sci-fi, and that's saying something. I said before it looks like an upside down ice cream cone, well it does, its just an inverted triangle with big pointy teeth, two claw arms and two evil eyes. The things shuffles around in a hilarious manner that only goes to show the suit was not actually designed for moving. All this creature can do is move its claw arms up and down...slowly, its mouth doesn't open, its fixed in one evil grin, its eyes don't move and it can only move forwards and backwards unconvincingly. Yes I know these old movies didn't exactly have big budgets and yes I know the terrible effects are half the fun with these flicks, but seriously...this is just awful! What makes it even more hilariously stupid is the young Lee Van Cleef looking and acting deadly seriously with his pointed cheek bones and slit-like eyes, whilst this big foam triangle with teeth wobbles around trying to stand upright. It kinda makes you wonder what the effects team behind this were thinking really. How could an alien species like this possibly progress to the technological level they are at, with such a useless physical makeup. Sure they might be clever but if you don't have the body to build stuff then you're screwed. Presumably the spaceship it travels in fits large triangular creatures.\n\nThe main problem here besides the terrible looking alien is the basic plot setup, its just pants. For a start as I already pointed out, the alien controls humans by sending out these bat things to bite them, like a flippin' vampire. But the alien only has eight of these things so what the fuck! Van Cleef's character is seemingly perfectly fine with betraying the entire human race and allowing everyone to become emotionless zombies, but would this eventually include him? Surely it must because why would he want to live in a world with no emotions? Also I'm not too sure why Van Cleef's character is so embittered against his fellow man, at least to such a high degree, I mean Jesus Christ he's only a local scientist, it can't be that bad! At the same time his wife is totally against this plan, and the alien, yet she isn't on the list for brain controlling. The alien allows her to mill around causing issues with her constant moaning and defiant behaviour, eventually this leading to her trying to kill the alien, but why would the creature allow this to carry on? But essentially the entire thing just boils down to my original point, how the fuck can this stupid alien take over the Earth with just eight mind controlling bat things??? Even if it had a million that still wouldn't cover it.\n\nIt feels odd being genuinely negative about this movie because its a cheap, tacky 50's science fiction flick...because that's exactly what you would expect, that's half the fun of these things. Nevertheless I can't just bump this up because its a trashy black and white sci-fi and I'm a fanboy of trashy black and white sci-fi flicks. Yes it stars Lee Van Cleef which is awesome, yes it does have yet another cameo/bit role for the legendary Dick Miller (hurrah!), and yes the whole premise is deliciously hokey and outrageously daft, but at the same time its also crap. Yes that's right crap, crap of the highest order I'm afraid, I couldn't get into it because it was simply too stupid with its plot, and the alien was just beyond dire. Had the movie at least had some interesting locations or action or effects etc...then maybe, but its all very drab and boring with the alien hiding in a cave. Oh and its of course impervious to bullets...but not a blowtorch it seems, go figure.",
    "ratingSource" : null,
    "userName" : "Phil Hubbs",
    "userId" : null
  }, {
    "id" : "39711",
    "type" : "audienceReview",
    "score" : 2.5,
    "ratingDate" : "2015-10-17T13:29:04-07:00",
    "userImage" : {
      "thumbnailUrl" : "graph.facebook.com/v2.2/100000185301014/picture"
    },
    "superReviewer" : true,
    "movieId" : 597101384,
    "comment" : "A Body Snatcher rip off with good intentions, but the campiness cannot redeem the film to make it more enjoyable.",
    "ratingSource" : null,
    "userName" : "Sylvester Kuo",
    "userId" : null
  }, {
    "id" : "39710",
    "type" : "audienceReview",
    "score" : 2.0,
    "ratingDate" : "2009-02-08T23:19:37-08:00",
    "userImage" : {
      "thumbnailUrl" : "graph.facebook.com/v2.2/713935023/picture"
    },
    "superReviewer" : true,
    "movieId" : 597101384,
    "comment" : "One of the best examples of the drastic disconnect between what a film is attempting to convey and what it actually manages... an essential characteristic of B-Films.\n\nThere is supposed to be something of earth-shattering significance occurring, but the most people can express is mild concern... at best. The main joy that can be extracted from this film lies in that fundamental flaw... as well as one of the most absurd monster-designs of the 1950's.\n\nStill, \"It Conquered the World\" isn't bad enough to be utterly fun, yet still seems \"serious\" enough, in its ham-fisted but depressing defense of humankind, to be considered as an actual sci-fi movie rather than a B-Film. As such, it is best saved for a time when you seriously have nothing else to watch.",
    "ratingSource" : null,
    "userName" : "Daniel Hetteix",
    "userId" : null
  }, {
    "id" : "39712",
    "type" : "audienceReview",
    "score" : 3.0,
    "ratingDate" : "2008-06-27T09:00:18-07:00",
    "userImage" : {
      "thumbnailUrl" : "graph.facebook.com/v2.2/645362927/picture"
    },
    "superReviewer" : true,
    "movieId" : 597101384,
    "comment" : "Very corn ball.",
    "ratingSource" : null,
    "userName" : "Anthony Valletta",
    "userId" : null
  } ],
  "meta" : {
    "totalCount" : 19
  },
  "videoClips" : [ ],
  "reviews" : [ {
    "id" : "1481724",
    "type" : "review",
    "score" : "NA",
    "topCritic" : true,
    "quote" : null,
    "movieId" : 597101384,
    "scoreOri" : null,
    "creationDate" : "2006-02-08T19:17:08-08:00",
    "url" : "http://www.timeout.com/film/reviews/76243/it_conquered_the_world.html",
    "publication" : {
      "id" : "1651",
      "type" : "publication",
      "name" : "Time Out"
    },
    "critic" : {
      "id" : "12289",
      "type" : "critic",
      "mainImage" : null,
      "name" : "Geoff Andrew",
      "vanity" : "geoff-andrew"
    }
  }, {
    "id" : "23993",
    "type" : "review",
    "score" : "NA",
    "topCritic" : true,
    "quote" : null,
    "movieId" : 597101384,
    "scoreOri" : null,
    "creationDate" : "1999-12-31T16:00:00-08:00",
    "url" : "http://onfilm.chicagoreader.com/movies/capsules/16985_IT_CONQUERED_THE_WORLD.html",
    "publication" : {
      "id" : "66",
      "type" : "publication",
      "name" : "Chicago Reader"
    },
    "critic" : {
      "id" : "15",
      "type" : "critic",
      "mainImage" : {
        "id" : "c-1581",
        "thumborId" : "v1.YzsxNTgxO2c7MTcwMTA7MTIwMDszODs0MA",
        "height" : 40,
        "width" : 38,
        "format" : "GIF"
      },
      "name" : "Dave Kehr",
      "vanity" : "dave-kehr"
    }
  }, {
    "id" : "1442415",
    "type" : "review",
    "score" : "fresh",
    "topCritic" : false,
    "quote" : null,
    "movieId" : 597101384,
    "scoreOri" : "3/5",
    "creationDate" : "2005-10-04T04:34:47-07:00",
    "url" : null,
    "publication" : {
      "id" : "1527",
      "type" : "publication",
      "name" : "Boulder Weekly"
    },
    "critic" : {
      "id" : "10101",
      "type" : "critic",
      "mainImage" : null,
      "name" : "Thomas Delapa",
      "vanity" : "thomas-delapa"
    }
  }, {
    "id" : "1419416",
    "type" : "review",
    "score" : "fresh",
    "topCritic" : false,
    "quote" : null,
    "movieId" : 597101384,
    "scoreOri" : "3/5",
    "creationDate" : "2005-07-27T01:49:23-07:00",
    "url" : null,
    "publication" : {
      "id" : "1626",
      "type" : "publication",
      "name" : "EmanuelLevy.Com"
    },
    "critic" : {
      "id" : "1101",
      "type" : "critic",
      "mainImage" : {
        "id" : "c-1638",
        "thumborId" : "v1.YzsxNjM4O2c7MTcwMTA7MTIwMDszODs0MA",
        "height" : 40,
        "width" : 38,
        "format" : "GIF"
      },
      "name" : "Emanuel Levy",
      "vanity" : "emanuel-levy"
    }
  }, {
    "id" : "1189926",
    "type" : "review",
    "score" : "fresh",
    "topCritic" : false,
    "quote" : null,
    "movieId" : 597101384,
    "scoreOri" : "3/5",
    "creationDate" : "2003-08-22T06:54:11-07:00",
    "url" : null,
    "publication" : {
      "id" : "1029",
      "type" : "publication",
      "name" : "Las Vegas Review-Journal"
    },
    "critic" : {
      "id" : "5803",
      "type" : "critic",
      "mainImage" : null,
      "name" : "Carol Cling",
      "vanity" : "carol-cling"
    }
  }, {
    "id" : "788673",
    "type" : "review",
    "score" : "rotten",
    "topCritic" : false,
    "quote" : "Occasionally amusing with the great zucchini monster payoff",
    "movieId" : 597101384,
    "scoreOri" : "2/5",
    "creationDate" : "2002-10-02T02:57:32-07:00",
    "url" : null,
    "publication" : {
      "id" : "1020",
      "type" : "publication",
      "name" : "Mountain Xpress (Asheville, NC)"
    },
    "critic" : {
      "id" : "5783",
      "type" : "critic",
      "mainImage" : {
        "id" : "c-1730",
        "thumborId" : "v1.YzsxNzMwO2o7MTcwMTA7MTIwMDszODs0NA",
        "height" : 44,
        "width" : 38,
        "format" : "JPG"
      },
      "name" : "Ken Hanke",
      "vanity" : "ken-hanke"
    }
  }, {
    "id" : "743479",
    "type" : "review",
    "score" : "fresh",
    "topCritic" : false,
    "quote" : null,
    "movieId" : 597101384,
    "scoreOri" : "3/5",
    "creationDate" : "2002-07-25T17:30:21-07:00",
    "url" : null,
    "publication" : {
      "id" : "141",
      "type" : "publication",
      "name" : "eFilmCritic.com"
    },
    "critic" : {
      "id" : "452",
      "type" : "critic",
      "mainImage" : {
        "id" : "c-1615",
        "thumborId" : "v1.YzsxNjE1O2c7MTcwMTA7MTIwMDszODs0Mg",
        "height" : 42,
        "width" : 38,
        "format" : "GIF"
      },
      "name" : "Scott Weinberg",
      "vanity" : "scott-weinberg"
    }
  } ],
  "criticSummary" : {
    "id" : "26583",
    "type" : "criticSummary",
    "consensus" : null,
    "topCritics" : {
      "totalCount" : 2,
      "freshCount" : 0,
      "rottenCount" : 0,
      "dvdCount" : 0,
      "averageRating" : 0.0,
      "topCriticsTomatometer" : {
        "value" : 0,
        "state" : "NA"
      }
    },
    "allCritics" : {
      "totalCount" : 5,
      "freshCount" : 4,
      "rottenCount" : 1,
      "dvdCount" : 0,
      "averageRating" : 5.6
    }
  },
  "images" : [ {
    "id" : "n-564667",
    "type" : "image",
    "width" : 1280,
    "format" : "JPG",
    "thumborId" : "v1.bjs1NjQ2Njc7ajsxNzAxNjsxMjAwOzEyODA7NzIw",
    "height" : 720
  }, {
    "id" : "n-629153",
    "type" : "image",
    "width" : 1280,
    "format" : "JPG",
    "thumborId" : "v1.bjs2MjkxNTM7ajsxNzAxNzsxMjAwOzEyODA7NzIw",
    "height" : 720
  } ],
  "audienceSummary" : {
    "id" : "597101384",
    "type" : "audienceSummary",
    "avgScore" : 2.8,
    "popcornMeter" : {
      "state" : "spilled",
      "value" : 30
    },
    "audienceCount" : 590
  },
  "affiliates" : [ ],
  "movieCast" : [ {
    "id" : "597101396",
    "type" : "movieCast",
    "characters" : [ ],
    "role" : "DIR",
    "person" : {
      "id" : "162677163",
      "type" : "person",
      "mainImage" : {
        "id" : "n-794501",
        "thumborId" : "v1.bjs3OTQ1MDE7ajsxNzAxOTsxMjAwOzU0MDs3MjA",
        "height" : 720,
        "width" : 540,
        "format" : "JPG"
      },
      "name" : "Roger Corman",
      "vanity" : "roger_corman"
    }
  }, {
    "id" : "770776003",
    "type" : "movieCast",
    "characters" : [ ],
    "role" : "PRO",
    "person" : {
      "id" : "162677163",
      "type" : "person",
      "mainImage" : {
        "id" : "n-794501",
        "thumborId" : "v1.bjs3OTQ1MDE7ajsxNzAxOTsxMjAwOzU0MDs3MjA",
        "height" : 720,
        "width" : 540,
        "format" : "JPG"
      },
      "name" : "Roger Corman",
      "vanity" : "roger_corman"
    }
  }, {
    "id" : "773844860",
    "type" : "movieCast",
    "characters" : [ ],
    "role" : "SCR",
    "person" : {
      "id" : "770886903",
      "type" : "person",
      "mainImage" : null,
      "name" : "Lou Rusoff",
      "vanity" : "lou_rusoff"
    }
  }, {
    "id" : "774187910",
    "type" : "movieCast",
    "characters" : [ ],
    "role" : "SCR",
    "person" : {
      "id" : "364613018",
      "type" : "person",
      "mainImage" : null,
      "name" : "Charles B. Griffith",
      "vanity" : "charles_b_griffith"
    }
  }, {
    "id" : "774374949",
    "type" : "movieCast",
    "characters" : [ ],
    "role" : "EPR",
    "person" : {
      "id" : "364637540",
      "type" : "person",
      "mainImage" : null,
      "name" : "James H. Nicholson",
      "vanity" : "james_h_nicholson"
    }
  }, {
    "id" : "597101390",
    "type" : "movieCast",
    "characters" : [ "Dr. Paul Nelson" ],
    "role" : "ACT",
    "person" : {
      "id" : "162656619",
      "type" : "person",
      "mainImage" : {
        "id" : "n-733241",
        "thumborId" : "v1.bjs3MzMyNDE7ajsxNzAxODsxMjAwOzI0MTU7MzYzNg",
        "height" : 3636,
        "width" : 2415,
        "format" : "JPG"
      },
      "name" : "Peter Graves",
      "vanity" : "peter_graves"
    }
  }, {
    "id" : "597101394",
    "type" : "movieCast",
    "characters" : [ "Dr. Tom Anderson" ],
    "role" : "ACT",
    "person" : {
      "id" : "162690366",
      "type" : "person",
      "mainImage" : {
        "id" : "n-1112081",
        "thumborId" : "v1.bjsxMTEyMDgxO2o7MTcwMjI7MTIwMDsyNDAwOzMwMDA",
        "height" : 3000,
        "width" : 2400,
        "format" : "JPG"
      },
      "name" : "Lee Van Cleef",
      "vanity" : "lee_van_cleef"
    }
  }, {
    "id" : "597101393",
    "type" : "movieCast",
    "characters" : [ "Claire Anderson" ],
    "role" : "ACT",
    "person" : {
      "id" : "162656398",
      "type" : "person",
      "mainImage" : {
        "id" : "n-784865",
        "thumborId" : "v1.bjs3ODQ4NjU7ajsxNzAxOTsxMjAwOzMwMDs0NTA",
        "height" : 450,
        "width" : 300,
        "format" : "JPG"
      },
      "name" : "Beverly Garland",
      "vanity" : "beverly_garland"
    }
  }, {
    "id" : "771987796",
    "type" : "movieCast",
    "characters" : [ "Joan Nelson" ],
    "role" : "ACT",
    "person" : {
      "id" : "597093899",
      "type" : "person",
      "mainImage" : {
        "id" : "n-220321",
        "thumborId" : "v1.bjsyMjAzMjE7ajsxNzAxMjsxMjAwOzM2Mzs0NTc",
        "height" : 457,
        "width" : 363,
        "format" : "JPG"
      },
      "name" : "Sally Fraser",
      "vanity" : "sally_fraser"
    }
  }, {
    "id" : "771987797",
    "type" : "movieCast",
    "characters" : [ "Pete Shelton" ],
    "role" : "ACT",
    "person" : {
      "id" : "364613018",
      "type" : "person",
      "mainImage" : null,
      "name" : "Charles B. Griffith",
      "vanity" : "charles_b_griffith"
    }
  }, {
    "id" : "771987798",
    "type" : "movieCast",
    "characters" : [ "Gen. Patrick" ],
    "role" : "ACT",
    "person" : {
      "id" : "321776980",
      "type" : "person",
      "mainImage" : {
        "id" : "n-798094",
        "thumborId" : "v1.bjs3OTgwOTQ7ajsxNzAxOTsxMjAwOzMwMDs0NTA",
        "height" : 450,
        "width" : 300,
        "format" : "JPG"
      },
      "name" : "Russ Bender",
      "vanity" : "russ_bender"
    }
  }, {
    "id" : "771987799",
    "type" : "movieCast",
    "characters" : [ "Pvt. Manuel Ortiz" ],
    "role" : "ACT",
    "person" : {
      "id" : "364637906",
      "type" : "person",
      "mainImage" : null,
      "name" : "Jonathan Haze",
      "vanity" : "jonathan_haze"
    }
  }, {
    "id" : "771987800",
    "type" : "movieCast",
    "characters" : [ "Sgt. Neil" ],
    "role" : "ACT",
    "person" : {
      "id" : "162674863",
      "type" : "person",
      "mainImage" : {
        "id" : "n-521889",
        "thumborId" : "v1.bjs1MjE4ODk7ajsxNzAxNjsxMjAwOzU0MDs3MjA",
        "height" : 720,
        "width" : 540,
        "format" : "JPG"
      },
      "name" : "Dick Miller",
      "vanity" : "dick_miller"
    }
  }, {
    "id" : "771987801",
    "type" : "movieCast",
    "characters" : [ "Ellen Peters" ],
    "role" : "ACT",
    "person" : {
      "id" : "770701792",
      "type" : "person",
      "mainImage" : null,
      "name" : "Karen Kadler",
      "vanity" : "karen_kadler"
    }
  }, {
    "id" : "770776002",
    "type" : "movieCast",
    "characters" : [ "Visitor from Venus" ],
    "role" : "ACT",
    "person" : {
      "id" : "770705643",
      "type" : "person",
      "mainImage" : null,
      "name" : "Paul Blaisdell",
      "vanity" : "paul_blaisdell"
    }
  }, {
    "id" : "771987805",
    "type" : "movieCast",
    "characters" : [ "Police Chief Schallert" ],
    "role" : "ACT",
    "person" : {
      "id" : "770935974",
      "type" : "person",
      "mainImage" : null,
      "name" : "Taggart Casey",
      "vanity" : "taggart_casey"
    }
  }, {
    "id" : "771987802",
    "type" : "movieCast",
    "characters" : [ "U.S. Secretary Platt" ],
    "role" : "ACT",
    "person" : {
      "id" : "770758699",
      "type" : "person",
      "mainImage" : null,
      "name" : "Marshall Bradford",
      "vanity" : "marshall_bradford"
    }
  }, {
    "id" : "771987804",
    "type" : "movieCast",
    "characters" : [ "George Haskell" ],
    "role" : "ACT",
    "person" : {
      "id" : "770706717",
      "type" : "person",
      "mainImage" : null,
      "name" : "Thomas E. Jackson",
      "vanity" : "thomas_e_jackson"
    }
  }, {
    "id" : "771987803",
    "type" : "movieCast",
    "characters" : [ "General Carpenter" ],
    "role" : "ACT",
    "person" : {
      "id" : "770735505",
      "type" : "person",
      "mainImage" : null,
      "name" : "David McMahon",
      "vanity" : "david_mcmahon"
    }
  } ]
}
{
  "title" : "It Conquered the World",
  "id" : "597101384",
  "year" : 1956,
  "tomatometer" : {
    "state" : "fresh",
    "value" : 80
  },
  "studio" : "American International Pictures",
  "synopsis" : "Though Roger Corman was still new to sci-fi in 1956, he made up for lost time with the above-average quickie It Conquered the World. Peter Graves heads the cast as Paul Nelson, who suspects that his best friend, eccentric genius Tom Anderson (Lee Van Cleef), is up to no good. Sure enough, Tom has contacted the denizens of the planet Venus, who hope to exploit Tom's weak nature in order to take over the world. Before long, the Venusians have taken over the minds and bodies of virtually all of Tom's friends and loved ones. It is up to Paul and a handful of un-brainwashed earthlings to halt this subversive alien invasion. Scripted by Charles Griffith (of Little Shop of Horrors fame), It Conquered the World is a thinly disguised attack on totalitarianism, from both the Left and Right. Corman regulars Beverly Garland, Dick Miller and Jonathan Haze make brief but significant appearances. The film represented first \"monster\" creation of Paul Blaisdel, whose Venusian leader looks like a surly carrot. It Conquered the World was remade--badly--as Zontar, the Thing from Venus (1968).",
  "runningTime" : 68,
  "releaseDates" : {
    "dvd" : "1991-06-26",
    "theater" : "1956-07-15"
  },
  "lastModifiedDate" : "2016-06-11T20:18:33-07:00",
  "creationDate" : "2007-03-01T10:27:54-08:00",
  "vanity" : "it_conquered_the_world",
  "mpaaRating" : "NR",
  "genres" : [ {
    "id" : "7",
    "type" : "genre",
    "name" : "Cult Movies",
    "tag" : "cult"
  }, {
    "id" : "9",
    "type" : "genre",
    "name" : "Drama",
    "tag" : "drama"
  }, {
    "id" : "10",
    "type" : "genre",
    "name" : "Horror",
    "tag" : "horror"
  }, {
    "id" : "14",
    "type" : "genre",
    "name" : "Science Fiction & Fantasy",
    "tag" : "science-fiction-fantasy"
  } ],
  "castItems" : [ {
    "id" : "597101390",
    "type" : "movieCast",
    "characters" : [ "Dr. Paul Nelson" ],
    "role" : "ACT",
    "person" : {
      "id" : "162656619",
      "type" : "person",
      "mainImage" : {
        "id" : "n-733241",
        "thumborId" : "v1.bjs3MzMyNDE7ajsxNzAxODsxMjAwOzI0MTU7MzYzNg",
        "height" : 3636,
        "width" : 2415,
        "format" : "JPG"
      },
      "name" : "Peter Graves",
      "vanity" : "peter_graves"
    }
  }, {
    "id" : "597101394",
    "type" : "movieCast",
    "characters" : [ "Dr. Tom Anderson" ],
    "role" : "ACT",
    "person" : {
      "id" : "162690366",
      "type" : "person",
      "mainImage" : {
        "id" : "n-1112081",
        "thumborId" : "v1.bjsxMTEyMDgxO2o7MTcwMjI7MTIwMDsyNDAwOzMwMDA",
        "height" : 3000,
        "width" : 2400,
        "format" : "JPG"
      },
      "name" : "Lee Van Cleef",
      "vanity" : "lee_van_cleef"
    }
  }, {
    "id" : "597101393",
    "type" : "movieCast",
    "characters" : [ "Claire Anderson" ],
    "role" : "ACT",
    "person" : {
      "id" : "162656398",
      "type" : "person",
      "mainImage" : {
        "id" : "n-784865",
        "thumborId" : "v1.bjs3ODQ4NjU7ajsxNzAxOTsxMjAwOzMwMDs0NTA",
        "height" : 450,
        "width" : 300,
        "format" : "JPG"
      },
      "name" : "Beverly Garland",
      "vanity" : "beverly_garland"
    }
  }, {
    "id" : "771987796",
    "type" : "movieCast",
    "characters" : [ "Joan Nelson" ],
    "role" : "ACT",
    "person" : {
      "id" : "597093899",
      "type" : "person",
      "mainImage" : {
        "id" : "n-220321",
        "thumborId" : "v1.bjsyMjAzMjE7ajsxNzAxMjsxMjAwOzM2Mzs0NTc",
        "height" : 457,
        "width" : 363,
        "format" : "JPG"
      },
      "name" : "Sally Fraser",
      "vanity" : "sally_fraser"
    }
  }, {
    "id" : "771987797",
    "type" : "movieCast",
    "characters" : [ "Pete Shelton" ],
    "role" : "ACT",
    "person" : {
      "id" : "364613018",
      "type" : "person",
      "mainImage" : null,
      "name" : "Charles B. Griffith",
      "vanity" : "charles_b_griffith"
    }
  }, {
    "id" : "771987798",
    "type" : "movieCast",
    "characters" : [ "Gen. Patrick" ],
    "role" : "ACT",
    "person" : {
      "id" : "321776980",
      "type" : "person",
      "mainImage" : {
        "id" : "n-798094",
        "thumborId" : "v1.bjs3OTgwOTQ7ajsxNzAxOTsxMjAwOzMwMDs0NTA",
        "height" : 450,
        "width" : 300,
        "format" : "JPG"
      },
      "name" : "Russ Bender",
      "vanity" : "russ_bender"
    }
  }, {
    "id" : "771987799",
    "type" : "movieCast",
    "characters" : [ "Pvt. Manuel Ortiz" ],
    "role" : "ACT",
    "person" : {
      "id" : "364637906",
      "type" : "person",
      "mainImage" : null,
      "name" : "Jonathan Haze",
      "vanity" : "jonathan_haze"
    }
  }, {
    "id" : "771987800",
    "type" : "movieCast",
    "characters" : [ "Sgt. Neil" ],
    "role" : "ACT",
    "person" : {
      "id" : "162674863",
      "type" : "person",
      "mainImage" : {
        "id" : "n-521889",
        "thumborId" : "v1.bjs1MjE4ODk7ajsxNzAxNjsxMjAwOzU0MDs3MjA",
        "height" : 720,
        "width" : 540,
        "format" : "JPG"
      },
      "name" : "Dick Miller",
      "vanity" : "dick_miller"
    }
  }, {
    "id" : "771987801",
    "type" : "movieCast",
    "characters" : [ "Ellen Peters" ],
    "role" : "ACT",
    "person" : {
      "id" : "770701792",
      "type" : "person",
      "mainImage" : null,
      "name" : "Karen Kadler",
      "vanity" : "karen_kadler"
    }
  }, {
    "id" : "770776002",
    "type" : "movieCast",
    "characters" : [ "Visitor from Venus" ],
    "role" : "ACT",
    "person" : {
      "id" : "770705643",
      "type" : "person",
      "mainImage" : null,
      "name" : "Paul Blaisdell",
      "vanity" : "paul_blaisdell"
    }
  }, {
    "id" : "771987805",
    "type" : "movieCast",
    "characters" : [ "Police Chief Schallert" ],
    "role" : "ACT",
    "person" : {
      "id" : "770935974",
      "type" : "person",
      "mainImage" : null,
      "name" : "Taggart Casey",
      "vanity" : "taggart_casey"
    }
  }, {
    "id" : "771987802",
    "type" : "movieCast",
    "characters" : [ "U.S. Secretary Platt" ],
    "role" : "ACT",
    "person" : {
      "id" : "770758699",
      "type" : "person",
      "mainImage" : null,
      "name" : "Marshall Bradford",
      "vanity" : "marshall_bradford"
    }
  }, {
    "id" : "771987804",
    "type" : "movieCast",
    "characters" : [ "George Haskell" ],
    "role" : "ACT",
    "person" : {
      "id" : "770706717",
      "type" : "person",
      "mainImage" : null,
      "name" : "Thomas E. Jackson",
      "vanity" : "thomas_e_jackson"
    }
  }, {
    "id" : "771987803",
    "type" : "movieCast",
    "characters" : [ "General Carpenter" ],
    "role" : "ACT",
    "person" : {
      "id" : "770735505",
      "type" : "person",
      "mainImage" : null,
      "name" : "David McMahon",
      "vanity" : "david_mcmahon"
    }
  } ],
  "screenwriterItems" : [ {
    "id" : "773844860",
    "type" : "movieCast",
    "characters" : [ ],
    "role" : "SCR",
    "person" : {
      "id" : "770886903",
      "type" : "person",
      "mainImage" : null,
      "name" : "Lou Rusoff",
      "vanity" : "lou_rusoff"
    }
  }, {
    "id" : "774187910",
    "type" : "movieCast",
    "characters" : [ ],
    "role" : "SCR",
    "person" : {
      "id" : "364613018",
      "type" : "person",
      "mainImage" : null,
      "name" : "Charles B. Griffith",
      "vanity" : "charles_b_griffith"
    }
  } ],
  "directorItems" : [ {
    "id" : "597101396",
    "type" : "movieCast",
    "characters" : [ ],
    "role" : "DIR",
    "person" : {
      "id" : "162677163",
      "type" : "person",
      "mainImage" : {
        "id" : "n-794501",
        "thumborId" : "v1.bjs3OTQ1MDE7ajsxNzAxOTsxMjAwOzU0MDs3MjA",
        "height" : 720,
        "width" : 540,
        "format" : "JPG"
      },
      "name" : "Roger Corman",
      "vanity" : "roger_corman"
    }
  } ],
  "criticSummary" : {
    "topCritics" : {
      "tomatometer" : {
        "value" : 0,
        "state" : "NA"
      },
      "totalCount" : 2,
      "freshCount" : 0,
      "rottenCount" : 0,
      "dvdCount" : 0,
      "averageRating" : 0.0
    },
    "allCritics" : {
      "tomatometer" : {
        "state" : "fresh",
        "value" : 80
      },
      "totalCount" : 5,
      "freshCount" : 4,
      "rottenCount" : 1,
      "dvdCount" : 0,
      "averageRating" : 5.6
    }
  },
  "audienceSummary" : {
    "id" : "597101384",
    "type" : "audienceSummary",
    "avgScore" : 2.8,
    "popcornMeter" : {
      "state" : "spilled",
      "value" : 30
    },
    "audienceCount" : 590
  },
  "affiliates" : [ ],
  "reviews" : [ {
    "id" : "1481724",
    "type" : "review",
    "score" : "NA",
    "topCritic" : true,
    "quote" : null,
    "movieId" : 597101384,
    "scoreOri" : null,
    "creationDate" : "2006-02-08T19:17:08-08:00",
    "url" : "http://www.timeout.com/film/reviews/76243/it_conquered_the_world.html",
    "publication" : {
      "id" : "1651",
      "type" : "publication",
      "name" : "Time Out"
    },
    "critic" : {
      "id" : "12289",
      "type" : "critic",
      "mainImage" : null,
      "name" : "Geoff Andrew",
      "vanity" : "geoff-andrew"
    }
  }, {
    "id" : "23993",
    "type" : "review",
    "score" : "NA",
    "topCritic" : true,
    "quote" : null,
    "movieId" : 597101384,
    "scoreOri" : null,
    "creationDate" : "1999-12-31T16:00:00-08:00",
    "url" : "http://onfilm.chicagoreader.com/movies/capsules/16985_IT_CONQUERED_THE_WORLD.html",
    "publication" : {
      "id" : "66",
      "type" : "publication",
      "name" : "Chicago Reader"
    },
    "critic" : {
      "id" : "15",
      "type" : "critic",
      "mainImage" : {
        "id" : "c-1581",
        "thumborId" : "v1.YzsxNTgxO2c7MTcwMTA7MTIwMDszODs0MA",
        "height" : 40,
        "width" : 38,
        "format" : "GIF"
      },
      "name" : "Dave Kehr",
      "vanity" : "dave-kehr"
    }
  }, {
    "id" : "1442415",
    "type" : "review",
    "score" : "fresh",
    "topCritic" : false,
    "quote" : null,
    "movieId" : 597101384,
    "scoreOri" : "3/5",
    "creationDate" : "2005-10-04T04:34:47-07:00",
    "url" : null,
    "publication" : {
      "id" : "1527",
      "type" : "publication",
      "name" : "Boulder Weekly"
    },
    "critic" : {
      "id" : "10101",
      "type" : "critic",
      "mainImage" : null,
      "name" : "Thomas Delapa",
      "vanity" : "thomas-delapa"
    }
  }, {
    "id" : "1419416",
    "type" : "review",
    "score" : "fresh",
    "topCritic" : false,
    "quote" : null,
    "movieId" : 597101384,
    "scoreOri" : "3/5",
    "creationDate" : "2005-07-27T01:49:23-07:00",
    "url" : null,
    "publication" : {
      "id" : "1626",
      "type" : "publication",
      "name" : "EmanuelLevy.Com"
    },
    "critic" : {
      "id" : "1101",
      "type" : "critic",
      "mainImage" : {
        "id" : "c-1638",
        "thumborId" : "v1.YzsxNjM4O2c7MTcwMTA7MTIwMDszODs0MA",
        "height" : 40,
        "width" : 38,
        "format" : "GIF"
      },
      "name" : "Emanuel Levy",
      "vanity" : "emanuel-levy"
    }
  }, {
    "id" : "1189926",
    "type" : "review",
    "score" : "fresh",
    "topCritic" : false,
    "quote" : null,
    "movieId" : 597101384,
    "scoreOri" : "3/5",
    "creationDate" : "2003-08-22T06:54:11-07:00",
    "url" : null,
    "publication" : {
      "id" : "1029",
      "type" : "publication",
      "name" : "Las Vegas Review-Journal"
    },
    "critic" : {
      "id" : "5803",
      "type" : "critic",
      "mainImage" : null,
      "name" : "Carol Cling",
      "vanity" : "carol-cling"
    }
  }, {
    "id" : "788673",
    "type" : "review",
    "score" : "rotten",
    "topCritic" : false,
    "quote" : "Occasionally amusing with the great zucchini monster payoff",
    "movieId" : 597101384,
    "scoreOri" : "2/5",
    "creationDate" : "2002-10-02T02:57:32-07:00",
    "url" : null,
    "publication" : {
      "id" : "1020",
      "type" : "publication",
      "name" : "Mountain Xpress (Asheville, NC)"
    },
    "critic" : {
      "id" : "5783",
      "type" : "critic",
      "mainImage" : {
        "id" : "c-1730",
        "thumborId" : "v1.YzsxNzMwO2o7MTcwMTA7MTIwMDszODs0NA",
        "height" : 44,
        "width" : 38,
        "format" : "JPG"
      },
      "name" : "Ken Hanke",
      "vanity" : "ken-hanke"
    }
  }, {
    "id" : "743479",
    "type" : "review",
    "score" : "fresh",
    "topCritic" : false,
    "quote" : null,
    "movieId" : 597101384,
    "scoreOri" : "3/5",
    "creationDate" : "2002-07-25T17:30:21-07:00",
    "url" : null,
    "publication" : {
      "id" : "141",
      "type" : "publication",
      "name" : "eFilmCritic.com"
    },
    "critic" : {
      "id" : "452",
      "type" : "critic",
      "mainImage" : {
        "id" : "c-1615",
        "thumborId" : "v1.YzsxNjE1O2c7MTcwMTA7MTIwMDszODs0Mg",
        "height" : 42,
        "width" : 38,
        "format" : "GIF"
      },
      "name" : "Scott Weinberg",
      "vanity" : "scott-weinberg"
    }
  } ],
  "audienceReviews" : [ {
    "id" : "39709",
    "type" : "audienceReview",
    "score" : 1.5,
    "ratingDate" : "2016-05-11T14:27:47-07:00",
    "userImage" : {
      "thumbnailUrl" : "graph.facebook.com/v2.2/604841808/picture"
    },
    "superReviewer" : true,
    "movieId" : 597101384,
    "comment" : "Lots of movies revolved around an alien or creature simply referred to as 'it' back in old days. This time instead of being awoken from a deep slumber in some deep Earth crevice somewhere, this time its an alien, from Venus, that looks like an upside down ice cream cone, and it wants to take over the Earth using mind control. Yeah I got nothing here.\n\nBut yes that is literally the plot here, an alien from Venus contacts a lonely human scientist on the phone or whatever, and convinces him to assist him in taking over the Earth. The end goal...complete human mind control, using something, for some reason that I don't know, but by God its dastardly! Oh no wait! the alien is claiming to want to bring peace to the human race by eliminating all our emotions through mind control, somehow. How this would help us? I have no clue, why the human scientist agrees to help? I have no clue, why does this even bother the alien? I dunno, guess it needs a hobby, just accept the situation.\n\nThe lone scientist in question just happens to be Lee Van Cleef so simply down to that, I can give the movie some slack and understand why the alien chose him. Anderson (Cleef) agrees to help the alien presumably because he thinks he's doing the right thing, bringing peace to Earth. Naturally the tall, good looking all American protagonist played by Peter Graves doesn't agree, and fights back with all his American might. Not really sure how this alien intends to control the entire planets population though. You see it uses these flying alien bat things to prey on victims, bite them or something, and then they are under the aliens control. But we discover the alien clearly has a money problem because he only has like seven or eight of these bat things, and they only bite one specified person, like a homing bat thing. So how the fuck is he gonna control millions of people without millions of bat things?? I don't believe the controlled humans do anything to non controlled humans (in a zombie-esque sense), so I have no clue how this plan would work. Of course landing in some small American town in the middle of nowhere probably doesn't help either, these aliens love small American towns in the middle of nowhere.\n\nThe alien itself is one of the most horrendously bad alien suits you will come across in 50's sci-fi, and that's saying something. I said before it looks like an upside down ice cream cone, well it does, its just an inverted triangle with big pointy teeth, two claw arms and two evil eyes. The things shuffles around in a hilarious manner that only goes to show the suit was not actually designed for moving. All this creature can do is move its claw arms up and down...slowly, its mouth doesn't open, its fixed in one evil grin, its eyes don't move and it can only move forwards and backwards unconvincingly. Yes I know these old movies didn't exactly have big budgets and yes I know the terrible effects are half the fun with these flicks, but seriously...this is just awful! What makes it even more hilariously stupid is the young Lee Van Cleef looking and acting deadly seriously with his pointed cheek bones and slit-like eyes, whilst this big foam triangle with teeth wobbles around trying to stand upright. It kinda makes you wonder what the effects team behind this were thinking really. How could an alien species like this possibly progress to the technological level they are at, with such a useless physical makeup. Sure they might be clever but if you don't have the body to build stuff then you're screwed. Presumably the spaceship it travels in fits large triangular creatures.\n\nThe main problem here besides the terrible looking alien is the basic plot setup, its just pants. For a start as I already pointed out, the alien controls humans by sending out these bat things to bite them, like a flippin' vampire. But the alien only has eight of these things so what the fuck! Van Cleef's character is seemingly perfectly fine with betraying the entire human race and allowing everyone to become emotionless zombies, but would this eventually include him? Surely it must because why would he want to live in a world with no emotions? Also I'm not too sure why Van Cleef's character is so embittered against his fellow man, at least to such a high degree, I mean Jesus Christ he's only a local scientist, it can't be that bad! At the same time his wife is totally against this plan, and the alien, yet she isn't on the list for brain controlling. The alien allows her to mill around causing issues with her constant moaning and defiant behaviour, eventually this leading to her trying to kill the alien, but why would the creature allow this to carry on? But essentially the entire thing just boils down to my original point, how the fuck can this stupid alien take over the Earth with just eight mind controlling bat things??? Even if it had a million that still wouldn't cover it.\n\nIt feels odd being genuinely negative about this movie because its a cheap, tacky 50's science fiction flick...because that's exactly what you would expect, that's half the fun of these things. Nevertheless I can't just bump this up because its a trashy black and white sci-fi and I'm a fanboy of trashy black and white sci-fi flicks. Yes it stars Lee Van Cleef which is awesome, yes it does have yet another cameo/bit role for the legendary Dick Miller (hurrah!), and yes the whole premise is deliciously hokey and outrageously daft, but at the same time its also crap. Yes that's right crap, crap of the highest order I'm afraid, I couldn't get into it because it was simply too stupid with its plot, and the alien was just beyond dire. Had the movie at least had some interesting locations or action or effects etc...then maybe, but its all very drab and boring with the alien hiding in a cave. Oh and its of course impervious to bullets...but not a blowtorch it seems, go figure.",
    "ratingSource" : null,
    "userName" : "Phil Hubbs",
    "userId" : null
  }, {
    "id" : "39711",
    "type" : "audienceReview",
    "score" : 2.5,
    "ratingDate" : "2015-10-17T13:29:04-07:00",
    "userImage" : {
      "thumbnailUrl" : "graph.facebook.com/v2.2/100000185301014/picture"
    },
    "superReviewer" : true,
    "movieId" : 597101384,
    "comment" : "A Body Snatcher rip off with good intentions, but the campiness cannot redeem the film to make it more enjoyable.",
    "ratingSource" : null,
    "userName" : "Sylvester Kuo",
    "userId" : null
  }, {
    "id" : "39710",
    "type" : "audienceReview",
    "score" : 2.0,
    "ratingDate" : "2009-02-08T23:19:37-08:00",
    "userImage" : {
      "thumbnailUrl" : "graph.facebook.com/v2.2/713935023/picture"
    },
    "superReviewer" : true,
    "movieId" : 597101384,
    "comment" : "One of the best examples of the drastic disconnect between what a film is attempting to convey and what it actually manages... an essential characteristic of B-Films.\n\nThere is supposed to be something of earth-shattering significance occurring, but the most people can express is mild concern... at best. The main joy that can be extracted from this film lies in that fundamental flaw... as well as one of the most absurd monster-designs of the 1950's.\n\nStill, \"It Conquered the World\" isn't bad enough to be utterly fun, yet still seems \"serious\" enough, in its ham-fisted but depressing defense of humankind, to be considered as an actual sci-fi movie rather than a B-Film. As such, it is best saved for a time when you seriously have nothing else to watch.",
    "ratingSource" : null,
    "userName" : "Daniel Hetteix",
    "userId" : null
  }, {
    "id" : "39712",
    "type" : "audienceReview",
    "score" : 3.0,
    "ratingDate" : "2008-06-27T09:00:18-07:00",
    "userImage" : {
      "thumbnailUrl" : "graph.facebook.com/v2.2/645362927/picture"
    },
    "superReviewer" : true,
    "movieId" : 597101384,
    "comment" : "Very corn ball.",
    "ratingSource" : null,
    "userName" : "Anthony Valletta",
    "userId" : null
  } ],
  "heroImage" : {
    "id" : "n-564667",
    "thumborId" : "v1.bjs1NjQ2Njc7ajsxNzAxNjsxMjAwOzEyODA7NzIw",
    "height" : 720,
    "width" : 1280,
    "format" : "JPG"
  },
  "posterImage" : {
    "id" : "m-12023663",
    "thumborId" : "v1.bTsxMjAyMzY2MztqOzE3MDE0OzEyMDA7MjE0OzQwMA",
    "height" : 400,
    "width" : 214,
    "format" : "JPG"
  },
  "videoClips" : [ ],
  "images" : [ {
    "id" : "n-564667",
    "type" : "image",
    "width" : 1280,
    "format" : "JPG",
    "thumborId" : "v1.bjs1NjQ2Njc7ajsxNzAxNjsxMjAwOzEyODA7NzIw",
    "height" : 720
  }, {
    "id" : "n-629153",
    "type" : "image",
    "width" : 1280,
    "format" : "JPG",
    "thumborId" : "v1.bjs2MjkxNTM7ajsxNzAxNzsxMjAwOzEyODA7NzIw",
    "height" : 720
  } ],
  "openingWindow" : "NA",
  "releaseScope" : "wide"
}
{
  "@context" : "http://schema.org",
  "@type" : "Movie",
  "name" : "It Conquered the World",
  "description" : "Though Roger Corman was still new to sci-fi in 1956, he made up for lost time with the above-average quickie It Conquered the World. Peter Graves heads the cast as Paul Nelson, who suspects that his best friend, eccentric genius Tom Anderson (Lee Van Cleef), is up to no good. Sure enough, Tom has contacted the denizens of the planet Venus, who hope to exploit Tom's weak nature in order to take over the world. Before long, the Venusians have taken over the minds and bodies of virtually all of Tom's friends and loved ones. It is up to Paul and a handful of un-brainwashed earthlings to halt this subversive alien invasion. Scripted by Charles Griffith (of Little Shop of Horrors fame), It Conquered the World is a thinly disguised attack on totalitarianism, from both the Left and Right. Corman regulars Beverly Garland, Dick Miller and Jonathan Haze make brief but significant appearances. The film represented first \"monster\" creation of Paul Blaisdel, whose Venusian leader looks like a surly carrot. It Conquered the World was remade--badly--as Zontar, the Thing from Venus (1968).",
  "actor" : [ {
    "@type" : "Person",
    "name" : "Peter Graves"
  }, {
    "@type" : "Person",
    "name" : "Lee Van Cleef"
  }, {
    "@type" : "Person",
    "name" : "Beverly Garland"
  }, {
    "@type" : "Person",
    "name" : "Sally Fraser"
  }, {
    "@type" : "Person",
    "name" : "Charles B. Griffith"
  }, {
    "@type" : "Person",
    "name" : "Russ Bender"
  }, {
    "@type" : "Person",
    "name" : "Jonathan Haze"
  }, {
    "@type" : "Person",
    "name" : "Dick Miller"
  }, {
    "@type" : "Person",
    "name" : "Karen Kadler"
  }, {
    "@type" : "Person",
    "name" : "Paul Blaisdell"
  }, {
    "@type" : "Person",
    "name" : "Taggart Casey"
  }, {
    "@type" : "Person",
    "name" : "Marshall Bradford"
  }, {
    "@type" : "Person",
    "name" : "Thomas E. Jackson"
  }, {
    "@type" : "Person",
    "name" : "David McMahon"
  } ],
  "director" : [ {
    "@type" : "Person",
    "name" : "Roger Corman"
  } ],
  "author" : [ {
    "@type" : "Person",
    "name" : "Lou Rusoff"
  }, {
    "@type" : "Person",
    "name" : "Charles B. Griffith"
  } ],
  "productionCompany" : {
    "@type" : "Organization",
    "name" : "American International Pictures"
  },
  "aggregateRating" : {
    "@type" : "AggregateRating",
    "ratingValue" : 80,
    "bestRating" : "100",
    "worstRating" : "0",
    "reviewCount" : 5,
    "name" : "Tomatometer",
    "description" : "The Tomatometer rating – based on the published opinions of hundreds of film and television critics – is a trusted measurement of movie and TV programming quality for millions of moviegoers. It represents the percentage of professional critic reviews that are positive for a given film or television show."
  },
  "contentRating" : "NR",
  "dateModified" : "2016-06-11T20:18:33-07:00",
  "dateCreated" : "2007-03-01T10:27:54-08:00",
  "datePublished" : 1956,
  "genre" : [ "Cult Movies", "Drama", "Horror", "Science Fiction & Fantasy" ],
  "review" : [ {
    "@type" : "Review",
    "url" : "http://www.timeout.com/film/reviews/76243/it_conquered_the_world.html",
    "dateCreated" : "2006-02-08T19:17:08-08:00",
    "author" : {
      "@type" : "Person",
      "url" : "www.rottentomatoes.com/critic/geoff-andrew",
      "name" : "Geoff Andrew"
    },
    "publisher" : {
      "@type" : "Organization",
      "name" : "Time Out"
    },
    "reviewRating" : {
      "@type" : "Rating",
      "bestRating" : "1",
      "worstRating" : "-1",
      "ratingValue" : 0
    }
  }, {
    "@type" : "Review",
    "url" : "http://onfilm.chicagoreader.com/movies/capsules/16985_IT_CONQUERED_THE_WORLD.html",
    "dateCreated" : "1999-12-31T16:00:00-08:00",
    "author" : {
      "@type" : "Person",
      "url" : "www.rottentomatoes.com/critic/dave-kehr",
      "name" : "Dave Kehr"
    },
    "publisher" : {
      "@type" : "Organization",
      "name" : "Chicago Reader"
    },
    "reviewRating" : {
      "@type" : "Rating",
      "bestRating" : "1",
      "worstRating" : "-1",
      "ratingValue" : 0
    }
  }, {
    "@type" : "Review",
    "dateCreated" : "2005-10-04T04:34:47-07:00",
    "author" : {
      "@type" : "Person",
      "url" : "www.rottentomatoes.com/critic/thomas-delapa",
      "name" : "Thomas Delapa"
    },
    "publisher" : {
      "@type" : "Organization",
      "name" : "Boulder Weekly"
    },
    "reviewRating" : {
      "@type" : "Rating",
      "bestRating" : "1",
      "worstRating" : "-1",
      "ratingValue" : 1
    }
  }, {
    "@type" : "Review",
    "dateCreated" : "2005-07-27T01:49:23-07:00",
    "author" : {
      "@type" : "Person",
      "url" : "www.rottentomatoes.com/critic/emanuel-levy",
      "name" : "Emanuel Levy"
    },
    "publisher" : {
      "@type" : "Organization",
      "name" : "EmanuelLevy.Com"
    },
    "reviewRating" : {
      "@type" : "Rating",
      "bestRating" : "1",
      "worstRating" : "-1",
      "ratingValue" : 1
    }
  }, {
    "@type" : "Review",
    "dateCreated" : "2003-08-22T06:54:11-07:00",
    "author" : {
      "@type" : "Person",
      "url" : "www.rottentomatoes.com/critic/carol-cling",
      "name" : "Carol Cling"
    },
    "publisher" : {
      "@type" : "Organization",
      "name" : "Las Vegas Review-Journal"
    },
    "reviewRating" : {
      "@type" : "Rating",
      "bestRating" : "1",
      "worstRating" : "-1",
      "ratingValue" : 1
    }
  }, {
    "@type" : "Review",
    "reviewBody" : "Occasionally amusing with the great zucchini monster payoff",
    "dateCreated" : "2002-10-02T02:57:32-07:00",
    "author" : {
      "@type" : "Person",
      "url" : "www.rottentomatoes.com/critic/ken-hanke",
      "name" : "Ken Hanke"
    },
    "publisher" : {
      "@type" : "Organization",
      "name" : "Mountain Xpress (Asheville, NC)"
    },
    "reviewRating" : {
      "@type" : "Rating",
      "bestRating" : "1",
      "worstRating" : "-1",
      "ratingValue" : -1
    }
  }, {
    "@type" : "Review",
    "dateCreated" : "2002-07-25T17:30:21-07:00",
    "author" : {
      "@type" : "Person",
      "url" : "www.rottentomatoes.com/critic/scott-weinberg",
      "name" : "Scott Weinberg"
    },
    "publisher" : {
      "@type" : "Organization",
      "name" : "eFilmCritic.com"
    },
    "reviewRating" : {
      "@type" : "Rating",
      "bestRating" : "1",
      "worstRating" : "-1",
      "ratingValue" : 1
    }
  } ],
  "image" : {
    "@type" : "ImageObject",
    "width" : 214,
    "height" : 400,
    "url" : "https://resizing.flixster.com/Ch0BU_Q_y_ReV34rut1Pxjc0c6o=/fit-in/214x400/v1.bTsxMjAyMzY2MztqOzE3MDE0OzEyMDA7MjE0OzQwMA"
  },
  "duration" : "PT68M",
  "url" : "www.rottentomatoes.com/m/it_conquered_the_world",
  "releasedEvent" : [ {
    "@type" : "PublicationEvent",
    "startDate" : "1956-07-15",
    "name" : "Theater"
  }, {
    "@type" : "PublicationEvent",
    "startDate" : "1991-06-26",
    "name" : "DVD"
  } ],
  "character" : [ {
    "@type" : "Person",
    "name" : "Dr. Paul Nelson"
  }, {
    "@type" : "Person",
    "name" : "Dr. Tom Anderson"
  }, {
    "@type" : "Person",
    "name" : "Claire Anderson"
  }, {
    "@type" : "Person",
    "name" : "Joan Nelson"
  }, {
    "@type" : "Person",
    "name" : "Pete Shelton"
  }, {
    "@type" : "Person",
    "name" : "Gen. Patrick"
  }, {
    "@type" : "Person",
    "name" : "Pvt. Manuel Ortiz"
  }, {
    "@type" : "Person",
    "name" : "Sgt. Neil"
  }, {
    "@type" : "Person",
    "name" : "Ellen Peters"
  }, {
    "@type" : "Person",
    "name" : "Visitor from Venus"
  }, {
    "@type" : "Person",
    "name" : "Police Chief Schallert"
  }, {
    "@type" : "Person",
    "name" : "U.S. Secretary Platt"
  }, {
    "@type" : "Person",
    "name" : "George Haskell"
  }, {
    "@type" : "Person",
    "name" : "General Carpenter"
  } ]
}
{
  "boxOffice" : [ {
    "id" : "771353630",
    "type" : "movie",
    "advisory" : "for mild thematic elements",
    "lastModifiedDate" : "2016-07-01T10:49:06-07:00",
    "tomatometer" : {
      "state" : "certified_fresh",
      "value" : 95
    },
    "year" : 2016,
    "releaseScope" : "wide",
    "studioName" : "Walt Disney Pictures/PIXAR",
    "dvdWindow" : "NA",
    "heroImage" : {
      "id" : "n-1129082",
      "thumborId" : "v1.bjsxMTI5MDgyO2o7MTcwMjM7MTIwMDsxODAwOzg0MA",
      "height" : 840,
      "width" : 1800,
      "format" : "JPG"
    },
    "synopsis" : "\"Finding Dory\" reunites the friendly-but-forgetful blue tang fish with her loved ones, and everyone learns a few things about the true meaning of family along the way. The all-new big-screen adventure dives into theaters in 2016, taking moviegoers back to the extraordinary underwater world from the original film.",
    "releaseDates" : {
      "theater" : "2016-06-17"
    },
    "runningTime" : 100,
    "creationDate" : "2013-04-02T07:00:46-07:00",
    "title" : "Finding Dory",
    "posterImage" : {
      "id" : "m-11685530",
      "thumborId" : "v1.bTsxMTY4NTUzMDtwOzE3MDEwOzEyMDA7NDMyOzYzNw",
      "height" : 637,
      "width" : 432,
      "format" : "PNG"
    },
    "vanity" : "finding_dory",
    "officialUrl" : "http://movies.disney.com/finding-dory",
    "cummulativeBoxOffice" : 286277856,
    "mainTrailer" : {
      "id" : "11232306",
      "title" : "Finding Dory",
      "sourceId" : "480095",
      "thumbUrl" : "https://content.internetvideoarchive.com/content/photos/10345/480095_100.jpg",
      "duration" : 155,
      "clipType" : "TRL",
      "source" : "VDD"
    },
    "boxOffice" : null,
    "openingWindow" : "in-theaters",
    "mpaaRating" : "PG"
  }, {
    "id" : "771359352",
    "type" : "movie",
    "advisory" : "for sequences of sci-fi action and destruction, and for some language",
    "lastModifiedDate" : "2016-07-01T15:45:56-07:00",
    "tomatometer" : {
      "state" : "rotten",
      "value" : 32
    },
    "year" : 2016,
    "releaseScope" : "wide",
    "studioName" : "20th Century Fox",
    "dvdWindow" : "NA",
    "heroImage" : {
      "id" : "n-1129912",
      "thumborId" : "v1.bjsxMTI5OTEyO2o7MTcwMjM7MTIwMDszMDAwOzEyNTA",
      "height" : 1250,
      "width" : 3000,
      "format" : "JPG"
    },
    "synopsis" : "We always knew they were coming back. After INDEPENDENCE DAY redefined the event movie genre, the next epic chapter delivers global catastrophe on an unimaginable scale. Using recovered alien technology, the nations of Earth have collaborated on an immense defense program to protect the planet. But nothing can prepare us for the aliens' advanced and unprecedented force. Only the ingenuity of a few brave men and women can bring our world back from the brink of extinction. (C) Fox",
    "releaseDates" : {
      "theater" : "2016-06-24"
    },
    "runningTime" : 119,
    "creationDate" : "2013-06-20T22:10:16-07:00",
    "title" : "Independence Day: Resurgence",
    "posterImage" : {
      "id" : "m-11573414",
      "thumborId" : "v1.bTsxMTU3MzQxNDtqOzE3MDk4OzEyMDA7MjAyNTszMDAw",
      "height" : 3000,
      "width" : 2025,
      "format" : "JPG"
    },
    "vanity" : "independence_day_resurgence",
    "officialUrl" : "http://www.foxmovies.com/movies/independence-day-resurgence",
    "cummulativeBoxOffice" : 0,
    "mainTrailer" : {
      "id" : "11233502",
      "title" : "Independence Day: Resurgence",
      "sourceId" : "614920",
      "thumbUrl" : "https://content.internetvideoarchive.com/content/photos/10252/614920_526.jpg",
      "duration" : 151,
      "clipType" : "TRL",
      "source" : "VDD"
    },
    "boxOffice" : null,
    "openingWindow" : "in-theaters",
    "mpaaRating" : "PG13"
  }, {
    "id" : "771362372",
    "type" : "movie",
    "advisory" : "for violence and some language",
    "lastModifiedDate" : "2016-07-01T10:49:13-07:00",
    "tomatometer" : {
      "state" : "rotten",
      "value" : 34
    },
    "year" : 2016,
    "releaseScope" : "wide",
    "studioName" : "Lionsgate",
    "dvdWindow" : "NA",
    "heroImage" : {
      "id" : "n-1122113",
      "thumborId" : "v1.bjsxMTIyMTEzO2o7MTcwMjI7MTIwMDs0OTI4OzMyODA",
      "height" : 3280,
      "width" : 4928,
      "format" : "JPG"
    },
    "synopsis" : "THE FOUR HORSEMEN (Jesse Eisenberg, Woody Harrelson, Dave Franco, Lizzy Caplan) return for a second mind-bending adventure, elevating the limits of stage illusion to new heights and taking them around the globe. One year after outwitting the FBI and winning the public's adulation with their Robin Hood-style magic spectacles, the illusionists resurface for a comeback performance in hopes of exposing the unethical practices of a tech magnate. The man behind their vanishing act is none other than WALTER MABRY (Daniel Radcliffe), a tech prodigy who threatens the Horsemen into pulling off their most impossible heist yet. Their only hope is to perform one last unprecedented stunt to clear their names and reveal the mastermind behind it all.",
    "releaseDates" : {
      "theater" : "2016-06-10"
    },
    "runningTime" : 115,
    "creationDate" : "2013-08-14T01:40:49-07:00",
    "title" : "Now You See Me 2",
    "posterImage" : {
      "id" : "m-11863097",
      "thumborId" : "v1.bTsxMTg2MzA5NztqOzE3MDEyOzEyMDA7NTAwMDs3NjAw",
      "height" : 7600,
      "width" : 5000,
      "format" : "JPG"
    },
    "vanity" : "now_you_see_me_2",
    "officialUrl" : "http://www.nowyouseeme.movie/",
    "cummulativeBoxOffice" : 51997613,
    "mainTrailer" : {
      "id" : "11236858",
      "title" : "Now You See Me 2 (International Trailer 1)",
      "sourceId" : "929812",
      "thumbUrl" : "https://content.internetvideoarchive.com/content/photos/10037/929812_018.jpg",
      "duration" : 60,
      "clipType" : "TRL",
      "source" : "VDD"
    },
    "boxOffice" : null,
    "openingWindow" : "in-theaters",
    "mpaaRating" : "PG13"
  }, {
    "id" : "771386622",
    "type" : "movie",
    "advisory" : "for sci-fi action violence",
    "lastModifiedDate" : "2016-07-01T10:19:22-07:00",
    "tomatometer" : {
      "state" : "rotten",
      "value" : 38
    },
    "year" : 2016,
    "releaseScope" : "wide",
    "studioName" : "Paramount Pictures",
    "dvdWindow" : "NA",
    "heroImage" : {
      "id" : "n-1117796",
      "thumborId" : "v1.bjsxMTE3Nzk2O2o7MTcwMjI7MTIwMDsxNDAwOzUyNA",
      "height" : 524,
      "width" : 1400,
      "format" : "JPG"
    },
    "synopsis" : "Michelangelo, Donatello, Leonardo, and Raphael return to theaters this summer to battle bigger, badder villains, alongside April O'Neil (Megan Fox), Vern Fenwick (Will Arnett), and a newcomer: the hockey-masked vigilante Casey Jones (Stephen Amell). After supervillain Shredder (Brian Tee) escapes custody, he joins forces with mad scientist Baxter Stockman (Tyler Perry) and two dimwitted henchmen, Bebop (Gary Anthony Williams) and Rocksteady (WWE Superstar Stephen \"Sheamus\" Farrelly), to unleash a diabolical plan to take over the world. As the Turtles prepare to take on Shredder and his new crew, they find themselves facing an even greater evil with similar intentions: the notorious Krang.",
    "releaseDates" : {
      "theater" : "2016-06-03"
    },
    "runningTime" : 97,
    "creationDate" : "2014-08-15T03:57:01-07:00",
    "title" : "Teenage Mutant Ninja Turtles: Out of the Shadows",
    "posterImage" : {
      "id" : "m-11940336",
      "thumborId" : "v1.bTsxMTk0MDMzNjtqOzE3MDEzOzEyMDA7MTY5MTsyNjM5",
      "height" : 2639,
      "width" : 1691,
      "format" : "JPG"
    },
    "vanity" : "teenage_mutant_ninja_turtles_out_of_the_shadows",
    "officialUrl" : "http://www.teenagemutantninjaturtlesmovie.com/",
    "cummulativeBoxOffice" : 77181906,
    "mainTrailer" : {
      "id" : "11233402",
      "title" : "Teenage Mutant Ninja Turtles: Out Of The Shadows",
      "sourceId" : "214547",
      "thumbUrl" : "https://content.internetvideoarchive.com/content/photos/10286/214547_138.jpg",
      "duration" : 98,
      "clipType" : "TRL",
      "source" : "VDD"
    },
    "boxOffice" : null,
    "openingWindow" : "in-theaters",
    "mpaaRating" : "PG13"
  }, {
    "id" : "771374700",
    "type" : "movie",
    "advisory" : "for sequences of action and violence, some sensuality and brief rude dialogue",
    "lastModifiedDate" : "2016-07-01T14:03:31-07:00",
    "tomatometer" : {
      "state" : "rotten",
      "value" : 33
    },
    "year" : 2016,
    "releaseScope" : "wide",
    "studioName" : "Lionsgate Pictures",
    "dvdWindow" : "NA",
    "heroImage" : {
      "id" : "n-1133635",
      "thumborId" : "v1.bjsxMTMzNjM1O2o7MTcwMjM7MTIwMDsyMzUwOzEyMDA",
      "height" : 1200,
      "width" : 2350,
      "format" : "JPG"
    },
    "synopsis" : "It has been years since the man once known as Tarzan (Alexander Skarsgård) left the jungles of Africa behind for a gentrified life as John Clayton III, Lord Greystoke, with his beloved wife, Jane (Margot Robbie) at his side. Now, he has been invited back to the Congo to serve as a trade emissary of Parliament, unaware that he is a pawn in a deadly convergence of greed and revenge, masterminded by the Belgian, Captain Leon Rom (Christoph Waltz). But those behind the murderous plot have no idea what they are about to unleash.",
    "releaseDates" : {
      "theater" : "2016-07-01"
    },
    "runningTime" : 109,
    "creationDate" : "2014-02-12T03:30:39-08:00",
    "title" : "The Legend of Tarzan",
    "posterImage" : {
      "id" : "m-11954606",
      "thumborId" : "v1.bTsxMTk1NDYwNjtqOzE3MDEzOzEyMDA7NTc0Ozg1MQ",
      "height" : 851,
      "width" : 574,
      "format" : "JPG"
    },
    "vanity" : "the_legend_of_tarzan",
    "officialUrl" : "http://legendoftarzan.com/",
    "cummulativeBoxOffice" : null,
    "mainTrailer" : {
      "id" : "11233392",
      "title" : "The Legend Of Tarzan",
      "sourceId" : "39102",
      "thumbUrl" : "https://content.internetvideoarchive.com/content/photos/10127/39102_061.jpg",
      "duration" : 147,
      "clipType" : "TRL",
      "source" : "VDD"
    },
    "boxOffice" : 17000000,
    "openingWindow" : "in-theaters",
    "mpaaRating" : "PG13"
  }, {
    "id" : "771375842",
    "type" : "movie",
    "advisory" : "for terror and horror violence",
    "lastModifiedDate" : "2016-07-01T10:24:53-07:00",
    "tomatometer" : {
      "state" : "certified_fresh",
      "value" : 79
    },
    "year" : 2016,
    "releaseScope" : "wide",
    "studioName" : "Warner Bros. Pictures",
    "dvdWindow" : "NA",
    "heroImage" : {
      "id" : "n-1124575",
      "thumborId" : "v1.bjsxMTI0NTc1O2o7MTcwMjM7MTIwMDsyMTMzOzEyMDA",
      "height" : 1200,
      "width" : 2133,
      "format" : "JPG"
    },
    "synopsis" : "Reprising their roles, Oscar nominee Vera Farmiga (\"Up In the Air,\" TV's \"Bates Motel\") and Patrick Wilson (the \"Insidious\" films), star as Lorraine and Ed Warren, who, in one of their most terrifying paranormal investigations, travel to north London to help a single mother raising four children alone in a house plagued by malicious spirits.",
    "releaseDates" : {
      "theater" : "2016-06-10"
    },
    "runningTime" : 133,
    "creationDate" : "2014-02-27T21:34:33-08:00",
    "title" : "The Conjuring 2",
    "posterImage" : {
      "id" : "m-11882329",
      "thumborId" : "v1.bTsxMTg4MjMyOTtqOzE3MDEyOzEyMDA7MTQxNzsyMTAw",
      "height" : 2100,
      "width" : 1417,
      "format" : "JPG"
    },
    "vanity" : "the_conjuring_2",
    "officialUrl" : "http://www.theconjuring2.com/",
    "cummulativeBoxOffice" : 86903628,
    "mainTrailer" : {
      "id" : "11234499",
      "title" : "The Conjuring 2",
      "sourceId" : "62422",
      "thumbUrl" : "https://content.internetvideoarchive.com/content/photos/10160/62422_072.jpg",
      "duration" : 159,
      "clipType" : "TRL",
      "source" : "VDD"
    },
    "boxOffice" : null,
    "openingWindow" : "in-theaters",
    "mpaaRating" : "R"
  }, {
    "id" : "771403192",
    "type" : "movie",
    "advisory" : "for crude and suggestive humor, some nudity, action violence and brief strong language",
    "lastModifiedDate" : "2016-07-01T15:34:51-07:00",
    "tomatometer" : {
      "state" : "fresh",
      "value" : 67
    },
    "year" : 2016,
    "releaseScope" : "wide",
    "studioName" : "Warner Bros. Pictures",
    "dvdWindow" : "NA",
    "heroImage" : {
      "id" : "n-1000445",
      "thumborId" : "v1.bjsxMDAwNDQ1O2o7MTcwMjE7MTIwMDszMDAwOzIwMDA",
      "height" : 2000,
      "width" : 3000,
      "format" : "JPG"
    },
    "synopsis" : "The story follows a one-time bullied geek, Bob, who grew up to be a lethal CIA agent, coming home for his high school reunion. Claiming to be on a top-secret case, he enlists the help of former \"big man on campus,\" Calvin, now an accountant who misses his glory days. But before the staid numbers-cruncher realizes what he's getting into, it's too late to get out, as his increasingly unpredictable new friend drags him through a world of shoot-outs, double-crosses and espionage that could get them both killed in more ways than Calvin can count.",
    "releaseDates" : {
      "theater" : "2016-06-17"
    },
    "runningTime" : 114,
    "creationDate" : "2014-11-12T23:16:29-08:00",
    "title" : "Central Intelligence",
    "posterImage" : {
      "id" : "m-11946483",
      "thumborId" : "v1.bTsxMTk0NjQ4MztqOzE3MDEzOzEyMDA7ODAwOzExODY",
      "height" : 1186,
      "width" : 800,
      "format" : "JPG"
    },
    "vanity" : "central_intelligence",
    "officialUrl" : "http://www.centralintelligencemovie.com/",
    "cummulativeBoxOffice" : 0,
    "mainTrailer" : {
      "id" : "11232634",
      "title" : "Central Intelligence",
      "sourceId" : "866156",
      "thumbUrl" : "https://content.internetvideoarchive.com/content/photos/10122/866156_081.jpg",
      "duration" : 156,
      "clipType" : "TRL",
      "source" : "VDD"
    },
    "boxOffice" : null,
    "openingWindow" : "in-theaters",
    "mpaaRating" : "PG13"
  }, {
    "id" : "771021948",
    "type" : "movie",
    "advisory" : "for extended sequences of intense fantasy violence",
    "lastModifiedDate" : "2016-07-01T15:37:29-07:00",
    "tomatometer" : {
      "state" : "rotten",
      "value" : 30
    },
    "year" : 2016,
    "releaseScope" : "wide",
    "studioName" : "Universal Pictures",
    "dvdWindow" : "NA",
    "heroImage" : {
      "id" : "n-1122138",
      "thumborId" : "v1.bjsxMTIyMTM4O2o7MTcwMjI7MTIwMDs1MTEyOzIxMzI",
      "height" : 2132,
      "width" : 5112,
      "format" : "JPG"
    },
    "synopsis" : "Legendary Pictures' WARCRAFT, a 3D epic adventure of world-colliding conflict based upon Blizzard Entertainment's globally-renowned universe, is directed by Duncan Jones (Moon, Source Code) and is written by Charles Leavitt and rewritten by Duncan Jones. The producers are Charles Roven, Thomas Tull, Jon Jashni and Alex Gartner. Stuart Fenegan, Jillian Share and Brent O'Connor serve as executive producers. Blizzard's Chris Metzen co-produces. (C) Universal",
    "releaseDates" : {
      "theater" : "2016-06-10"
    },
    "runningTime" : 100,
    "creationDate" : "2010-04-12T19:50:26-07:00",
    "title" : "Warcraft",
    "posterImage" : {
      "id" : "m-11785752",
      "thumborId" : "v1.bTsxMTc4NTc1MjtqOzE3MDExOzEyMDA7MzE1ODs1MDAw",
      "height" : 5000,
      "width" : 3158,
      "format" : "JPG"
    },
    "vanity" : "warcraft",
    "officialUrl" : "http://www.warcraftmovie.com/",
    "cummulativeBoxOffice" : null,
    "mainTrailer" : {
      "id" : "11232069",
      "title" : "Warcraft",
      "sourceId" : "723419",
      "thumbUrl" : "https://content.internetvideoarchive.com/content/photos/10242/723419_116.jpg",
      "duration" : 103,
      "clipType" : "TRL",
      "source" : "VDD"
    },
    "boxOffice" : null,
    "openingWindow" : "in-theaters",
    "mpaaRating" : "PG13"
  }, {
    "id" : "771411544",
    "type" : "movie",
    "advisory" : "for disturbing bloody violence and strong language",
    "lastModifiedDate" : "2016-07-01T10:49:14-07:00",
    "tomatometer" : {
      "state" : "rotten",
      "value" : 54
    },
    "year" : 2016,
    "releaseScope" : "wide",
    "studioName" : "Universal Pictures",
    "dvdWindow" : "NA",
    "heroImage" : {
      "id" : "n-1133400",
      "thumborId" : "v1.bjsxMTMzNDAwO2o7MTcwMjM7MTIwMDsxOTIwOzEwODA",
      "height" : 1080,
      "width" : 1920,
      "format" : "JPG"
    },
    "synopsis" : "Writer/director James DeMonaco returns for the third installment of the franchise starring Frank Grillo.",
    "releaseDates" : {
      "theater" : "2016-07-01"
    },
    "runningTime" : 105,
    "creationDate" : "2015-01-12T03:00:11-08:00",
    "title" : "The Purge: Election Year",
    "posterImage" : {
      "id" : "m-12007674",
      "thumborId" : "v1.bTsxMjAwNzY3NDtqOzE3MDEzOzEyMDA7NTAwMDs3OTE3",
      "height" : 7917,
      "width" : 5000,
      "format" : "JPG"
    },
    "vanity" : "the_purge_election_year",
    "officialUrl" : "http://www.thepurgeelectionyear.com/",
    "cummulativeBoxOffice" : null,
    "mainTrailer" : {
      "id" : "11236361",
      "title" : "The Purge: Election Year (Australia Trailer 1)",
      "sourceId" : "483765",
      "thumbUrl" : "https://content.internetvideoarchive.com/content/photos/10015/483765_008.jpg",
      "duration" : 142,
      "clipType" : "TRL",
      "source" : "VDD"
    },
    "boxOffice" : 22000000,
    "openingWindow" : "in-theaters",
    "mpaaRating" : "R"
  }, {
    "id" : "771382797",
    "type" : "movie",
    "advisory" : "for action/peril, some scary moments and brief rude humor",
    "lastModifiedDate" : "2016-07-01T15:39:10-07:00",
    "tomatometer" : {
      "state" : "fresh",
      "value" : 72
    },
    "year" : 2016,
    "releaseScope" : "wide",
    "studioName" : "Walt Disney Pictures",
    "dvdWindow" : "NA",
    "heroImage" : {
      "id" : "n-1134422",
      "thumborId" : "v1.bjsxMTM0NDIyO2o7MTcwMjM7MTIwMDsyMTgwOzExNTI",
      "height" : 1152,
      "width" : 2180,
      "format" : "JPG"
    },
    "synopsis" : "This film tells the tale of a young girl, the Queen of England and a benevolent giant known as the BFG, who set out on an adventure to capture the evil, man-eating giants who have been invading the human world.",
    "releaseDates" : {
      "theater" : "2016-07-01"
    },
    "runningTime" : 115,
    "creationDate" : "2014-06-19T08:16:48-07:00",
    "title" : "The BFG",
    "posterImage" : {
      "id" : "m-11931565",
      "thumborId" : "v1.bTsxMTkzMTU2NTtqOzE3MDEzOzEyMDA7MTY4ODsyNTAw",
      "height" : 2500,
      "width" : 1688,
      "format" : "JPG"
    },
    "vanity" : "the_bfg_2016",
    "officialUrl" : "http://movies.disney.com/the-bfg",
    "cummulativeBoxOffice" : null,
    "mainTrailer" : {
      "id" : "11233325",
      "title" : "The BFG",
      "sourceId" : "823354",
      "thumbUrl" : "https://content.internetvideoarchive.com/content/photos/10323/823354_142.jpg",
      "duration" : 133,
      "clipType" : "TRL",
      "source" : "VDD"
    },
    "boxOffice" : 14000000,
    "openingWindow" : "in-theaters",
    "mpaaRating" : "PG"
  } ],
  "opening" : [ {
    "id" : "771374700",
    "type" : "movie",
    "advisory" : "for sequences of action and violence, some sensuality and brief rude dialogue",
    "lastModifiedDate" : "2016-07-01T14:03:31-07:00",
    "tomatometer" : {
      "state" : "rotten",
      "value" : 33
    },
    "year" : 2016,
    "releaseScope" : "wide",
    "studioName" : "Lionsgate Pictures",
    "dvdWindow" : "NA",
    "heroImage" : {
      "id" : "n-1133635",
      "thumborId" : "v1.bjsxMTMzNjM1O2o7MTcwMjM7MTIwMDsyMzUwOzEyMDA",
      "height" : 1200,
      "width" : 2350,
      "format" : "JPG"
    },
    "synopsis" : "It has been years since the man once known as Tarzan (Alexander Skarsgård) left the jungles of Africa behind for a gentrified life as John Clayton III, Lord Greystoke, with his beloved wife, Jane (Margot Robbie) at his side. Now, he has been invited back to the Congo to serve as a trade emissary of Parliament, unaware that he is a pawn in a deadly convergence of greed and revenge, masterminded by the Belgian, Captain Leon Rom (Christoph Waltz). But those behind the murderous plot have no idea what they are about to unleash.",
    "releaseDates" : {
      "theater" : "2016-07-01"
    },
    "runningTime" : 109,
    "creationDate" : "2014-02-12T03:30:39-08:00",
    "title" : "The Legend of Tarzan",
    "posterImage" : {
      "id" : "m-11954606",
      "thumborId" : "v1.bTsxMTk1NDYwNjtqOzE3MDEzOzEyMDA7NTc0Ozg1MQ",
      "height" : 851,
      "width" : 574,
      "format" : "JPG"
    },
    "vanity" : "the_legend_of_tarzan",
    "officialUrl" : "http://legendoftarzan.com/",
    "cummulativeBoxOffice" : null,
    "mainTrailer" : {
      "id" : "11233392",
      "title" : "The Legend Of Tarzan",
      "sourceId" : "39102",
      "thumbUrl" : "https://content.internetvideoarchive.com/content/photos/10127/39102_061.jpg",
      "duration" : 147,
      "clipType" : "TRL",
      "source" : "VDD"
    },
    "boxOffice" : 17000000,
    "openingWindow" : "in-theaters",
    "mpaaRating" : "PG13"
  }, {
    "id" : "771411544",
    "type" : "movie",
    "advisory" : "for disturbing bloody violence and strong language",
    "lastModifiedDate" : "2016-07-01T10:49:14-07:00",
    "tomatometer" : {
      "state" : "rotten",
      "value" : 54
    },
    "year" : 2016,
    "releaseScope" : "wide",
    "studioName" : "Universal Pictures",
    "dvdWindow" : "NA",
    "heroImage" : {
      "id" : "n-1133400",
      "thumborId" : "v1.bjsxMTMzNDAwO2o7MTcwMjM7MTIwMDsxOTIwOzEwODA",
      "height" : 1080,
      "width" : 1920,
      "format" : "JPG"
    },
    "synopsis" : "Writer/director James DeMonaco returns for the third installment of the franchise starring Frank Grillo.",
    "releaseDates" : {
      "theater" : "2016-07-01"
    },
    "runningTime" : 105,
    "creationDate" : "2015-01-12T03:00:11-08:00",
    "title" : "The Purge: Election Year",
    "posterImage" : {
      "id" : "m-12007674",
      "thumborId" : "v1.bTsxMjAwNzY3NDtqOzE3MDEzOzEyMDA7NTAwMDs3OTE3",
      "height" : 7917,
      "width" : 5000,
      "format" : "JPG"
    },
    "vanity" : "the_purge_election_year",
    "officialUrl" : "http://www.thepurgeelectionyear.com/",
    "cummulativeBoxOffice" : null,
    "mainTrailer" : {
      "id" : "11236361",
      "title" : "The Purge: Election Year (Australia Trailer 1)",
      "sourceId" : "483765",
      "thumbUrl" : "https://content.internetvideoarchive.com/content/photos/10015/483765_008.jpg",
      "duration" : 142,
      "clipType" : "TRL",
      "source" : "VDD"
    },
    "boxOffice" : 22000000,
    "openingWindow" : "in-theaters",
    "mpaaRating" : "R"
  }, {
    "id" : "771382797",
    "type" : "movie",
    "advisory" : "for action/peril, some scary moments and brief rude humor",
    "lastModifiedDate" : "2016-07-01T15:39:10-07:00",
    "tomatometer" : {
      "state" : "fresh",
      "value" : 72
    },
    "year" : 2016,
    "releaseScope" : "wide",
    "studioName" : "Walt Disney Pictures",
    "dvdWindow" : "NA",
    "heroImage" : {
      "id" : "n-1134422",
      "thumborId" : "v1.bjsxMTM0NDIyO2o7MTcwMjM7MTIwMDsyMTgwOzExNTI",
      "height" : 1152,
      "width" : 2180,
      "format" : "JPG"
    },
    "synopsis" : "This film tells the tale of a young girl, the Queen of England and a benevolent giant known as the BFG, who set out on an adventure to capture the evil, man-eating giants who have been invading the human world.",
    "releaseDates" : {
      "theater" : "2016-07-01"
    },
    "runningTime" : 115,
    "creationDate" : "2014-06-19T08:16:48-07:00",
    "title" : "The BFG",
    "posterImage" : {
      "id" : "m-11931565",
      "thumborId" : "v1.bTsxMTkzMTU2NTtqOzE3MDEzOzEyMDA7MTY4ODsyNTAw",
      "height" : 2500,
      "width" : 1688,
      "format" : "JPG"
    },
    "vanity" : "the_bfg_2016",
    "officialUrl" : "http://movies.disney.com/the-bfg",
    "cummulativeBoxOffice" : null,
    "mainTrailer" : {
      "id" : "11233325",
      "title" : "The BFG",
      "sourceId" : "823354",
      "thumbUrl" : "https://content.internetvideoarchive.com/content/photos/10323/823354_142.jpg",
      "duration" : 133,
      "clipType" : "TRL",
      "source" : "VDD"
    },
    "boxOffice" : 14000000,
    "openingWindow" : "in-theaters",
    "mpaaRating" : "PG"
  }, {
    "id" : "771434474",
    "type" : "movie",
    "advisory" : "for violence, language throughout, some sexuality, nudity and brief drug use",
    "lastModifiedDate" : "2016-07-01T15:34:54-07:00",
    "tomatometer" : {
      "state" : "fresh",
      "value" : 67
    },
    "year" : 2016,
    "releaseScope" : "limited",
    "studioName" : null,
    "dvdWindow" : "NA",
    "heroImage" : {
      "id" : "n-1139109",
      "thumborId" : "v1.bjsxMTM5MTA5O2o7MTcwMjM7MTIwMDsxMjgwOzg1Mw",
      "height" : 853,
      "width" : 1280,
      "format" : "JPG"
    },
    "synopsis" : "While on holiday in Marrakech, an ordinary English couple, Perry and Gail, befriend a flamboyant and charismatic Russian, Dima, who unbeknownst to them is a kingpin money launderer for the Russian mafia. When Dima asks for their help to deliver classified information to the British Secret Services, Perry and Gail get caught in a dangerous world of international espionage and dirty politics. The couple is propelled on a perilous journey through Paris and Bern, a safe house in the French Alps, to the murky corners of the City of London and an alliance with the British Government via a ruthless and determined MI6 agent.",
    "releaseDates" : {
      "theater" : "2016-07-01"
    },
    "runningTime" : 107,
    "creationDate" : "2015-11-19T06:23:54-08:00",
    "title" : "Our Kind of Traitor",
    "posterImage" : {
      "id" : "m-11837687",
      "thumborId" : "v1.bTsxMTgzNzY4NztqOzE3MDEyOzEyMDA7NDA1OzYwMA",
      "height" : 600,
      "width" : 405,
      "format" : "JPG"
    },
    "vanity" : "our_kind_of_traitor_2016",
    "officialUrl" : "",
    "cummulativeBoxOffice" : null,
    "mainTrailer" : {
      "id" : "11239427",
      "title" : "Our Kind Of Traitor (US)",
      "sourceId" : "507605",
      "thumbUrl" : "https://content.internetvideoarchive.com/content/photos/10217/507605_098.jpg",
      "duration" : 142,
      "clipType" : "TRL",
      "source" : "VDD"
    },
    "boxOffice" : null,
    "openingWindow" : "in-theaters",
    "mpaaRating" : "R"
  }, {
    "id" : "771421943",
    "type" : "movie",
    "advisory" : "for some sex-related material involving young teens",
    "lastModifiedDate" : "2016-07-01T07:35:04-07:00",
    "tomatometer" : {
      "state" : "fresh",
      "value" : 93
    },
    "year" : 2016,
    "releaseScope" : "limited",
    "studioName" : "Partizan Films",
    "dvdWindow" : "NA",
    "heroImage" : {
      "id" : "n-1102807",
      "thumborId" : "v1.bjsxMTAyODA3O2o7MTcwMjI7MTIwMDsxMTQwOzY0MQ",
      "height" : 641,
      "width" : 1140,
      "format" : "JPG"
    },
    "synopsis" : "Microbe, a shy, aspiring artist, has trouble making friends at school until he meets Gasoline, a likeminded outcast. Together they hatch a plan to build a car and spend their summer on an epic road trip across France. This charming adventure from Michel Gondry (MOOD INDIGO, BE KIND REWIND) has been called his \"most satisfying movie since ETERNAL SUNSHINE OF THE SPOTLESS MIND,\" reminding us how friendships can help us reach our true potential. Also starring Audrey Tautou (AMELIE, DA VINCI CODE).",
    "releaseDates" : {
      "theater" : "2016-07-01"
    },
    "runningTime" : 103,
    "creationDate" : "2015-07-20T06:56:31-07:00",
    "title" : "Microbe and Gasoline (Microbe et Gasoil)",
    "posterImage" : {
      "id" : "m-11913465",
      "thumborId" : "v1.bTsxMTkxMzQ2NTtqOzE3MDEyOzEyMDA7MTM4NjsyMDQ4",
      "height" : 2048,
      "width" : 1386,
      "format" : "JPG"
    },
    "vanity" : "microbe_and_gasoline",
    "officialUrl" : null,
    "cummulativeBoxOffice" : null,
    "mainTrailer" : {
      "id" : "11247813",
      "title" : "Microbe and Gasoline",
      "sourceId" : "189775",
      "thumbUrl" : "https://content.internetvideoarchive.com/content/photos/10304/189775_177.jpg",
      "duration" : 122,
      "clipType" : "TRL",
      "source" : "VDD"
    },
    "boxOffice" : null,
    "openingWindow" : "in-theaters",
    "mpaaRating" : "R"
  }, {
    "id" : "771442391",
    "type" : "movie",
    "advisory" : "for strong violence, language, brief drug use and nudity",
    "lastModifiedDate" : "2016-07-01T10:27:18-07:00",
    "tomatometer" : {
      "state" : "rotten",
      "value" : 43
    },
    "year" : 2016,
    "releaseScope" : "limited",
    "studioName" : "Emmett/Furla Films",
    "dvdWindow" : "NA",
    "heroImage" : {
      "id" : "n-1122133",
      "thumborId" : "v1.bjsxMTIyMTMzO2o7MTcwMjI7MTIwMDsxMjgwOzcyMA",
      "height" : 720,
      "width" : 1280,
      "format" : "JPG"
    },
    "synopsis" : "When a bank is hit by a brutal heist, all evidence points to the owner (Bruce Willis) and his high-powered clients. But as a group of FBI agents (Christopher Meloni, Dave Bautista and Adrian Grenier) dig deeper into the case - and the deadly heists continue - it becomes clear that a larger conspiracy is at play.",
    "releaseDates" : {
      "theater" : "2016-07-01"
    },
    "runningTime" : 107,
    "creationDate" : "2016-04-30T23:03:32-07:00",
    "title" : "Marauders",
    "posterImage" : {
      "id" : "m-11985117",
      "thumborId" : "v1.bTsxMTk4NTExNztqOzE3MDEzOzEyMDA7NTQwOzgwMA",
      "height" : 800,
      "width" : 540,
      "format" : "JPG"
    },
    "vanity" : "marauders_2016",
    "officialUrl" : "",
    "cummulativeBoxOffice" : null,
    "mainTrailer" : {
      "id" : "11250369",
      "title" : "Marauders",
      "sourceId" : "250804",
      "thumbUrl" : "https://content.internetvideoarchive.com/content/photos/10356/250804_169.jpg",
      "duration" : 125,
      "clipType" : "TRL",
      "source" : "VDD"
    },
    "boxOffice" : null,
    "openingWindow" : "in-theaters",
    "mpaaRating" : "R"
  }, {
    "id" : "771435756",
    "type" : "movie",
    "advisory" : "for thematic elements, and language including a suggestive reference",
    "lastModifiedDate" : "2016-07-01T10:49:10-07:00",
    "tomatometer" : {
      "state" : "fresh",
      "value" : 88
    },
    "year" : 2016,
    "releaseScope" : "limited",
    "studioName" : "A&E IndieFilms",
    "dvdWindow" : "NA",
    "heroImage" : {
      "id" : "n-1129870",
      "thumborId" : "v1.bjsxMTI5ODcwO2o7MTcwMjM7MTIwMDsxMjgwOzcyMA",
      "height" : 720,
      "width" : 1280,
      "format" : "JPG"
    },
    "synopsis" : "The inspirational story of Owen Suskind, a young man who was unable to speak as a child until he and his family discovered a unique way to communicate by immersing themselves in the world of classic Disney animated films. This emotional coming-of-age story follows Owen as he graduates to adulthood and takes his first steps toward independence.",
    "releaseDates" : {
      "theater" : "2016-07-01"
    },
    "runningTime" : 89,
    "creationDate" : "2015-12-25T19:10:23-08:00",
    "title" : "Life, Animated",
    "posterImage" : {
      "id" : "m-11989625",
      "thumborId" : "v1.bTsxMTk4OTYyNTtqOzE3MDEzOzEyMDA7NTcxOzgyNQ",
      "height" : 825,
      "width" : 571,
      "format" : "JPG"
    },
    "vanity" : "life_animated",
    "officialUrl" : "http://www.lifeanimateddoc.com/",
    "cummulativeBoxOffice" : null,
    "mainTrailer" : {
      "id" : "11250753",
      "title" : "Life, Animated",
      "sourceId" : "188514",
      "thumbUrl" : "https://content.internetvideoarchive.com/content/photos/10195/188514_154.jpg",
      "duration" : 142,
      "clipType" : "TRL",
      "source" : "VDD"
    },
    "boxOffice" : null,
    "openingWindow" : "in-theaters",
    "mpaaRating" : "PG"
  }, {
    "id" : "771434703",
    "type" : "movie",
    "advisory" : null,
    "lastModifiedDate" : "2016-07-01T06:28:47-07:00",
    "tomatometer" : {
      "state" : "rotten",
      "value" : 58
    },
    "year" : 2016,
    "releaseScope" : "limited",
    "studioName" : "Diablo Entertainment",
    "dvdWindow" : "new-on-dvd",
    "heroImage" : {
      "id" : "n-1134655",
      "thumborId" : "v1.bjsxMTM0NjU1O2o7MTcwMjM7MTIwMDsyMDQ4Ozg1OA",
      "height" : 858,
      "width" : 2048,
      "format" : "JPG"
    },
    "synopsis" : "This pure-pulp thrill ride jumps between past and present as it pieces together the puzzle of a shocking crime. It's 1978 and a bank robbery gone wrong leaves Vivian (The Last Exorcism's Ashley Bell) the hostage of two criminals on the run. But things go from bad to off-the-rails berserk when she and her captors wind up on the sun-baked desert outpost of a deranged ex-military sniper (Pat Healy), who ensnares them in his deadly game of cat and mouse. Rising horror auteur Mickey Keating (Pod, Darling) directs this gritty, grisly homage to the glory days of grindhouse cinema.",
    "releaseDates" : {
      "dvd" : "2016-07-01",
      "theater" : "2016-07-01"
    },
    "runningTime" : 81,
    "creationDate" : "2015-11-25T02:03:39-08:00",
    "title" : "Carnage Park",
    "posterImage" : {
      "id" : "m-11952150",
      "thumborId" : "v1.bTsxMTk1MjE1MDtqOzE3MDEzOzEyMDA7NTAwOzc0MQ",
      "height" : 741,
      "width" : 500,
      "format" : "JPG"
    },
    "vanity" : "carnage_park",
    "officialUrl" : "",
    "cummulativeBoxOffice" : null,
    "mainTrailer" : {
      "id" : "11250164",
      "title" : "Carnage Park",
      "sourceId" : "675567",
      "thumbUrl" : "https://content.internetvideoarchive.com/content/photos/9982/675567_133.jpg",
      "duration" : 105,
      "clipType" : "TRL",
      "source" : "VDD"
    },
    "boxOffice" : null,
    "openingWindow" : "in-theaters",
    "mpaaRating" : "NR"
  }, {
    "id" : "771441092",
    "type" : "movie",
    "advisory" : null,
    "lastModifiedDate" : "2016-07-01T06:33:32-07:00",
    "tomatometer" : {
      "state" : "fresh",
      "value" : 88
    },
    "year" : 2016,
    "releaseScope" : "limited",
    "studioName" : "France 2 Cinéma",
    "dvdWindow" : "NA",
    "heroImage" : {
      "id" : "n-1129895",
      "thumborId" : "v1.bjsxMTI5ODk1O2o7MTcwMjM7MTIwMDszMDAwOzIwMDA",
      "height" : 2000,
      "width" : 3000,
      "format" : "JPG"
    },
    "synopsis" : "Warsaw, December 1945: the second World War is finally over and Mathilde is treating the last of the French survivors of the German camps. When a panicked Benedictine nun appears at the clinic one night begging Mathilde to follow her back to the convent, what she finds there is shocking: a holy sister about to give birth and several more in advanced stages of pregnancy. A non-believer, Mathilde enters the sisters' fiercely private world, dictated by the rituals of their order and the strict Rev. Mother (Agata Kulesza, Ida). Fearing the shame of exposure, the hostility of the new anti-Catholic Communist government, and facing an unprecedented crisis of faith, the nuns increasingly turn to Mathilde as their belief and traditions clash with harsh realities.",
    "releaseDates" : {
      "theater" : "2016-07-01"
    },
    "runningTime" : 100,
    "creationDate" : "2016-04-13T11:52:36-07:00",
    "title" : "The Innocents (Les innocentes)",
    "posterImage" : {
      "id" : "m-12027352",
      "thumborId" : "v1.bTsxMjAyNzM1MjtqOzE3MDE0OzEyMDA7Mjc1MDs0MDUw",
      "height" : 4050,
      "width" : 2750,
      "format" : "JPG"
    },
    "vanity" : null,
    "officialUrl" : "",
    "cummulativeBoxOffice" : null,
    "mainTrailer" : {
      "id" : "11250512",
      "title" : "The Innocents",
      "sourceId" : "851991",
      "thumbUrl" : "https://content.internetvideoarchive.com/content/photos/10364/851991_110.jpg",
      "duration" : 140,
      "clipType" : "TRL",
      "source" : "VDD"
    },
    "boxOffice" : null,
    "openingWindow" : "in-theaters",
    "mpaaRating" : "NR"
  }, {
    "id" : "771443829",
    "type" : "movie",
    "advisory" : null,
    "lastModifiedDate" : "2016-06-30T23:05:49-07:00",
    "tomatometer" : {
      "state" : "fresh",
      "value" : 80
    },
    "year" : 2016,
    "releaseScope" : "limited",
    "studioName" : null,
    "dvdWindow" : "NA",
    "heroImage" : {
      "id" : "n-1119612",
      "thumborId" : "v1.bjsxMTE5NjEyO2o7MTcwMjI7MTIwMDsxOTIwOzEwODA",
      "height" : 1080,
      "width" : 1920,
      "format" : "JPG"
    },
    "synopsis" : "When David is left by his fiancé just days before the wedding, Flula, his relentlessly upbeat best man, insists that the pair go on David's previously planned honeymoon together: a seven-day backpacking trip through the breathtaking mountains of Oregon. On the trail, the two friends cross paths with a conspiracy theorist, a friendly backpacker, and a bloodthirsty predator (an actual wolf), while the unrelenting trek tests their friendship and their lives.",
    "releaseDates" : {
      "theater" : "2016-06-30"
    },
    "runningTime" : 80,
    "creationDate" : "2016-05-23T02:48:38-07:00",
    "title" : "Buddymoon",
    "posterImage" : {
      "id" : "m-11955541",
      "thumborId" : "v1.bTsxMTk1NTU0MTtqOzE3MDEzOzEyMDA7MjUwOzM3MA",
      "height" : 370,
      "width" : 250,
      "format" : "JPG"
    },
    "vanity" : "buddymoon",
    "officialUrl" : "http://buddymoonthemovie.com/",
    "cummulativeBoxOffice" : null,
    "mainTrailer" : null,
    "boxOffice" : null,
    "openingWindow" : "in-theaters",
    "mpaaRating" : "NR"
  } ],
  "upcoming" : [ {
    "id" : "771437384",
    "type" : "movie",
    "advisory" : null,
    "lastModifiedDate" : "2016-07-01T06:31:50-07:00",
    "tomatometer" : {
      "state" : "NA"
    },
    "year" : 2016,
    "releaseScope" : "limited",
    "studioName" : "Vertov Studio",
    "dvdWindow" : "NA",
    "heroImage" : {
      "id" : "n-1125862",
      "thumborId" : "v1.bjsxMTI1ODYyO2o7MTcwMjM7MTIwMDsxNzcyOzExODE",
      "height" : 1181,
      "width" : 1772,
      "format" : "JPG"
    },
    "synopsis" : "Despite continuous interference by government handlers, director Vitaly Mansky still manages to document life in Pyongyang, capital city of the Democratic People's Republic of Korea, in this fascinating portrait of one girl and her parents in the year that Zin-mi prepares to join the Korean Children's Union on the 'Day Of The Shining Star' (Kim Jong-Il's birthday). As the family receives instruction on how to be the ideal patriots, Mansky's watchful camera captures details his handlers might prefer left unseen, from comrades struggling to stay awake during an official event to Zin-mi's tears at a particularly grueling dance lesson.",
    "releaseDates" : {
      "theater" : "2016-07-06"
    },
    "runningTime" : 106,
    "creationDate" : "2016-02-04T17:29:14-08:00",
    "title" : "Under The Sun",
    "posterImage" : {
      "id" : "m-12012192",
      "thumborId" : "v1.bTsxMjAxMjE5MjtqOzE3MDE0OzEyMDA7Mjg0OzQwNQ",
      "height" : 405,
      "width" : 284,
      "format" : "JPG"
    },
    "vanity" : "under_the_sun_2016",
    "officialUrl" : "",
    "cummulativeBoxOffice" : null,
    "mainTrailer" : null,
    "boxOffice" : null,
    "openingWindow" : "opening",
    "mpaaRating" : "NR"
  }, {
    "id" : "771444213",
    "type" : "movie",
    "advisory" : null,
    "lastModifiedDate" : "2016-07-01T10:49:15-07:00",
    "tomatometer" : {
      "state" : "NA"
    },
    "year" : 2016,
    "releaseScope" : "limited",
    "studioName" : null,
    "dvdWindow" : "NA",
    "heroImage" : {
      "id" : "n-1122131",
      "thumborId" : "v1.bjsxMTIyMTMxO2o7MTcwMjI7MTIwMDsxMjgwOzcyMA",
      "height" : 720,
      "width" : 1280,
      "format" : "JPG"
    },
    "synopsis" : "Sultan is a story of Sultan Ali Khan - a local wrestling champion with the world at his feet as he dreams of representing India at the Olympics. It's a story of Afra - a feisty young girl from the same small town as Sultan with her own set of dreams. When the 2 local wrestling legends lock horns, romance blossoms and their dreams and aspirations become intertwined and aligned. However, the path to glory is a rocky one and one must fall several times before one stands victorious - More often than not, this journey can take a lifetime. Sultan is a classic underdog tale about a wrestler's journey, looking for a comeback by defeating all odds staked up against him. But when he has nothing to lose and everything to gain in this fight for his life match... Sultan must literally fight for his life. Sultan believes he's got what it takes... but this time, it's gonna take everything he's got. \"wrestling is not a sport it's about fighting what lies within\"..... SULTAN",
    "releaseDates" : {
      "theater" : "2016-07-07"
    },
    "runningTime" : 143,
    "creationDate" : "2016-05-31T10:49:00-07:00",
    "title" : "Sultan",
    "posterImage" : {
      "id" : "m-11989630",
      "thumborId" : "v1.bTsxMTk4OTYzMDtqOzE3MDEzOzEyMDA7Njg2Ozk2MA",
      "height" : 960,
      "width" : 686,
      "format" : "JPG"
    },
    "vanity" : null,
    "officialUrl" : "",
    "cummulativeBoxOffice" : null,
    "mainTrailer" : {
      "id" : "11250345",
      "title" : "Sultan (US)",
      "sourceId" : "711825",
      "thumbUrl" : "https://content.internetvideoarchive.com/content/photos/10355/711825_041.jpg",
      "duration" : 192,
      "clipType" : "TRL",
      "source" : "VDD"
    },
    "boxOffice" : null,
    "openingWindow" : "opening",
    "mpaaRating" : "NR"
  }, {
    "id" : "771350404",
    "type" : "movie",
    "advisory" : "for action and some rude humor",
    "lastModifiedDate" : "2016-07-01T10:49:15-07:00",
    "tomatometer" : {
      "state" : "fresh",
      "value" : 84
    },
    "year" : 2016,
    "releaseScope" : "wide",
    "studioName" : "Universal Pictures",
    "dvdWindow" : "NA",
    "heroImage" : {
      "id" : "n-1137679",
      "thumborId" : "v1.bjsxMTM3Njc5O2o7MTcwMjM7MTIwMDs5NzA7NTI0",
      "height" : 524,
      "width" : 970,
      "format" : "JPG"
    },
    "synopsis" : "For their fifth fully-animated feature-film collaboration, Illumination Entertainment and Universal Pictures present The Secret Life of Pets, a comedy about the lives our pets lead after we leave for work or school each day. Comedy superstars Louis C.K., Eric Stonestreet and Kevin Hart make their animated feature-film debuts in The Secret Life of Pets, which co-stars Ellie Kemper, Lake Bell, Jenny Slate, Bobby Moynihan, Hannibal Buress and Albert Brooks. Illumination founder and CEO Chris Meledandri and his longtime collaborator Janet Healy produce the film directed by Chris Renaud (Despicable Me, Despicable Me 2), co-directed by Yarrow Cheney and written by Brian Lynch and Cinco Paul & Ken Daurio.",
    "releaseDates" : {
      "theater" : "2016-07-08"
    },
    "runningTime" : 90,
    "creationDate" : "2013-02-14T21:15:39-08:00",
    "title" : "The Secret Life of Pets",
    "posterImage" : {
      "id" : "m-11510769",
      "thumborId" : "v1.bTsxMTUxMDc2OTtqOzE3MDk4OzEyMDA7NDgwOzc2MA",
      "height" : 760,
      "width" : 480,
      "format" : "JPG"
    },
    "vanity" : "the_secret_life_of_pets",
    "officialUrl" : "http://www.thesecretlifeofpets.com/",
    "cummulativeBoxOffice" : null,
    "mainTrailer" : {
      "id" : "11227335",
      "title" : "The Secret Life Of Pets",
      "sourceId" : "910344",
      "thumbUrl" : "https://content.internetvideoarchive.com/content/photos/10220/910344_011.jpg",
      "duration" : 153,
      "clipType" : "TRL",
      "source" : "VDD"
    },
    "boxOffice" : 76000000,
    "openingWindow" : "opening",
    "mpaaRating" : "PG"
  }, {
    "id" : "771410851",
    "type" : "movie",
    "advisory" : "for crude sexual content, language throughout, drug use and some graphic nudity",
    "lastModifiedDate" : "2016-07-01T07:34:50-07:00",
    "tomatometer" : {
      "state" : "NA"
    },
    "year" : 2016,
    "releaseScope" : "wide",
    "studioName" : "20th Century Fox",
    "dvdWindow" : "NA",
    "heroImage" : {
      "id" : "n-1137686",
      "thumborId" : "v1.bjsxMTM3Njg2O2o7MTcwMjM7MTIwMDszMDcyOzIwNDQ",
      "height" : 2044,
      "width" : 3072,
      "format" : "JPG"
    },
    "synopsis" : "Hard-partying brothers Mike (Adam Devine) and Dave (Zac Efron) place an online ad to find the perfect dates (Anna Kendrick, Aubrey Plaza) for their sister's Hawaiian wedding. Hoping for a wild getaway, the boys instead find themselves outsmarted and out-partied by the uncontrollable duo.",
    "releaseDates" : {
      "theater" : "2016-07-08"
    },
    "runningTime" : 98,
    "creationDate" : "2015-01-06T03:00:20-08:00",
    "title" : "Mike and Dave Need Wedding Dates",
    "posterImage" : {
      "id" : "m-11564397",
      "thumborId" : "v1.bTsxMTU2NDM5NztqOzE3MDk4OzEyMDA7Mjg0OzQwNQ",
      "height" : 405,
      "width" : 284,
      "format" : "JPG"
    },
    "vanity" : "mike_and_dave_need_wedding_dates",
    "officialUrl" : "http://www.foxmovies.com/movies/mike-and-dave-need-wedding-dates",
    "cummulativeBoxOffice" : null,
    "mainTrailer" : {
      "id" : "11236266",
      "title" : "Mike And Dave Need Wedding Dates",
      "sourceId" : "413229",
      "thumbUrl" : "https://content.internetvideoarchive.com/content/photos/9355/413229_101.jpg",
      "duration" : 149,
      "clipType" : "TRL",
      "source" : "VDD"
    },
    "boxOffice" : 11500000,
    "openingWindow" : "opening",
    "mpaaRating" : "R"
  }, {
    "id" : "771431702",
    "type" : "movie",
    "advisory" : "for language and brief graphic nudity",
    "lastModifiedDate" : "2016-07-01T10:49:04-07:00",
    "tomatometer" : {
      "state" : "fresh",
      "value" : 71
    },
    "year" : 2016,
    "releaseScope" : "limited",
    "studioName" : "Electric City Entertainment",
    "dvdWindow" : "NA",
    "heroImage" : {
      "id" : "n-1137688",
      "thumborId" : "v1.bjsxMTM3Njg4O2o7MTcwMjM7MTIwMDsyNDk2OzE2NjQ",
      "height" : 1664,
      "width" : 2496,
      "format" : "JPG"
    },
    "synopsis" : "Deep in the forests of the Pacific Northwest, isolated from society, a devoted father (Viggo Mortensen) dedicates his life to transforming his six young children into extraordinary adults. But when a tragedy strikes the family, they are forced to leave this self-created paradise and begin a journey into the outside world that challenges his idea of what it means to be a parent and brings into question everything he's taught them.",
    "releaseDates" : {
      "theater" : "2016-07-08"
    },
    "runningTime" : 119,
    "creationDate" : "2015-10-04T09:34:34-07:00",
    "title" : "Captain Fantastic",
    "posterImage" : {
      "id" : "m-11869257",
      "thumborId" : "v1.bTsxMTg2OTI1NztqOzE3MDEyOzEyMDA7MTA4MDsxNjAw",
      "height" : 1600,
      "width" : 1080,
      "format" : "JPG"
    },
    "vanity" : "captain_fantastic",
    "officialUrl" : "http://www.bleeckerstreetmedia.com/captainfantastic",
    "cummulativeBoxOffice" : null,
    "mainTrailer" : {
      "id" : "11245281",
      "title" : "Captain Fantastic",
      "sourceId" : "187971",
      "thumbUrl" : "https://content.internetvideoarchive.com/content/photos/10093/187971_179.jpg",
      "duration" : 151,
      "clipType" : "TRL",
      "source" : "VDD"
    },
    "boxOffice" : null,
    "openingWindow" : "opening",
    "mpaaRating" : "R"
  }, {
    "id" : "771369119",
    "type" : "movie",
    "advisory" : "for disturbing violent content, terror, brief sexuality and language",
    "lastModifiedDate" : "2016-07-01T08:10:47-07:00",
    "tomatometer" : {
      "state" : "rotten",
      "value" : 0
    },
    "year" : 2016,
    "releaseScope" : "limited",
    "studioName" : "Saban Films",
    "dvdWindow" : "new-on-dvd",
    "heroImage" : {
      "id" : "n-1137705",
      "thumborId" : "v1.bjsxMTM3NzA1O2o7MTcwMjM7MTIwMDsxOTIwOzEyNzU",
      "height" : 1275,
      "width" : 1920,
      "format" : "JPG"
    },
    "synopsis" : "Stephen King's best-selling novel is brought to terrifying life in this mind-blowing thriller starring John Cusack and Samuel L. Jackson. At the Boston airport, Clay (Cusack) witnesses a scene of chaotic mayhem when an electronic signal turns hundreds of cell phone users into rabid killers. Desperate to find his estranged wife and son, Clay teams with a train driver (Jackson) to battle the horde of murderous \"phoners\" as the city descends into apocalyptic madness.",
    "releaseDates" : {
      "dvd" : "2016-06-10",
      "theater" : "2016-07-08"
    },
    "runningTime" : 98,
    "creationDate" : "2013-11-06T00:50:59-08:00",
    "title" : "Cell",
    "posterImage" : {
      "id" : "m-11866104",
      "thumborId" : "v1.bTsxMTg2NjEwNDtqOzE3MDEyOzEyMDA7NTc0Ozg1MQ",
      "height" : 851,
      "width" : 574,
      "format" : "JPG"
    },
    "vanity" : "cell_2016",
    "officialUrl" : null,
    "cummulativeBoxOffice" : null,
    "mainTrailer" : {
      "id" : "11243657",
      "title" : "Cell",
      "sourceId" : "353214",
      "thumbUrl" : "https://content.internetvideoarchive.com/content/photos/10263/353214_124.jpg",
      "duration" : 150,
      "clipType" : "TRL",
      "source" : "VDD"
    },
    "boxOffice" : null,
    "openingWindow" : "opening",
    "mpaaRating" : "R"
  }, {
    "id" : "771428495",
    "type" : "movie",
    "advisory" : "for some sexual content/references",
    "lastModifiedDate" : "2016-07-01T10:49:06-07:00",
    "tomatometer" : {
      "state" : "rotten",
      "value" : 26
    },
    "year" : 2016,
    "releaseScope" : "limited",
    "studioName" : "Voltage Pictures",
    "dvdWindow" : "NA",
    "heroImage" : {
      "id" : "n-946743",
      "thumborId" : "v1.bjs5NDY3NDM7ajsxNzAyMDsxMjAwOzIwMDA7MTMzMw",
      "height" : 1333,
      "width" : 2000,
      "format" : "JPG"
    },
    "synopsis" : "After a mental breakdown, an award-winning writer (Russell Crowe) copes with being a widower and a father while, 27 years later, his grown daughter (Amanda Seyfried) struggles to forge connections of her own.",
    "releaseDates" : {
      "theater" : "2016-07-08"
    },
    "runningTime" : 116,
    "creationDate" : "2015-09-09T05:01:59-07:00",
    "title" : "Fathers And Daughters",
    "posterImage" : {
      "id" : "m-11895449",
      "thumborId" : "v1.bTsxMTg5NTQ0OTtqOzE3MDEyOzEyMDA7NTY3Ozg0MA",
      "height" : 840,
      "width" : 567,
      "format" : "JPG"
    },
    "vanity" : "fathers_and_daughters",
    "officialUrl" : "",
    "cummulativeBoxOffice" : null,
    "mainTrailer" : {
      "id" : "11246726",
      "title" : "Fathers And Daughters",
      "sourceId" : "846336",
      "thumbUrl" : "https://content.internetvideoarchive.com/content/photos/9753/846336_143.jpg",
      "duration" : 141,
      "clipType" : "TRL",
      "source" : "VDD"
    },
    "boxOffice" : null,
    "openingWindow" : "opening",
    "mpaaRating" : "R"
  }, {
    "id" : "771421926",
    "type" : "movie",
    "advisory" : "for thematic elements and brief language",
    "lastModifiedDate" : "2016-07-01T10:49:13-07:00",
    "tomatometer" : {
      "state" : "fresh",
      "value" : 93
    },
    "year" : 2016,
    "releaseScope" : "limited",
    "studioName" : "Sony Pictures Classics",
    "dvdWindow" : "NA",
    "heroImage" : {
      "id" : "n-931379",
      "thumborId" : "v1.bjs5MzEzNzk7ajsxNzAyMDsxMjAwOzEyODA7NzIw",
      "height" : 720,
      "width" : 1280,
      "format" : "JPG"
    },
    "synopsis" : "Three sisters Sachi, Yoshino and Chika live together in a large house in the city of Kamakura. When their father absent from the family home for the last 15 years dies, they travel to the countryside for his funeral and meet their shy teenage half-sister. Bonding quickly with the orphaned Suzu, they invite her to live with them. Suzu eagerly agrees, and a new life of joyful discovery begins for the four siblings.",
    "releaseDates" : {
      "theater" : "2016-07-08"
    },
    "runningTime" : 128,
    "creationDate" : "2015-07-20T04:34:15-07:00",
    "title" : "Our Little Sister (Umimachi Diary)",
    "posterImage" : {
      "id" : "m-12066286",
      "thumborId" : "v1.bTsxMjA2NjI4NjtqOzE3MDE0OzEyMDA7MjAwMDszMDAw",
      "height" : 3000,
      "width" : 2000,
      "format" : "JPG"
    },
    "vanity" : "our_little_sister",
    "officialUrl" : "http://sonyclassics.com/ourlittlesister",
    "cummulativeBoxOffice" : null,
    "mainTrailer" : {
      "id" : "11230137",
      "title" : "Our Little Sister: Let's Live Together (US)",
      "sourceId" : "196331",
      "thumbUrl" : "https://content.internetvideoarchive.com/content/photos/9751/196331_050.jpg",
      "duration" : 121,
      "clipType" : "TRL",
      "source" : "VDD"
    },
    "boxOffice" : null,
    "openingWindow" : "opening",
    "mpaaRating" : "PG"
  }, {
    "id" : "771437908",
    "type" : "movie",
    "advisory" : "for some strong language",
    "lastModifiedDate" : "2016-07-01T06:32:32-07:00",
    "tomatometer" : {
      "state" : "fresh",
      "value" : 92
    },
    "year" : 2016,
    "releaseScope" : "limited",
    "studioName" : "Jigsaw Productions",
    "dvdWindow" : "NA",
    "heroImage" : {
      "id" : "n-1117892",
      "thumborId" : "v1.bjsxMTE3ODkyO2o7MTcwMjI7MTIwMDsxMjgwOzcyMA",
      "height" : 720,
      "width" : 1280,
      "format" : "JPG"
    },
    "synopsis" : "A documentary thriller about the world of cyberwar. For the first time, the film tells the complete story of Stuxnet, a piece of self-replicating computer malware (known as a \"worm\" for its ability to burrow from computer to computer on its own) that the U.S. and Israel unleashed to destroy a key part of an Iranian nuclear facility, and which ultimately spread beyond its intended target. This is the most comprehensive accounting to date of how a clandestine mission hatched by two allies with clashing agendas opened forever the Pandora's Box of cyberwarfare.",
    "releaseDates" : {
      "theater" : "2016-07-08"
    },
    "runningTime" : 116,
    "creationDate" : "2016-02-17T00:59:33-08:00",
    "title" : "Zero Days",
    "posterImage" : {
      "id" : "m-11949622",
      "thumborId" : "v1.bTsxMTk0OTYyMjtqOzE3MDEzOzEyMDA7MTQyNTsyMTEx",
      "height" : 2111,
      "width" : 1425,
      "format" : "JPG"
    },
    "vanity" : "zero_days",
    "officialUrl" : "http://www.zerodaysfilm.com/",
    "cummulativeBoxOffice" : null,
    "mainTrailer" : {
      "id" : "11249997",
      "title" : "Zero Days",
      "sourceId" : "344582",
      "thumbUrl" : "https://content.internetvideoarchive.com/content/photos/10337/344582_010.jpg",
      "duration" : 129,
      "clipType" : "TRL",
      "source" : "VDD"
    },
    "boxOffice" : null,
    "openingWindow" : "opening",
    "mpaaRating" : "PG13"
  }, {
    "id" : "771435746",
    "type" : "movie",
    "advisory" : null,
    "lastModifiedDate" : "2016-07-01T06:29:51-07:00",
    "tomatometer" : {
      "state" : "fresh",
      "value" : 88
    },
    "year" : 2016,
    "releaseScope" : "limited",
    "studioName" : "Loki Films",
    "dvdWindow" : "NA",
    "heroImage" : {
      "id" : "n-1122151",
      "thumborId" : "v1.bjsxMTIyMTUxO2o7MTcwMjI7MTIwMDsxMjgwOzcyMA",
      "height" : 720,
      "width" : 1280,
      "format" : "JPG"
    },
    "synopsis" : "Arguably the most influential creator, writer, and producer in the history of television, Norman Lear brought primetime into step with the times. Using comedy and indelible characters, his legendary 1970s shows such as All In the Family, Maude, Good Times, and The Jeffersons, boldly cracked open dialogue and shifted the national consciousness, injecting enlightened humanism into sociopolitical debates on race, class, creed, and feminism.",
    "releaseDates" : {
      "theater" : "2016-07-08"
    },
    "runningTime" : 91,
    "creationDate" : "2015-12-25T19:10:05-08:00",
    "title" : "Norman Lear: Just Another Version of You",
    "posterImage" : {
      "id" : "m-11543792",
      "thumborId" : "v1.bTsxMTU0Mzc5MjtqOzE3MDk4OzEyMDA7Mjg0OzQwNQ",
      "height" : 405,
      "width" : 284,
      "format" : "JPG"
    },
    "vanity" : "norman_lear_just_another_version_of_you",
    "officialUrl" : "http://normanlearfilm.com/",
    "cummulativeBoxOffice" : null,
    "mainTrailer" : {
      "id" : "11250382",
      "title" : "Norman Lear: Just Another Version Of You",
      "sourceId" : "911642",
      "thumbUrl" : "https://content.internetvideoarchive.com/content/photos/10357/911642_162.jpg",
      "duration" : 141,
      "clipType" : "TRL",
      "source" : "VDD"
    },
    "boxOffice" : null,
    "openingWindow" : "opening",
    "mpaaRating" : "NR"
  } ],
  "topRentals" : [ {
    "id" : "771362417",
    "type" : "movie",
    "advisory" : "for some violence and action",
    "lastModifiedDate" : "2016-07-01T16:42:18-07:00",
    "tomatometer" : {
      "state" : "certified_fresh",
      "value" : 83
    },
    "year" : 2016,
    "releaseScope" : "limited",
    "studioName" : "Warner Bros. Pictures",
    "dvdWindow" : "new-on-dvd",
    "heroImage" : {
      "id" : "n-1049439",
      "thumborId" : "v1.bjsxMDQ5NDM5O2o7MTcwMjI7MTIwMDs0MDk2OzE1NDQ",
      "height" : 1544,
      "width" : 4096,
      "format" : "JPG"
    },
    "synopsis" : "Michael Shannon, Joel Edgerton, and Kirsten Dunst star in writer/director Jeff Nichols' drama about a father and his eight-year-old son who go on the lam upon discovering that the boy possesses mysterious powers. ~ Jason Buchanan, Rovi",
    "releaseDates" : {
      "dvd" : "2016-06-21",
      "theater" : "2016-03-18"
    },
    "runningTime" : 111,
    "creationDate" : "2013-08-15T01:45:15-07:00",
    "title" : "Midnight Special",
    "posterImage" : {
      "id" : "m-11708091",
      "thumborId" : "v1.bTsxMTcwODA5MTtqOzE3MDEwOzEyMDA7NDA1MDs2MDAw",
      "height" : 6000,
      "width" : 4050,
      "format" : "JPG"
    },
    "vanity" : "midnight_special_2015",
    "officialUrl" : "http://www.midnightspecialmovie.com/",
    "cummulativeBoxOffice" : null,
    "mainTrailer" : {
      "id" : "11232640",
      "title" : "Midnight Special",
      "sourceId" : "871053",
      "thumbUrl" : "https://content.internetvideoarchive.com/content/photos/10020/871053_111.jpg",
      "duration" : 125,
      "clipType" : "TRL",
      "source" : "VDD"
    },
    "boxOffice" : null,
    "openingWindow" : "NA",
    "mpaaRating" : "PG13"
  }, {
    "id" : "771381397",
    "type" : "movie",
    "advisory" : "for some suggestive material",
    "lastModifiedDate" : "2016-07-01T08:58:55-07:00",
    "tomatometer" : {
      "state" : "rotten",
      "value" : 29
    },
    "year" : 2016,
    "releaseScope" : "wide",
    "studioName" : "Gold Circle Films",
    "dvdWindow" : "new-on-dvd",
    "heroImage" : {
      "id" : "n-1064568",
      "thumborId" : "v1.bjsxMDY0NTY4O2o7MTcwMjI7MTIwMDsyMzcxOzE1MDA",
      "height" : 1500,
      "width" : 2371,
      "format" : "JPG"
    },
    "synopsis" : "Gold Circle Entertainment and HBO present a Playtone production of My Big Fat Greek Wedding 2, the long-awaited follow-up to the highest-grossing romantic comedy of all time. Written by Academy Award (R) nominee Nia Vardalos, who stars alongside the entire returning cast of favorites, the film reveals a Portokalos family secret that will bring the beloved characters back together for an even bigger and Greeker wedding. Kirk Jones (Nanny McPhee, Waking Ned Devine) directs the next chapter of the film that will be once again produced by Rita Wilson and Playtone partners Tom Hanks and Gary Goetzman. Paul Brooks and Steven Shareshian return to executive produce alongside Vardalos and Scott Niemeyer. Universal Pictures will distribute the comedy domestically and in select international territories.",
    "releaseDates" : {
      "dvd" : "2016-06-21",
      "theater" : "2016-03-25"
    },
    "runningTime" : 94,
    "creationDate" : "2014-05-31T01:53:24-07:00",
    "title" : "My Big Fat Greek Wedding 2",
    "posterImage" : {
      "id" : "m-11564384",
      "thumborId" : "v1.bTsxMTU2NDM4NDtqOzE3MDk4OzEyMDA7Mjg0OzQwNQ",
      "height" : 405,
      "width" : 284,
      "format" : "JPG"
    },
    "vanity" : "my_big_fat_greek_wedding_2",
    "officialUrl" : "http://www.mybigfatgreekweddingmovie.com/",
    "cummulativeBoxOffice" : 59573085,
    "mainTrailer" : {
      "id" : "11232322",
      "title" : "My Big Fat Greek Wedding 2",
      "sourceId" : "530904",
      "thumbUrl" : "https://content.internetvideoarchive.com/content/photos/10241/530904_007.jpg",
      "duration" : 136,
      "clipType" : "TRL",
      "source" : "VDD"
    },
    "boxOffice" : null,
    "openingWindow" : "NA",
    "mpaaRating" : "PG13"
  }, {
    "id" : "771433283",
    "type" : "movie",
    "advisory" : "for strong crude sexual content, graphic nudity, violence, language, and some drug use",
    "lastModifiedDate" : "2016-07-01T08:53:33-07:00",
    "tomatometer" : {
      "state" : "rotten",
      "value" : 37
    },
    "year" : 2016,
    "releaseScope" : "wide",
    "studioName" : "Big Talk Productions",
    "dvdWindow" : "new-on-dvd",
    "heroImage" : {
      "id" : "n-957062",
      "thumborId" : "v1.bjs5NTcwNjI7ajsxNzAyMTsxMjAwOzEyODA7NzIw",
      "height" : 720,
      "width" : 1280,
      "format" : "JPG"
    },
    "synopsis" : "Nobby (Sacha Baron Cohen), a sweet but dimwitted English football hooligan, reunites with his long-lost brother Sebastian (Mark Strong), a deadly MI6 agent, to prevent a massive global terror attack and prove that behind every great spy is an embarrassing sibling. Nobby has everything a man from Grimsby could want, including 11 children and the most gorgeous girlfriend in the northeast of England (Rebel Wilson). There's only one thing missing: his little brother, Sebastian, who Nobby has spent 28 years searching for after they were separated as kids. Nobby sets off to reunite with Sebastian, unaware that not only is his brother MI6's deadliest assassin, but he's just uncovered plans for an imminent global terrorist attack. On the run and wrongfully accused, Sebastian realizes that if he is going to save the world, he will need the help of its biggest idiot.",
    "releaseDates" : {
      "dvd" : "2016-06-21",
      "theater" : "2016-03-11"
    },
    "runningTime" : 83,
    "creationDate" : "2015-10-30T08:06:56-07:00",
    "title" : "The Brothers Grimsby",
    "posterImage" : {
      "id" : "m-11644966",
      "thumborId" : "v1.bTsxMTY0NDk2NjtqOzE3MDk5OzEyMDA7MTM1ODsyMDEy",
      "height" : 2012,
      "width" : 1358,
      "format" : "JPG"
    },
    "vanity" : "the_brothers_grimsby",
    "officialUrl" : "",
    "cummulativeBoxOffice" : 0,
    "mainTrailer" : {
      "id" : "11231917",
      "title" : "The Brothers Grimsby",
      "sourceId" : "950765",
      "thumbUrl" : "https://content.internetvideoarchive.com/content/photos/9901/950765_069.jpg",
      "duration" : 173,
      "clipType" : "TRL",
      "source" : "VDD"
    },
    "boxOffice" : null,
    "openingWindow" : "NA",
    "mpaaRating" : "R"
  }, {
    "id" : "771428953",
    "type" : "movie",
    "advisory" : null,
    "lastModifiedDate" : "2016-07-01T16:40:35-07:00",
    "tomatometer" : {
      "state" : "certified_fresh",
      "value" : 99
    },
    "year" : 2016,
    "releaseScope" : "limited",
    "studioName" : "Buffalo Films",
    "dvdWindow" : "new-on-dvd",
    "heroImage" : {
      "id" : "n-1007034",
      "thumborId" : "v1.bjsxMDA3MDM0O2o7MTcwMjE7MTIwMDsxMjgwOzcyMA",
      "height" : 720,
      "width" : 1280,
      "format" : "JPG"
    },
    "synopsis" : "Embrace of the Serpent features the encounter, apparent betrayal and finally life-affirming friendship between an Amazonian shaman (the last survivor of his people) and two foreign scientists.",
    "releaseDates" : {
      "dvd" : "2016-06-21",
      "theater" : "2016-02-17"
    },
    "runningTime" : 123,
    "creationDate" : "2015-09-11T06:46:20-07:00",
    "title" : "Embrace Of The Serpent (El Abrazo De La Serpiente)",
    "posterImage" : {
      "id" : "m-11314106",
      "thumborId" : "v1.bTsxMTMxNDEwNjtqOzE3MDk1OzEyMDA7NDMyOzY0MA",
      "height" : 640,
      "width" : 432,
      "format" : "JPG"
    },
    "vanity" : "embrace_of_the_serpent",
    "officialUrl" : "http://embraceoftheserpent.oscilloscope.net/",
    "cummulativeBoxOffice" : 1320005,
    "mainTrailer" : {
      "id" : "11234643",
      "title" : "Embrace Of The Serpent (US)",
      "sourceId" : "230252",
      "thumbUrl" : "https://content.internetvideoarchive.com/content/photos/9945/230252_010.jpg",
      "duration" : 127,
      "clipType" : "TRL",
      "source" : "VDD"
    },
    "boxOffice" : null,
    "openingWindow" : "NA",
    "mpaaRating" : "NR"
  }, {
    "id" : "771260322",
    "type" : "movie",
    "advisory" : "for some nudity, sexuality and language",
    "lastModifiedDate" : "2016-07-01T07:10:39-07:00",
    "tomatometer" : {
      "state" : "rotten",
      "value" : 46
    },
    "year" : 2016,
    "releaseScope" : "limited",
    "studioName" : "Broad Green Pictures",
    "dvdWindow" : "new-on-dvd",
    "heroImage" : {
      "id" : "n-1048803",
      "thumborId" : "v1.bjsxMDQ4ODAzO2o7MTcwMjI7MTIwMDsxOTgwOzEzMzE",
      "height" : 1331,
      "width" : 1980,
      "format" : "JPG"
    },
    "synopsis" : "Knight of Cups follows writer Rick (Christian Bale, The Fighter, American Hustle) on an odyssey through the playgrounds of Los Angeles and Las Vegas as he undertakes a search for love and self. Even as he moves through a desire-laden landscape of mansions, resorts, beaches and clubs, Rick grapples over complicated relationships with his brother (Wes Bentley) and father (Brian Dennehy). His quest to break the spell of his disenchantment takes him on a series of adventures with six alluring women: rebellious Della (Imogen Poots); his physician ex-wife, Nancy (Cate Blanchett); a serene model Helen (Freida Pinto); a woman he wronged in the past Elizabeth (Natalie Portman); a spirited, playful stripper Karen (Teresa Palmer); and an innocent Isabel (Isabel Lucas), who helps him see a way forward. Rick moves in a daze through a strange and overwhelming dreamscape -- but can he wake up to the beauty, humanity and rhythms of life around him? The deeper he searches, the more the journey becomes his destination. The 7th film from director Terrence Malick (The Thin Red Line, Tree of Life), Knight of Cups (the title refers to the Tarot card depicting a romantic adventurer guided by his emotions) offers both a vision of modern life and an intensely personal experience of memory, family, and love. Knight of Cups is produced by Nicolas Gonda, Sarah Green and Ken Kao. Prominent crew includes cinematographer Emmanuel Lubezki (Gravity, Birdman), production designer Jack Fisk, costume designer Jacqueline West, and composer Hanan Townshend (To The Wonder). The film's ensemble cast also includes Antonio Banderas, Cherry Jones and Armin Mueller-Stahl.",
    "releaseDates" : {
      "dvd" : "2016-06-21",
      "theater" : "2016-03-04"
    },
    "runningTime" : 118,
    "creationDate" : "2011-11-04T01:21:25-07:00",
    "title" : "Knight of Cups",
    "posterImage" : {
      "id" : "m-11510773",
      "thumborId" : "v1.bTsxMTUxMDc3MztqOzE3MDk4OzEyMDA7NTY3Ozg0MA",
      "height" : 840,
      "width" : 567,
      "format" : "JPG"
    },
    "vanity" : "knight_of_cups",
    "officialUrl" : "http://www.theknightofcupsmovie.com/",
    "cummulativeBoxOffice" : 558402,
    "mainTrailer" : {
      "id" : "11223182",
      "title" : "Knight Of Cups",
      "sourceId" : "230816",
      "thumbUrl" : "https://content.internetvideoarchive.com/content/photos/7531/230816_095.jpg",
      "duration" : 141,
      "clipType" : "TRL",
      "source" : "VDD"
    },
    "boxOffice" : null,
    "openingWindow" : "NA",
    "mpaaRating" : "R"
  }, {
    "id" : "771428923",
    "type" : "movie",
    "advisory" : "for some language and disaster images",
    "lastModifiedDate" : "2016-07-01T10:49:17-07:00",
    "tomatometer" : {
      "state" : "certified_fresh",
      "value" : 80
    },
    "year" : 2016,
    "releaseScope" : "limited",
    "studioName" : null,
    "dvdWindow" : "new-on-dvd",
    "heroImage" : {
      "id" : "n-1013881",
      "thumborId" : "v1.bjsxMDEzODgxO2o7MTcwMjE7MTIwMDsxMzkyOzc4Mw",
      "height" : 783,
      "width" : 1392,
      "format" : "JPG"
    },
    "synopsis" : "Nestled in Norway's Sunnmøre region, Geiranger is one of the most spectacular tourist draws on the planet. With the mountain Åkerneset overlooking the village - and constantly threatening to collapse into the fjord - it is also a place where cataclysm could strike at any moment. After putting in several years at Geiranger's warning center, geologist Kristian is moving on to a prestigious gig with an oil company. But the very day he's about to drive his family to their new life in the city, Kristian senses something isn't right. The substrata are shifting. No one wants to believe that this could be the big one, especially with tourist season at its peak, but when that mountain begins to crumble, every soul in Geiranger has ten minutes to get to high ground before a tsunami hits, consuming everything in its path.",
    "releaseDates" : {
      "dvd" : "2016-06-21",
      "theater" : "2016-03-04"
    },
    "runningTime" : 104,
    "creationDate" : "2015-09-11T03:31:58-07:00",
    "title" : "The Wave (Bolgen)",
    "posterImage" : {
      "id" : "m-11644967",
      "thumborId" : "v1.bTsxMTY0NDk2NztqOzE3MDk5OzEyMDA7NjkxOzEwMjQ",
      "height" : 1024,
      "width" : 691,
      "format" : "JPG"
    },
    "vanity" : "the_wave_2016",
    "officialUrl" : "",
    "cummulativeBoxOffice" : 176637,
    "mainTrailer" : {
      "id" : "11235260",
      "title" : "The Wave (US)",
      "sourceId" : "306314",
      "thumbUrl" : "https://content.internetvideoarchive.com/content/photos/9967/306314_027.jpg",
      "duration" : 130,
      "clipType" : "TRL",
      "source" : "VDD"
    },
    "boxOffice" : null,
    "openingWindow" : "NA",
    "mpaaRating" : "R"
  }, {
    "id" : "771442118",
    "type" : "movie",
    "advisory" : "for strong violence and language.",
    "lastModifiedDate" : "2016-07-01T06:41:03-07:00",
    "tomatometer" : {
      "state" : "rotten",
      "value" : 21
    },
    "year" : 2016,
    "releaseScope" : "limited",
    "studioName" : "Mandeville Films",
    "dvdWindow" : "new-on-dvd",
    "heroImage" : {
      "id" : "n-1133604",
      "thumborId" : "v1.bjsxMTMzNjA0O2o7MTcwMjM7MTIwMDsxMjU4OzUyNQ",
      "height" : 525,
      "width" : 1258,
      "format" : "JPG"
    },
    "synopsis" : "THE DUEL stars Liam Hemsworth as a Texas Ranger who investigates a series of murders in a small town led by a charismatic preacher played by Woody Harrelson. However, the routine undercover investigation soon turns personal for the ranger who must solve the case before he loses everything to the mysterious town.",
    "releaseDates" : {
      "dvd" : "2016-06-24",
      "theater" : "2016-06-24"
    },
    "runningTime" : 110,
    "creationDate" : "2016-04-27T02:39:12-07:00",
    "title" : "The Duel",
    "posterImage" : {
      "id" : "m-11869259",
      "thumborId" : "v1.bTsxMTg2OTI1OTtwOzE3MDEyOzEyMDA7NDY4OzY5NQ",
      "height" : 695,
      "width" : 468,
      "format" : "PNG"
    },
    "vanity" : "the_duel_2016",
    "officialUrl" : "",
    "cummulativeBoxOffice" : null,
    "mainTrailer" : {
      "id" : "11245275",
      "title" : "The Duel",
      "sourceId" : "860754",
      "thumbUrl" : "https://content.internetvideoarchive.com/content/photos/10268/860754_005.jpg",
      "duration" : 115,
      "clipType" : "TRL",
      "source" : "VDD"
    },
    "boxOffice" : null,
    "openingWindow" : "in-theaters",
    "mpaaRating" : "R"
  }, {
    "id" : "771435751",
    "type" : "movie",
    "advisory" : null,
    "lastModifiedDate" : "2016-07-01T06:29:51-07:00",
    "tomatometer" : {
      "state" : "fresh",
      "value" : 78
    },
    "year" : 2016,
    "releaseScope" : "wide",
    "studioName" : "Worldwide Pants",
    "dvdWindow" : "new-on-dvd",
    "heroImage" : {
      "id" : "n-1117772",
      "thumborId" : "v1.bjsxMTE3NzcyO2o7MTcwMjI7MTIwMDs1NzYwOzM4NDA",
      "height" : 3840,
      "width" : 5760,
      "format" : "JPG"
    },
    "synopsis" : "An 18-year-old with muscular dystrophy (Craig Roberts) goes on a road trip with his caregiver (Paul Rudd), and the pair learn about life from the people they meet along the way. Written and directed by Rob Burnett, The Fundamentals of Caring made its world premiere at the 2016 Sundance Film Festival.",
    "releaseDates" : {
      "dvd" : "2016-06-24"
    },
    "runningTime" : 93,
    "creationDate" : "2015-12-25T19:10:13-08:00",
    "title" : "The Fundamentals of Caring",
    "posterImage" : {
      "id" : "m-12033115",
      "thumborId" : "v1.bTsxMjAzMzExNTtqOzE3MDE0OzEyMDA7MTUwMDsyMjIy",
      "height" : 2222,
      "width" : 1500,
      "format" : "JPG"
    },
    "vanity" : "the_fundamentals_of_caring",
    "officialUrl" : "",
    "cummulativeBoxOffice" : null,
    "mainTrailer" : null,
    "boxOffice" : null,
    "openingWindow" : "NA",
    "mpaaRating" : "NR"
  }, {
    "id" : "771441659",
    "type" : "movie",
    "advisory" : null,
    "lastModifiedDate" : "2016-07-01T07:07:00-07:00",
    "tomatometer" : {
      "state" : "fresh",
      "value" : 87
    },
    "year" : 2016,
    "releaseScope" : "limited",
    "studioName" : "Bron Capital Partners",
    "dvdWindow" : "new-on-dvd",
    "heroImage" : {
      "id" : "n-1134247",
      "thumborId" : "v1.bjsxMTM0MjQ3O2o7MTcwMjM7MTIwMDs1MzkwOzM2MDA",
      "height" : 3600,
      "width" : 5390,
      "format" : "JPG"
    },
    "synopsis" : "When major-league rookie pitcher Hopper Gibson (Johnny Simmons) can't find the plate, he's sent down to the minor leagues and begins sessions with an unorthodox sports psychologist (Paul Giamatti). In the process, hidden conflicts with his overbearing father (Ethan Hawke) are brought to light.",
    "releaseDates" : {
      "dvd" : "2016-06-24",
      "theater" : "2016-06-24"
    },
    "runningTime" : 88,
    "creationDate" : "2016-04-22T08:25:52-07:00",
    "title" : "The Phenom",
    "posterImage" : {
      "id" : "m-11922523",
      "thumborId" : "v1.bTsxMTkyMjUyMztqOzE3MDEyOzEyMDA7NTcwOzg0MA",
      "height" : 840,
      "width" : 570,
      "format" : "JPG"
    },
    "vanity" : "the_phenom_2016",
    "officialUrl" : "",
    "cummulativeBoxOffice" : null,
    "mainTrailer" : {
      "id" : "11248690",
      "title" : "The Phenom",
      "sourceId" : "190086",
      "thumbUrl" : "https://content.internetvideoarchive.com/content/photos/10318/190086_165.jpg",
      "duration" : 148,
      "clipType" : "TRL",
      "source" : "VDD"
    },
    "boxOffice" : null,
    "openingWindow" : "in-theaters",
    "mpaaRating" : "NR"
  }, {
    "id" : "771366842",
    "type" : "movie",
    "advisory" : null,
    "lastModifiedDate" : "2016-07-01T08:52:47-07:00",
    "tomatometer" : {
      "state" : "fresh",
      "value" : 86
    },
    "year" : 2016,
    "releaseScope" : "limited",
    "studioName" : "Level 33 Entertainment",
    "dvdWindow" : "new-on-dvd",
    "heroImage" : {
      "id" : "n-1093541",
      "thumborId" : "v1.bjsxMDkzNTQxO2o7MTcwMjI7MTIwMDsyNTkyOzE5NDQ",
      "height" : 1944,
      "width" : 2592,
      "format" : "JPG"
    },
    "synopsis" : "In 1931, Harold Lasseter's body was found in the Central Australian desert. His diary revealed he'd discovered gold -- worth billions of dollars today -- but he'd give it all away for a loaf of bread and a chance at survival. The gold has never been found. Filmmaker Luke Walker finds Lasseter's 85 year-old son, still wandering the desert trying to find the gold that killed his father. Is it still possible to piece together the fragments of history Lasseter left behind? Armed with a camera, Walker chases his footsteps in hopes to unravel the tangle of myths, lies and legend that remain buried with Lasseter's bones. But as he follows his last few steps he finds himself closer to the gold than anyone has been for 80 years. Do you dare join the adventure and take part in the quest for Australia's Lost Gold?",
    "releaseDates" : {
      "dvd" : "2016-06-21",
      "theater" : "2016-05-27"
    },
    "runningTime" : 104,
    "creationDate" : "2013-10-16T06:30:43-07:00",
    "title" : "Australia's Lost Gold (Lasseter's Bones)",
    "posterImage" : {
      "id" : "m-11882327",
      "thumborId" : "v1.bTsxMTg4MjMyNztqOzE3MDEyOzEyMDA7NTk3Ozg0MA",
      "height" : 840,
      "width" : 597,
      "format" : "JPG"
    },
    "vanity" : "australias_lost_gold",
    "officialUrl" : "http://www.lassetersbones.com.au/",
    "cummulativeBoxOffice" : null,
    "mainTrailer" : {
      "id" : "11239324",
      "title" : "Australia's Lost Gold",
      "sourceId" : "694401",
      "thumbUrl" : "https://content.internetvideoarchive.com/content/photos/10211/694401_173.jpg",
      "duration" : 128,
      "clipType" : "TRL",
      "source" : "VDD"
    },
    "boxOffice" : null,
    "openingWindow" : "in-theaters",
    "mpaaRating" : "NR"
  } ],
  "newOnDvd" : [ {
    "id" : "771315831",
    "type" : "movie",
    "advisory" : "for martial arts action and some mild rude humor",
    "lastModifiedDate" : "2016-07-01T08:39:00-07:00",
    "tomatometer" : {
      "state" : "certified_fresh",
      "value" : 86
    },
    "year" : 2016,
    "releaseScope" : "wide",
    "studioName" : "DreamWorks Animation",
    "dvdWindow" : "new-on-dvd",
    "heroImage" : {
      "id" : "n-818649",
      "thumborId" : "v1.bjs4MTg2NDk7ajsxNzAxOTsxMjAwOzEyODA7NzIw",
      "height" : 720,
      "width" : 1280,
      "format" : "JPG"
    },
    "synopsis" : "In 2016, one of the most successful animated franchises in the world returns with its biggest comedy adventure yet, KUNG FU PANDA 3. When Po's long-lost panda father suddenly reappears, the reunited duo travels to a secret panda paradise to meet scores of hilarious new panda characters. But when the supernatural villain Kai begins to sweep across China defeating all the kung fu masters, Po must do the impossible-learn to train a village full of his fun-loving, clumsy brethren to become the ultimate band of Kung Fu Pandas! (C) Fox",
    "releaseDates" : {
      "dvd" : "2016-06-28",
      "theater" : "2016-01-29"
    },
    "runningTime" : 94,
    "creationDate" : "2012-09-12T07:00:50-07:00",
    "title" : "Kung Fu Panda 3",
    "posterImage" : {
      "id" : "m-11488237",
      "thumborId" : "v1.bTsxMTQ4ODIzNztqOzE3MDk3OzEyMDA7MjAyNTszMDAw",
      "height" : 3000,
      "width" : 2025,
      "format" : "JPG"
    },
    "vanity" : "kung_fu_panda_3",
    "officialUrl" : "https://www.facebook.com/kungfupanda",
    "cummulativeBoxOffice" : 143446022,
    "mainTrailer" : {
      "id" : "11227397",
      "title" : "Kung Fu Panda 3",
      "sourceId" : "717613",
      "thumbUrl" : "https://content.internetvideoarchive.com/content/photos/9918/717613_024.jpg",
      "duration" : 145,
      "clipType" : "TRL",
      "source" : "VDD"
    },
    "boxOffice" : null,
    "openingWindow" : "NA",
    "mpaaRating" : "PG"
  }, {
    "id" : "771428818",
    "type" : "movie",
    "advisory" : "for some violence images and language.",
    "lastModifiedDate" : "2016-07-01T10:49:05-07:00",
    "tomatometer" : {
      "state" : "certified_fresh",
      "value" : 95
    },
    "year" : 2016,
    "releaseScope" : "wide",
    "studioName" : "Eone Films",
    "dvdWindow" : "new-on-dvd",
    "heroImage" : {
      "id" : "n-1056760",
      "thumborId" : "v1.bjsxMDU2NzYwO2o7MTcwMjI7MTIwMDsxMzIyOzc0NA",
      "height" : 744,
      "width" : 1322,
      "format" : "JPG"
    },
    "synopsis" : "The moral implications of modern warfare are confronted in Bleecker Street's powerful drama, Eye in the Sky, coming to Digital HD on June 14, 2016 and Blu-ray(TM), DVD and On Demand on June 28, 2016, from Universal Pictures Home Entertainment. Tackling an ethical dilemma in a thought-provoking suspenseful story, the gritty film stars Academy Award (R) Winner, Helen Mirren (Trumbo, The Queen), Aaron Paul (\"Breaking Bad,\" Need for Speed), Academy Award (R) Nominee Barkhad Abdi (Captain Philips), Iain Glen (\"Game of Thrones,\" Lara Croft: Tomb Raider) and the late Alan Rickman (Die Hard, Harry Potter) in his final on-screen performance. Eye in the Sky \"holds us in a vise and keeps squeezing\" according to Peter Travers of Rolling Stone. Directed by Academy Award (R) Winner Gavin Hood (Tsotsi, Ender's Game) and written by Guy Hibbert (\"Complicit,\" Five Minutes of Heaven), Eye in the Sky follows Colonel Katherine Powell (Helen Mirren), a UK-based military officer in command of a top secret drone operation to capture terrorists in Kenya. Using remote surveillance and on-the-ground intelligence, Powell discovers the targets are planning a suicide bombing and the mission escalates from \"capture\" to \"kill.\" But as American pilot Steve Watts (Aaron Paul) is about to engage, a nine-year-old girl enters the kill zone triggering an international dispute, reaching the highest levels of American and British government, over the moral, political and personal implications of modern military operations.",
    "releaseDates" : {
      "dvd" : "2016-06-28",
      "theater" : "2016-04-01"
    },
    "runningTime" : 102,
    "creationDate" : "2015-09-10T23:03:09-07:00",
    "title" : "Eye In The Sky",
    "posterImage" : {
      "id" : "m-11434449",
      "thumborId" : "v1.bTsxMTQzNDQ0OTtwOzE3MDk3OzEyMDA7NDEzOzYxMw",
      "height" : 613,
      "width" : 413,
      "format" : "PNG"
    },
    "vanity" : "eye_in_the_sky",
    "officialUrl" : "http://www.bleeckerstreetmedia.com/eyeinthesky",
    "cummulativeBoxOffice" : 18629319,
    "mainTrailer" : {
      "id" : "11233069",
      "title" : "Eye In The Sky",
      "sourceId" : "788690",
      "thumbUrl" : "https://content.internetvideoarchive.com/content/photos/9815/788690_086.jpg",
      "duration" : 150,
      "clipType" : "TRL",
      "source" : "VDD"
    },
    "boxOffice" : null,
    "openingWindow" : "NA",
    "mpaaRating" : "R"
  }, {
    "id" : "771375638",
    "type" : "movie",
    "advisory" : "for pervasive language, some sexual content, drug use and violent war images",
    "lastModifiedDate" : "2016-06-30T23:06:46-07:00",
    "tomatometer" : {
      "state" : "fresh",
      "value" : 68
    },
    "year" : 2016,
    "releaseScope" : "wide",
    "studioName" : "Paramount Pictures",
    "dvdWindow" : "new-on-dvd",
    "heroImage" : {
      "id" : "n-985372",
      "thumborId" : "v1.bjs5ODUzNzI7ajsxNzAyMTsxMjAwOzEyODA7NzIw",
      "height" : 720,
      "width" : 1280,
      "format" : "JPG"
    },
    "synopsis" : "SNL alumni Tina Fey steps into the well worn shoes of journalist Kim Barker in Paramount Pictures' adaptation of Barker's memoir The Taliban Shuffle: Strange Days in Afghanistan and Pakistan, which details her years as a reporter in Pakistan and Afghanistan beginning in 2002.",
    "releaseDates" : {
      "dvd" : "2016-06-28",
      "theater" : "2016-03-04"
    },
    "runningTime" : 111,
    "creationDate" : "2014-02-25T00:52:19-08:00",
    "title" : "Whiskey Tango Foxtrot",
    "posterImage" : {
      "id" : "m-11372217",
      "thumborId" : "v1.bTsxMTM3MjIxNztqOzE3MDk2OzEyMDA7MTg1NjsyODk3",
      "height" : 2897,
      "width" : 1856,
      "format" : "JPG"
    },
    "vanity" : "whiskey_tango_foxtrot",
    "officialUrl" : "http://www.whiskeytangofoxtrotthemovie.com/",
    "cummulativeBoxOffice" : null,
    "mainTrailer" : {
      "id" : "11233665",
      "title" : "Whiskey Tango Foxtrot",
      "sourceId" : "820935",
      "thumbUrl" : "https://content.internetvideoarchive.com/content/photos/9879/820935_055.jpg",
      "duration" : 150,
      "clipType" : "TRL",
      "source" : "VDD"
    },
    "boxOffice" : null,
    "openingWindow" : "NA",
    "mpaaRating" : "R"
  }, {
    "id" : "771433558",
    "type" : "movie",
    "advisory" : null,
    "lastModifiedDate" : "2016-07-01T08:55:23-07:00",
    "tomatometer" : {
      "state" : "certified_fresh",
      "value" : 87
    },
    "year" : 2016,
    "releaseScope" : "limited",
    "studioName" : "Idéale Audience",
    "dvdWindow" : "new-on-dvd",
    "heroImage" : {
      "id" : "n-1056029",
      "thumborId" : "v1.bjsxMDU2MDI5O2o7MTcwMjI7MTIwMDsxMjgwOzcyMA",
      "height" : 720,
      "width" : 1280,
      "format" : "JPG"
    },
    "synopsis" : "A tour of the Louvre serves as a meditation on art. The film also explores how the museum avoided being plundered during the Nazi occupation of France, and depicts the ghost of Napoleon wandering among the exhibits. Directed by Alexander Sokurov.",
    "releaseDates" : {
      "dvd" : "2016-06-28",
      "theater" : "2016-04-01"
    },
    "runningTime" : 88,
    "creationDate" : "2015-11-04T05:54:03-08:00",
    "title" : "Francofonia",
    "posterImage" : {
      "id" : "m-11748143",
      "thumborId" : "v1.bTsxMTc0ODE0MztqOzE3MDEwOzEyMDA7NTUxOzgxNg",
      "height" : 816,
      "width" : 551,
      "format" : "JPG"
    },
    "vanity" : "francofonia",
    "officialUrl" : "http://www.musicboxfilms.com/francofonia",
    "cummulativeBoxOffice" : 290055,
    "mainTrailer" : {
      "id" : "11237465",
      "title" : "Francofonia (US)",
      "sourceId" : "583689",
      "thumbUrl" : "https://content.internetvideoarchive.com/content/photos/10081/583689_008.jpg",
      "duration" : 112,
      "clipType" : "TRL",
      "source" : "VDD"
    },
    "boxOffice" : null,
    "openingWindow" : "NA",
    "mpaaRating" : "NR"
  }, {
    "id" : "771417349",
    "type" : "movie",
    "advisory" : null,
    "lastModifiedDate" : "2016-07-01T06:27:17-07:00",
    "tomatometer" : {
      "state" : "fresh",
      "value" : 89
    },
    "year" : 2016,
    "releaseScope" : "limited",
    "studioName" : "Gravitas Ventures",
    "dvdWindow" : "new-on-dvd",
    "heroImage" : {
      "id" : "n-1045527",
      "thumborId" : "v1.bjsxMDQ1NTI3O2o7MTcwMjI7MTIwMDsxMjgwOzcyMA",
      "height" : 720,
      "width" : 1280,
      "format" : "JPG"
    },
    "synopsis" : "Hank Aaron and Derek Jeter, with Kevin Costner narrating, lead a cast of baseball legends & scientists who explore the magic within the 396 milliseconds it takes a fastball to reach home plate, and decipher who threw the fastest pitch ever.",
    "releaseDates" : {
      "dvd" : "2016-06-28",
      "theater" : "2016-03-25"
    },
    "runningTime" : 85,
    "creationDate" : "2015-04-19T03:04:25-07:00",
    "title" : "Fastball",
    "posterImage" : {
      "id" : "m-11604959",
      "thumborId" : "v1.bTsxMTYwNDk1OTtqOzE3MDk5OzEyMDA7NTQ3OzgxMA",
      "height" : 810,
      "width" : 547,
      "format" : "JPG"
    },
    "vanity" : "fastball",
    "officialUrl" : "http://fastballmovie.com/",
    "cummulativeBoxOffice" : null,
    "mainTrailer" : {
      "id" : "11236577",
      "title" : "Fastball",
      "sourceId" : "725354",
      "thumbUrl" : "https://content.internetvideoarchive.com/content/photos/9497/725354_057.jpg",
      "duration" : 126,
      "clipType" : "TRL",
      "source" : "VDD"
    },
    "boxOffice" : null,
    "openingWindow" : "NA",
    "mpaaRating" : "NR"
  }, {
    "id" : "771437496",
    "type" : "movie",
    "advisory" : "for language throughout, some violence and sexual material",
    "lastModifiedDate" : "2016-07-01T06:31:47-07:00",
    "tomatometer" : {
      "state" : "rotten",
      "value" : 0
    },
    "year" : 2016,
    "releaseScope" : "limited",
    "studioName" : "Grindstone Entertainment Group",
    "dvdWindow" : "new-on-dvd",
    "heroImage" : {
      "id" : "n-1075357",
      "thumborId" : "v1.bjsxMDc1MzU3O2o7MTcwMjI7MTIwMDsxOTIwOzEyODA",
      "height" : 1280,
      "width" : 1920,
      "format" : "JPG"
    },
    "synopsis" : "After a botched heist, Eddie (Bruce Willis), a murderous crime boss, hunts down the seductive thief Karen (Claire Forlani) who failed him. In order to win back Eddie's trust, Karen recruits her ex-lover and premier thief Jack (Mark-Paul Gosselaar) to steal a cargo of rare precious gems. But when the job goes down, allegiances are betrayed and lines are crossed as Jack, Karen, and Eddie face off in a fateful showdown.",
    "releaseDates" : {
      "dvd" : "2016-06-28",
      "theater" : "2016-04-22"
    },
    "runningTime" : 90,
    "creationDate" : "2016-02-07T05:54:19-08:00",
    "title" : "Precious Cargo",
    "posterImage" : {
      "id" : "m-11630052",
      "thumborId" : "v1.bTsxMTYzMDA1MjtqOzE3MDk5OzEyMDA7NTE5OzgwMA",
      "height" : 800,
      "width" : 519,
      "format" : "JPG"
    },
    "vanity" : "precious_cargo_2016",
    "officialUrl" : "",
    "cummulativeBoxOffice" : null,
    "mainTrailer" : {
      "id" : "11236975",
      "title" : "Precious Cargo",
      "sourceId" : "400017",
      "thumbUrl" : "https://content.internetvideoarchive.com/content/photos/10047/400017_074.jpg",
      "duration" : 124,
      "clipType" : "TRL",
      "source" : "VDD"
    },
    "boxOffice" : null,
    "openingWindow" : "in-theaters",
    "mpaaRating" : "R"
  }, {
    "id" : "771434703",
    "type" : "movie",
    "advisory" : null,
    "lastModifiedDate" : "2016-07-01T06:28:47-07:00",
    "tomatometer" : {
      "state" : "rotten",
      "value" : 58
    },
    "year" : 2016,
    "releaseScope" : "limited",
    "studioName" : "Diablo Entertainment",
    "dvdWindow" : "new-on-dvd",
    "heroImage" : {
      "id" : "n-1134655",
      "thumborId" : "v1.bjsxMTM0NjU1O2o7MTcwMjM7MTIwMDsyMDQ4Ozg1OA",
      "height" : 858,
      "width" : 2048,
      "format" : "JPG"
    },
    "synopsis" : "This pure-pulp thrill ride jumps between past and present as it pieces together the puzzle of a shocking crime. It's 1978 and a bank robbery gone wrong leaves Vivian (The Last Exorcism's Ashley Bell) the hostage of two criminals on the run. But things go from bad to off-the-rails berserk when she and her captors wind up on the sun-baked desert outpost of a deranged ex-military sniper (Pat Healy), who ensnares them in his deadly game of cat and mouse. Rising horror auteur Mickey Keating (Pod, Darling) directs this gritty, grisly homage to the glory days of grindhouse cinema.",
    "releaseDates" : {
      "dvd" : "2016-07-01",
      "theater" : "2016-07-01"
    },
    "runningTime" : 81,
    "creationDate" : "2015-11-25T02:03:39-08:00",
    "title" : "Carnage Park",
    "posterImage" : {
      "id" : "m-11952150",
      "thumborId" : "v1.bTsxMTk1MjE1MDtqOzE3MDEzOzEyMDA7NTAwOzc0MQ",
      "height" : 741,
      "width" : 500,
      "format" : "JPG"
    },
    "vanity" : "carnage_park",
    "officialUrl" : "",
    "cummulativeBoxOffice" : null,
    "mainTrailer" : {
      "id" : "11250164",
      "title" : "Carnage Park",
      "sourceId" : "675567",
      "thumbUrl" : "https://content.internetvideoarchive.com/content/photos/9982/675567_133.jpg",
      "duration" : 105,
      "clipType" : "TRL",
      "source" : "VDD"
    },
    "boxOffice" : null,
    "openingWindow" : "in-theaters",
    "mpaaRating" : "NR"
  }, {
    "id" : "771428874",
    "type" : "movie",
    "advisory" : "for strong bloody violence, sexuality/nudity, language throughout and some drug use",
    "lastModifiedDate" : "2016-07-01T08:47:04-07:00",
    "tomatometer" : {
      "state" : "rotten",
      "value" : 16
    },
    "year" : 2016,
    "releaseScope" : "limited",
    "studioName" : "Al-Ghanim Entertainment",
    "dvdWindow" : "new-on-dvd",
    "heroImage" : {
      "id" : "n-1063173",
      "thumborId" : "v1.bjsxMDYzMTczO2o7MTcwMjI7MTIwMDsyNTYwOzEwNzI",
      "height" : 1072,
      "width" : 2560,
      "format" : "JPG"
    },
    "synopsis" : "In Nick Simon's THE GIRL IN THE PHOTOGRAPHS, Colleen's life isn't going anywhere. The small town check out girl with natural beauty is bored with her dead end job and annoyed by her apathetic boyfriend. This isn't the life she wanted. In the midst of her turmoil, a pair of deranged serial killers begin leaving her photos of their mutilated victims. Her chance to escape comes in the form of Peter Hemmings, a hipster celebrity photographer who has traveled back to his hometown of Spearfish, South Dakota, with a pack of models, intent on copying the killers' intense and unapologetic artistry. When he learns Colleen is the killers' muse, Peter resolves to make her his own and use her as the centerpiece of a photo campaign in Los Angeles. But before Colleen can leave her old life behind, she must contend with the desires of her murderous stalkers who have chosen her last night in town to execute their most provocative work to date.",
    "releaseDates" : {
      "dvd" : "2016-06-28",
      "theater" : "2016-04-01"
    },
    "runningTime" : 95,
    "creationDate" : "2015-09-11T03:31:41-07:00",
    "title" : "The Girl In The Photographs",
    "posterImage" : {
      "id" : "m-11743626",
      "thumborId" : "v1.bTsxMTc0MzYyNjtqOzE3MDEwOzEyMDA7ODY0OzEyODA",
      "height" : 1280,
      "width" : 864,
      "format" : "JPG"
    },
    "vanity" : "the_girl_in_the_photographs",
    "officialUrl" : "",
    "cummulativeBoxOffice" : null,
    "mainTrailer" : {
      "id" : "11237686",
      "title" : "The Girl In The Photographs",
      "sourceId" : "702534",
      "thumbUrl" : "https://content.internetvideoarchive.com/content/photos/9991/702534_045.jpg",
      "duration" : 115,
      "clipType" : "TRL",
      "source" : "VDD"
    },
    "boxOffice" : null,
    "openingWindow" : "NA",
    "mpaaRating" : "R"
  }, {
    "id" : "771433597",
    "type" : "movie",
    "advisory" : null,
    "lastModifiedDate" : "2016-07-01T06:12:15-07:00",
    "tomatometer" : {
      "state" : "fresh",
      "value" : 65
    },
    "year" : 2016,
    "releaseScope" : "limited",
    "studioName" : "Agav Films",
    "dvdWindow" : "new-on-dvd",
    "heroImage" : {
      "id" : "n-1013831",
      "thumborId" : "v1.bjsxMDEzODMxO2o7MTcwMjE7MTIwMDsxOTIwOzEwMjE",
      "height" : 1021,
      "width" : 1920,
      "format" : "JPG"
    },
    "synopsis" : "Docudrama about the 1995 assassination of Israeli prime minister Yitzhak Rabin. Directed by Amos Gitai.",
    "releaseDates" : {
      "dvd" : "2016-06-28",
      "theater" : "2016-01-29"
    },
    "runningTime" : 153,
    "creationDate" : "2015-11-04T07:53:46-08:00",
    "title" : "Rabin, the Last Day",
    "posterImage" : {
      "id" : "m-11425427",
      "thumborId" : "v1.bTsxMTQyNTQyNztqOzE3MDk3OzEyMDA7MTA1MjsxNTAw",
      "height" : 1500,
      "width" : 1052,
      "format" : "JPG"
    },
    "vanity" : "rabin_the_last_day",
    "officialUrl" : "",
    "cummulativeBoxOffice" : null,
    "mainTrailer" : {
      "id" : "11235496",
      "title" : "Rabin, The Last Day (US)",
      "sourceId" : "814707",
      "thumbUrl" : "https://content.internetvideoarchive.com/content/photos/9975/814707_018.jpg",
      "duration" : 139,
      "clipType" : "TRL",
      "source" : "VDD"
    },
    "boxOffice" : null,
    "openingWindow" : "NA",
    "mpaaRating" : "NR"
  }, {
    "id" : "771444253",
    "type" : "movie",
    "advisory" : null,
    "lastModifiedDate" : "2016-06-30T18:14:32-07:00",
    "tomatometer" : {
      "state" : "NA"
    },
    "year" : 2016,
    "releaseScope" : "limited",
    "studioName" : "Marvista Entertainment",
    "dvdWindow" : "new-on-dvd",
    "heroImage" : {
      "id" : "n-1121595",
      "thumborId" : "v1.bjsxMTIxNTk1O2o7MTcwMjI7MTIwMDsyMDQ4OzExNTI",
      "height" : 1152,
      "width" : 2048,
      "format" : "JPG"
    },
    "synopsis" : "SATANIC follows a van full of young, college-aged coeds who are visiting old Satanic Panic-era sites in Los Angeles. They end up following the creepy owner of an occult store home, only to find themselves saving a suspicious girl from an apparent human sacrifice. Only this \"victim\" turns out to be much more dangerous than the cult from which she escaped.",
    "releaseDates" : {
      "dvd" : "2016-07-01",
      "theater" : "2016-07-01"
    },
    "runningTime" : 80,
    "creationDate" : "2016-06-01T03:39:27-07:00",
    "title" : "Satanic",
    "posterImage" : {
      "id" : "m-11985118",
      "thumborId" : "v1.bTsxMTk4NTExODtqOzE3MDEzOzEyMDA7NTc1Ozg1MQ",
      "height" : 851,
      "width" : 575,
      "format" : "JPG"
    },
    "vanity" : null,
    "officialUrl" : "http://www.magnetreleasing.com/satanic/",
    "cummulativeBoxOffice" : null,
    "mainTrailer" : {
      "id" : "11250342",
      "title" : "Satanic",
      "sourceId" : "596558",
      "thumbUrl" : "https://content.internetvideoarchive.com/content/photos/10355/596558_078.jpg",
      "duration" : 119,
      "clipType" : "TRL",
      "source" : "VDD"
    },
    "boxOffice" : null,
    "openingWindow" : "in-theaters",
    "mpaaRating" : "R"
  } ],
  "most-popular-tv" : [ {
    "link" : "https://www.rottentomatoes.com/tv/game-of-thrones/s06/",
    "score" : 94,
    "showId" : 15349,
    "rating" : "certified",
    "showTitle" : "Game of Thrones: Season 6",
    "title" : "Game of Thrones: Season 6",
    "tomatometer" : {
      "state" : "certified_fresh",
      "value" : 94
    }
  }, {
    "link" : "https://www.rottentomatoes.com/tv/voltron-legendary-defender/s01/",
    "score" : 100,
    "showId" : 16402,
    "rating" : "fresh",
    "showTitle" : "Voltron: Legendary Defender: Season 1",
    "title" : "Voltron: Legendary Defender: Season 1",
    "tomatometer" : {
      "state" : "fresh",
      "value" : 100
    }
  }, {
    "link" : "https://www.rottentomatoes.com/tv/outcast/s01/",
    "score" : 79,
    "showId" : 14135,
    "rating" : "certified",
    "showTitle" : "Outcast: Season 1",
    "title" : "Outcast: Season 1",
    "tomatometer" : {
      "state" : "certified_fresh",
      "value" : 79
    }
  }, {
    "link" : "https://www.rottentomatoes.com/tv/orange-is-the-new-black/s04/",
    "score" : 100,
    "showId" : 15200,
    "rating" : "certified",
    "showTitle" : "Orange is the New Black: Season 4",
    "title" : "Orange is the New Black: Season 4",
    "tomatometer" : {
      "state" : "certified_fresh",
      "value" : 100
    }
  }, {
    "link" : "https://www.rottentomatoes.com/tv/preacher/s01/",
    "score" : 90,
    "showId" : 12261,
    "rating" : "certified",
    "showTitle" : "Preacher: Season 1",
    "title" : "Preacher: Season 1",
    "tomatometer" : {
      "state" : "certified_fresh",
      "value" : 90
    }
  }, {
    "link" : "https://www.rottentomatoes.com/tv/thirteen/s01/",
    "score" : 92,
    "showId" : 16287,
    "rating" : "fresh",
    "showTitle" : "Thirteen: Season 1",
    "title" : "Thirteen: Season 1",
    "tomatometer" : {
      "state" : "fresh",
      "value" : 92
    }
  }, {
    "link" : "https://www.rottentomatoes.com/tv/wynonna-earp/s01/",
    "score" : 86,
    "showId" : 16163,
    "rating" : "fresh",
    "showTitle" : "Wynonna Earp: Season 1",
    "title" : "Wynonna Earp: Season 1",
    "tomatometer" : {
      "state" : "fresh",
      "value" : 86
    }
  }, {
    "link" : "https://www.rottentomatoes.com/tv/wayward-pines/s02/",
    "score" : 38,
    "showId" : 15835,
    "rating" : "rotten",
    "showTitle" : "Wayward Pines: Season 2",
    "title" : "Wayward Pines: Season 2",
    "tomatometer" : {
      "state" : "rotten",
      "value" : 38
    }
  }, {
    "link" : "https://www.rottentomatoes.com/tv/person-of-interest/s05/",
    "score" : 100,
    "showId" : 15275,
    "rating" : "fresh",
    "showTitle" : "Person Of Interest: Season 5",
    "title" : "Person Of Interest: Season 5",
    "tomatometer" : {
      "state" : "fresh",
      "value" : 100
    }
  }, {
    "link" : "https://www.rottentomatoes.com/tv/cleverman/s01/",
    "score" : 88,
    "showId" : 16225,
    "rating" : "fresh",
    "showTitle" : "Cleverman: Season 1",
    "title" : "Cleverman: Season 1",
    "tomatometer" : {
      "state" : "fresh",
      "value" : 88
    }
  } ],
  "new-tv-tonight" : [ {
    "link" : "https://www.rottentomatoes.com/tv/angel-from-hell/s01/",
    "score" : 41,
    "showId" : 15511,
    "rating" : "rotten",
    "showTitle" : "Angel From Hell: Season 1",
    "title" : "Angel From Hell: Season 1",
    "tomatometer" : {
      "state" : "rotten",
      "value" : 41
    }
  }, {
    "link" : "https://www.rottentomatoes.com/tv/hell-on-wheels/s05/",
    "score" : -1,
    "showId" : 12087,
    "rating" : "rotten",
    "showTitle" : "Hell on Wheels: Season 5",
    "title" : "Hell on Wheels: Season 5",
    "tomatometer" : {
      "state" : "NA",
      "value" : null
    }
  } ],
  "certified-fresh-tv" : [ {
    "link" : "https://www.rottentomatoes.com/tv/catastrophe/s02/",
    "score" : 100,
    "showId" : 15683,
    "rating" : "certified",
    "showTitle" : "Catastrophe: Series 2",
    "title" : "Catastrophe: Series 2",
    "tomatometer" : {
      "state" : "certified_fresh",
      "value" : 100
    }
  }, {
    "link" : "https://www.rottentomatoes.com/tv/the-detour/s01/",
    "score" : 82,
    "showId" : 16022,
    "rating" : "certified",
    "showTitle" : "The Detour: Season 1",
    "title" : "The Detour: Season 1",
    "tomatometer" : {
      "state" : "certified_fresh",
      "value" : 82
    }
  }, {
    "link" : "https://www.rottentomatoes.com/tv/full-frontal-with-samantha-bee/s01/",
    "score" : 100,
    "showId" : 16038,
    "rating" : "certified",
    "showTitle" : "Full Frontal With Samantha Bee: Season 1",
    "title" : "Full Frontal With Samantha Bee: Season 1",
    "tomatometer" : {
      "state" : "certified_fresh",
      "value" : 100
    }
  }, {
    "link" : "https://www.rottentomatoes.com/tv/game-of-thrones/s06/",
    "score" : 94,
    "showId" : 15349,
    "rating" : "certified",
    "showTitle" : "Game of Thrones: Season 6",
    "title" : "Game of Thrones: Season 6",
    "tomatometer" : {
      "state" : "certified_fresh",
      "value" : 94
    }
  }, {
    "link" : "https://www.rottentomatoes.com/tv/lady-dynamite/s01/",
    "score" : 93,
    "showId" : 16258,
    "rating" : "certified",
    "showTitle" : "Lady Dynamite: Season 1",
    "title" : "Lady Dynamite: Season 1",
    "tomatometer" : {
      "state" : "certified_fresh",
      "value" : 93
    }
  }, {
    "link" : "https://www.rottentomatoes.com/tv/orange-is-the-new-black/s04/",
    "score" : 100,
    "showId" : 15200,
    "rating" : "certified",
    "showTitle" : "Orange is the New Black: Season 4",
    "title" : "Orange is the New Black: Season 4",
    "tomatometer" : {
      "state" : "certified_fresh",
      "value" : 100
    }
  }, {
    "link" : "https://www.rottentomatoes.com/tv/outcast/s01/",
    "score" : 79,
    "showId" : 14135,
    "rating" : "certified",
    "showTitle" : "Outcast: Season 1",
    "title" : "Outcast: Season 1",
    "tomatometer" : {
      "state" : "certified_fresh",
      "value" : 79
    }
  }, {
    "link" : "https://www.rottentomatoes.com/tv/outlander/s02/",
    "score" : 97,
    "showId" : 11634,
    "rating" : "certified",
    "showTitle" : "Outlander: Season 2",
    "title" : "Outlander: Season 2",
    "tomatometer" : {
      "state" : "certified_fresh",
      "value" : 97
    }
  }, {
    "link" : "https://www.rottentomatoes.com/tv/preacher/s01/",
    "score" : 90,
    "showId" : 12261,
    "rating" : "certified",
    "showTitle" : "Preacher: Season 1",
    "title" : "Preacher: Season 1",
    "tomatometer" : {
      "state" : "certified_fresh",
      "value" : 90
    }
  }, {
    "link" : "https://www.rottentomatoes.com/tv/unreal/s02/",
    "score" : 94,
    "showId" : 15425,
    "rating" : "certified",
    "showTitle" : "UnReal: Season 2",
    "title" : "UnReal: Season 2",
    "tomatometer" : {
      "state" : "certified_fresh",
      "value" : 94
    }
  } ]
}