It Felt Like Love
(2014)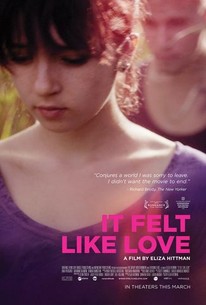 It Felt Like Love Videos
It Felt Like Love Photos
Movie Info
Eliza Hittman's powerful debut feature tells the story of Lila (Gina Piersanti, in a stunning debut), a fourteen year old spending a hot summer in a blue-collar Brooklyn neighborhood far removed from the bustling city. Awkward, lonely, and often playing the third wheel, Lila is determined to emulate the sexual exploits of her more experienced best friend. She fixates on Sammy, a tough older guy, when she hears that "he'll sleep with anyone." Deluded in her romantic pursuit, Lila tries desperately to insert herself into Sammy's gritty world, but in doing so she puts herself into a dangerously vulnerable situation. (C) Variance
Rating:
NR
Genre:
Directed By:
Written By:
In Theaters:
On DVD:
Runtime:
Studio:
Cast
News & Interviews for It Felt Like Love
Critic Reviews for It Felt Like Love
Audience Reviews for It Felt Like Love
½
Why do so many critics like this movie? The acting was like porn acting. Although I do like the concept. It is just hard to believe she is 14.
Seth Kumaroo
I suppose it helps that the director is a woman, otherwise this tale of an underage Brooklyn girl's sexual awakening would feel even creepier. 15-year-old Lila is bored with summer vacation along the Brooklyn beachfront community where her working class father is trying to raise her and a starving dog as a widow and her only distraction is modern dance and a semi-slutty bestie girlfriend. Inevitably, a thuggish older boy appears, and she responds. She wants to have sex, or at least some kind of connection, but is clueless. He's indifferent. Lassitude of summer defines the tone of this desultory journey, leading up to the aforementioned creepy episode.
Nick Demartino
It Felt Like Love is an awkward, awkward movie. The basic story is simple--earnestly so--such that most people should be able to identify with it; if not from their own lives, then knowing someone similar. A young girl experiences mixed emotions as she watches her best friend (and best friend's boyfriend) hang out. There seems to be a sense of abandonment, and jealousy, and probably a lot of other feelings, too. And so she decides to find herself a boy of her own. Her target? An older fellow who will have sex with anyone (as rumor has it). It's so awkward watching her trying to push her way into this boy's world. He has no interest in her, and he humors her for a while. When things get bristly and strange, the pace of the movie seems to slow down, forcing the viewer to feel every awkward bit of awkwardness in all its awkward glory. It doesn't help that we stop caring about this girl and her quest for this dude midway through the movie. The more interesting storyline is that of her best friend/boyfriend. We see the downfall of that relationship in all its glorious terror. The boyfriend is caught up on the fact that she is more experienced sexually than he is. And watching this best friend navigate the crap that this guy says and does to her almost washes our mouths from the bitter taste of the main storyline. That said, it's hard to see who the target audience is for It Felt Like Love. It's didactic simplicity (and awkwardness) might make it too annoying for people who have matured beyond these stages. But at the same time, it's certainly not a movie that will capture the attention of other 14-year-old girls, you know?
Jacob Gehman
Discussion Forum
Discuss It Felt Like Love on our Movie forum!
News & Features