It Follows
(2015)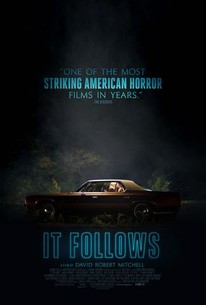 TOMATOMETER
AUDIENCE SCORE
Critic Consensus: Smart, original, and above all terrifying, It Follows is the rare modern horror film that works on multiple levels -- and leaves a lingering sting.
Movie Info
After a strange sexual encounter, a teenager finds herself haunted by nightmarish visions and the inescapable sense that something is after her. (C) Radius-TWC
News & Interviews for It Follows
Critic Reviews for It Follows
Audience Reviews for It Follows
½
It is a pleasure to see a terrifying horror movie that invests in a nightmarish atmosphere of tension with moments of suspenseful anticipation, an excellent electronic score and an efficient camerawork that makes the best use of zooms and pan shots.
Carlos Magalhães
Super Reviewer
½
Horror, or fear perhaps, distilled. It doesn't take much. Take many of the known ideas about the genre and cut away the fat, that's all. Less equals more. "What in God's name does it want?" That's a question for later, buddy. Good stuff.
Kevin M. Williams
Super Reviewer
Too often with contemporary horror films we are subjected to a barrage of positive claims. Claims that the most recent one is the best for decades. It almost seems like audiences and critics are desperate for it to actually be the case, such is the lack of any true quality in a failing genre and the desperate demand to be spooked again. Sooner or later, though, one had to arrive where the positivity surrounding it would be genuine. Finally, we have It Follows: a film that can confidently stake it's claim to being that coveted frightener. After a sexual encounter, 19-year-old Jay (Maika Monroe) is told that she will then be followed by a presence - someone or something - determined to kill her. The only way it'll stop is if she has another sexual encounter where she can pass it on. Initially, she's doubtful but soon enough the disturbing visions begin... If you're ever in any doubt that you're being stalked by a malevolent force of some kind, then it's probably best to steer clear of the old rumpy-pumpy. Going by the usual horror tropes, when someone butters the muffin it inevitably leads to their demise. And by that, director David Robert Mitchell cleverly bases his entire horror concept around that promiscuous premise. What works in It Follows' favour is it's homage to films of old - namely, John Carpenter's Halloween. If you consider Carpenter's depiction of Michael Myers, you'll notice that he works slowly and never in a rush to fulfil his murderous intent. That's very much like the entity in this; there's a self-assurance in it's unrelenting pursuit. The setting also takes place in a similar leafy suburban neighbourhood and our protagonist goes by the name of Jay (short for Jamie) - a direct tribute to Halloween's afflicted heroine, Jamie Lee Curtis. Even Rich Vreeland's scaled down music is very reminiscent of Carpenter's classic synthesised score. You could actually spend some time identifying the previous horrors that Mitchell riffs on but that would detract from his own work and his ability to put his own stamp on the proceedings. His decision to shoot with a sombre mood and deliberate pace adds to the overall foreboding atmosphere and allows us to effortlessly enter into any given moment. This works the same in identifying with the characters. Their plight and struggle is all the more involving because it feels like we are getting a glimpse into their lives. It also helps that the cast is headed by reliable, and relatively unknown, faces and as the characters are in their teens, the film works as both an urban-legend horror and a dark coming-of-age tale. Their progression to adulthood and their promiscuity also sets up a clever sub-text that courses through the film in terms of sexually transmitted diseases: a reminiscent 80's setting suggesting the AIDS epidemic, in particular, and channels the deadly nature of that disease as it's psychological device. Mitchell's real trump card, however, comes from his use of space and setting up his shots. The background plays a major part in the film as you never know at which moment "It" might make an appearance, leaving you to regularly scan the whole frame for any movement. There's an undoubted ambiguity to Mitchell's film and while some may balk at this I, personally, welcomed it as it added another thought provoking layer. It works on many levels. If you're so inclined, you can adopt a metaphorical approach to the proceedings and delve into it's deeper meanings. But then again, sometimes a cigar is just a cigar, right? If your not the type of viewer that wishes to explore the metaphors and just want to be entertained then the film can still be enjoyed at face value and works as a chilling and effective horror yarn, nonetheless. With or without mastication. In only his second film (the first being The Myth of the American Sleepover in 2010) there's no denying David Robert Mitchell's commanding handling of events and his ability to stage a real sense of uneasiness. It's an impressive sophomore effort that has given the horror genre a much needed shot in the arm by delivering substantial terrors and retaining a sincerity in its delivery. Mark Walker
Mark Walker
Super Reviewer
It Follows Quotes
| | |
| --- | --- |
| Hugh/Jeff: | It could look like someone you know or it could be a stranger in a crowd. Whatever helps it get close to you. |
| | |
| --- | --- |
| Yara: | When I was a little girl my parents would not allow me to go south of 8th mile. And I did not even know what that meant until I got a little older. And I started realizing that. That was where the city started and the suburbs ended. And I used to think about how shitty and weird was that. I mean I had to ask permission to go to the state fair with my best friend and her parents only because it was a few blocks past the border. |
Discussion Forum
Discuss It Follows on our Movie forum!