It Happened Tomorrow
(1944)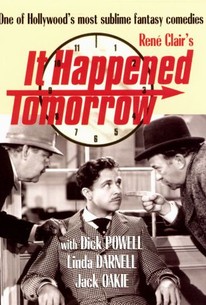 It Happened Tomorrow Photos
Movie Info
A rollicking comedy-fantasy set in the 1890s, It Happened Tomorrow is the story of a young newspaper reporter (Dick Powell) who longs for the "big scoop" that will make him famous. At a party, Powell is drawn into a conversation by an elderly newspaper employee (John Philliber) given to spouting philosophical statements about the future. Through the mysterious old man's auspices, Powell is made privy to special editions of his newspaper, each of which carries tomorrow's headlines. Thanks to his seeming gift for prophecy, Powell becomes the paper's top reporter, and also gets tied up with a phony mentalist (Jack Oakie) who hopes to use Powell's "gift" to win at the races. Unfortunately, each of Powell's prognostications results in near-disaster for himself or his girl friend (Linda Darnell), the mentalist's niece. One morning, Powell glances at one of his special newspapers, only to read his own obituary! The desperate measures taken by Powell to stave off the Inevitable lead to a slapstick climax on the roof of a fancy hotel. Lest the audience become unduly concerned over Powell's ultimate fate, the film is framed by a flashback, related by Powell on the occasion of his 50th wedding anniversary. Superbly directed by Rene Clair, It Happened Tomorrow deftly weaves its fanciful premise into an uproarious and surprisingly credible 84 minutes.
Critic Reviews for It Happened Tomorrow
Audience Reviews for It Happened Tomorrow
Cute premise, not perfectly executed but pleasantly charming fantasy. Linda Darnell is almost unbelievably beautiful.
This movie is sort of sci-fi , sort of comedy, and sort of a thriller, and mixes these genres well. I enjoyed this movie, and I recommend it.
It Happened Tomorrow Quotes
There are no approved quotes yet for this movie.