It Happens Every Spring
(1949)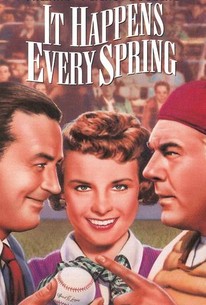 It Happens Every Spring Photos
Movie Info
Lloyd Bacon's baseball comedy stars Ray Milland as Vernon Simpson, a chemist who develops a product which repels wood. Signing on with a major league team as a pitcher, he throws screwballs doctored with his solution, becoming a sensation who strikes out every batter he faces.
Critic Reviews for It Happens Every Spring
All Critics (5) | Fresh (5) | Rotten (0)
Classic Film and Television
Excellent baseball comedy about a scientist who perfects a pitching potion
Film Journal International
Pleasant baseball comedy with top-flight cast.

Mountain Xpress (Asheville, NC)
Audience Reviews for It Happens Every Spring
½
TO DO Yet, it's just a lighthearted comedy and, if taken in that context, easier to swallow and enjoy. The story is at its funniest when Milland pitches and the ball dispy- doodles around the baseball bats of all the hitters. A large part of its success can be attributed to Ray Milland. As Professor Simpson, he never lets the character sink into the foolishness of Fred MacMurray's Ned Brainard from The Absent Minded Professor films. That is not meant to deride MacMurray's performance in those films, as his character was played as it was written, but the fact that Milland's Simpson appears more scholarly and analytical makes this film work even better. He sees his accidental discovery as a means to achieving two necessary goals: Making enough money to be able to wed Deborah (Jean Peters)and helping the Cardinals win the pennant. As Deborah, Jean Peters is gorgeous, charming and delightful. After Vernon's mysterious disappearance, she sets out to discover what became of him and through a series of mistaken coincidences believes he has joined the mob. Paul Douglas as Monk Lanigan, Vernon's catcher, has most of the funniest lines and some of the best scenes, one involving him wearing a splint while trying to catch, and another when he uses Vernon's formula as a hair tonic. He's a pure delight in what I consider one of his best roles. The fact that a college professor uses a chemistry formula (that makes most things repel wood) to win the World Baseball Championship actually makes it funnier. And it's wholesome fun, despite what some moralists may think. The premise that Ray Milland can't actually pitch too well is what makes this a true screwball comedy - and he is redeemed at the end (I won't say how so I won't spoil the fun of watching it). Absurd situations is what makes funny films. This definitely has the formula for comedy: Witty, lots of jokes, madcap romantic situations, and abundant twists and turns. Milland chose to star in this flick right after his Best Actor Oscar for a reason -it became a top comedy of the era. Paul Douglas is outrageously funny as his bemused catcher (the scene where he rubs Milland's wood-repelling formula into his hair is priceless). And the gorgeous Jean Peters comes across with top marks.
John Tandlich
Ray Milland uses science to become a dominant baseball pitcher. As long as he has his formula handy there is no way anybody can get a hit off him. A little wacky and far-fetched, but it was a fun movie. (First and only viewing - 4/12/2014)
Adam R
½
Wasn't bad, had some entertaining moments, but not one I'm in a real hurry to see again any time soon.
Angela Petteys
It Happens Every Spring Quotes
Discussion Forum
Discuss It Happens Every Spring on our Movie forum!