It Is Fine! Everything Is Fine.
(2007)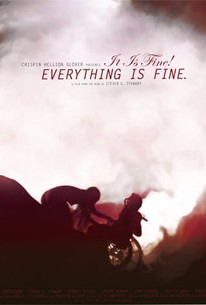 It Is Fine! Everything Is Fine. Photos
Movie Info
Director Crispin Glover teams with screenwriter Steven C. Stewart for this surreal semi-autobiographical feature detailing cerebral palsy sufferer Stewart's remarkable life and many love affairs. A semi-sequel to Glover's shocking directorial debut, What Is It? (2005), It Is Fine! Everything Is Fine opens with Stewart lying helplessly on the hospital floor. As he is being transported back to his bed, Stewart embarks on an inward journey in which his suave charm proves irresistible to the ladies. Though his imaginary sexual conquests allow Stewart a welcome opportunity to live out his many erotic fantasies, the unshakable frustration of being an eternal outcast soon causes his actions to take an unexpectedly dark turn. It Is Fine! Everything Is Fine made its world premiere at the 2007 Sundance Film Festival.
Rating:
NR
Genre:
, ,
Directed By:
Written By:
In Theaters:
Runtime:
Studio:
Volcanic Eruptions
Critic Reviews for It Is Fine! Everything Is Fine.
Audience Reviews for It Is Fine! Everything Is Fine.
At first, this could come off as handicap porn; however, I had the privilege of seeing this in the theater while Crispin Glover was in town. Hearing from him about the making of the film and the inspiration behind Steven Stewart's screenplay (who was also in the lead role) shed's a whole new light on the film. It becomes an exploration in to different aspects of the disabled. Instead of always being a good guy, what if the handicapped person was the villain instead? It was also intriguing to hear Crispin tell that when they were making it, they viewed it from the perspective that no one would be able to understand Steven's character even though all of the beautiful women he interacted with understood him perfectly. That aspect, lends itself well to the portrayal of the events as a fantasy, albeit a dark one.
John Baumeister
½
This is the middle piece of what is supposed to be a trilogy. The script was written by Steven Stewart, who also plays the title character. Which would be great except, and I'll be blunt here--Stewart didn't really write a compelling narrative. A man with cerebal palsey has sex with, and then proceeds to kill, numerous interchangeable women. Nobody's character is really developed enough to really get involved in the story. I'm still curious to see what Crispin Glover does with the final installment of this trilogy, but I hope he returns more to the aesthetic and tone of "What Is It?"
Jenny Gonzalez-Blitz
If you join the film making sensibilities of David Lynch, the straight forward, unapologetic attitude of John Waters when dealing with cultural taboos, and a dash of Tod Browning's Freaks (1932), you'll have It is Fine! EVERYTHING IS FINE., part two of Crispin Glover's It trilogy, which tells the story of Paul Baker (Steven C. Stewart), a 62-year-old man with cerebral palsy whose fetish for women with long hair drives him to murder them once they decide to cut it. When I see Crispin Glover's name on a project, I expect the unexpected, and I'm never disappointed. But make no mistake, this is not mere shock value, this is counterculture at it's best, or most thought-provoking. It is Fine! EVERYTHING IS FINE. is an exercise in counterculture and taboo, and not only by what is on-screen, but by the fact it's written by, and stars, Steven C. Stewart, a lifelong sufferer of cerebral palsy. According to Glover, Stewart's mind, despite the cerebral palsy, functioned normally. This is clear in his ability to write a coherent screenplay, which stars himself in a murder-mystery-of-the-week style storyline, but with the naiveté of someone cut off from the outside world most of his life, as Stewart unfortunately was. The bravery of making a film like this lies with the cast more than the crew. The willingness of Stewart to not only play the villian, but to appear in the situations as he does, and being able to have a sense of humor about it (as Crispin has assured us is the case) is not only brave, but shows how strong he felt about the role of people with disabilities in cinema. I admit that I felt uncomfortable at times during the viewing (this coming from a guy who used to make a point of showing John Water's Pink Flamingos (1972) to nearly everyone who walked through his door), but I quickly overcame those feelings (as I imagine most other audience members did), because I realized that it was the cultural taboos that made me feel uneasy. In reality, I wasn't uneasy about the film at all, in fact, I was glad to see these beautiful actresses performing (many of them topless or fully nude), with Stewart and bringing his vision to life. Beneath the more outrageous aspects of the story, I suspect Stewart's script is largely autobiographical with the rage stemming from rejection from women in his real life and the forced time spent in a nursing home, the very nursing home used in the film. With a budget of approx. $200,000, there are tell-tale signs of the budget constraints, such as the usage of classical music for the score (which was used effectively). Also, it's easy to realize we are looking at a set, but the true value is in the ideas and questions being put in place within the sets. The acting is reminiscent David Lynch's films. The readings felt amateurish, as no doubt some of the actors were on screen for the first time or had little earlier work, but the same style of readings came from veteran German actress, Margit Carstensen (Linda Barnes), and Crispin's own veteran actor father, Bruce Glover (The Ex). If you're unfamiliar with the Lynchian acting style, the simplest way to explain it is teetering on the edge of bad acting/directing and a dream world where you're never sure what is real. It's a style that has turned people off to Lynch in the past, but once you understand it, it works, and it's fun to watch. Note that Crispin Glover is co-director along with David Brothers, who is best known for his work on a number of film sets, he also built the sets for this film. Since Glover produces his own films and does not release them on video, the only way to view his films is to attend one of his showings, I highly recommend going to a showing. My wife and I attended a showing at the Indianapolis Museum of Art, April 24, 2010. It was delightful to hear Glover's comments after watching the film. I wish this was be done my more directors. During the Q & A session, Glover revealed that former Playboy Playmate, Jami Ferrell, who played Julie - Drunk Girl, was in the audience. Filming wrapped in 2001, and this was Jami's first time viewing It is Fine! EVERYTHING IS FINE. If you're open to overcoming cultural taboos and you think an evening with Crispin Glover sounds like a good time, which it is, It is Fine! EVERYTHING IS FINE. is well worth the cost, and traveling time, to experience a film, and filmmaker, like no other. Copyright © 2010 criticplanet.org
Justin Smith
It Is Fine! Everything Is Fine. Quotes
There are no approved quotes yet for this movie.