It's All True
(1993)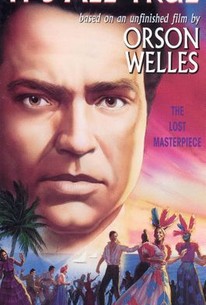 Movie Info
Both a documentary and a unique exercise in film restoration, It's All True tells the complex story of Orson Welles' ill-fated attempts to make an anthology film about the life and culture of South America and concludes with a reconstruction of one of Welles' unfinished segments, edited together from rediscovered original footage. The idea for Welles' South American project was conceived by the American government as a sort of cultural exchange to improve relations with Latin America. Using interviews and period footage, the filmmakers relate how the project quickly turned sour, as both the Brazilian government and RKO studio executives objected to Welles early footage; indeed, thanks to a local witch doctor, the film could literally be said to be cursed. Although Welles persevered, RKO eventually withdrew support from the project. The failures of It's All True and The Magnificent Ambersons, which was damaged by studio cuts made while Welles was overseas, are thought by many to have irreparably damaged the director's Hollywood career. It's All True concludes with a partial reconstruction of the "Four Men on a Raft" segment, in which Welles tells the true story of a dramatic, thousand-mile raft journey by four Brazilian peasants.
Rating:
G
Genre:
, ,
Directed By:
Written By:
In Theaters:
On DVD:
Runtime:
Studio:
Paramount Pictures
Critic Reviews for It's All True
Audience Reviews for It's All True
½
Interesting look at a little known Orson Welles project involving the capturing of footage of life in South America. Probably works a little better if they just released the footage and scrapped the documentary portion.
John Ballantine
Super Reviewer
It is a master piece, and a huge lesson about Brazil's culture. I am astonished with Orson's sight, and how he fell in love with Brazilians. It is impressive! Besides the fact that it is *still* all true. Nothing really changed.
Claudia Feitosa-Santana Hernandez
½
Now this film is not going to be for everyone. However, if you are a film lover-especially of classics films of the 1940s or Orson Welles this will be something you won't want to miss. The U.S. Government had commissioned Welles, who was a hot ticket at the time because of CITIZEN KANE, to head to Brazil to make an anti-Nazi film for the U.S. "Good Neighbor Policy." After months of shooting on his film, which undoubtably would have been a masterpice, was stopped and abandoned by RKO and the footage was just sort of stored away never to be seen. This devastated Welles and in the biography Welles On Welles he himself said it was probably the most devastating single thing that happened to him next to RKO butchering his film THE MAGNIFICENT AMBERSONS. This film consists of footage that he shot for that film and Welles magnificent documentary "Four Men On A Boat." Now this is not for all tastes and I even found it a little boring but its fascinating seeing the young Welles and listening to him talk film and seeing the magnificent footage he shot. Directed by Richard Wilson, Myron Miesel and Bill Krohn. Released by Paramount Pictures and Rated G.
John Hensley
It's All True Quotes
There are no approved quotes yet for this movie.
Discussion Forum
Discuss It's All True on our Movie forum!