It's My Party
(1996)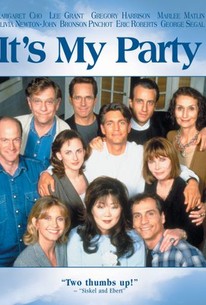 Movie Info
A gay man diagnosed with AIDS decides that suicide is a better option than a slow, painful death in this drama. Nick is an architect and has been living happily with his lover Brandon, an up-and-coming filmmaker. Unfortunately, soon after Nick is diagnosed, Brandon, who does not have HIV, leaves. Brandon still loves Nick, but is unable to cope with the specter of AIDS. Two days before his scheduled death, Nick hosts a farewell party. Most of his friends and family come to personally pay their last respects.
Rating:
R (adult situations/language, nudity)
Genre:
,
Directed By:
Written By:
In Theaters:
On DVD:
Runtime:
Studio:
MGM Home Entertainment
Critic Reviews for It's My Party
Audience Reviews for It's My Party
½
Roberts best work in years,you can tell this was a very personal story.The film runs the table of emotions but in the end the viewers left fulfilled.
bill secor
As terrible as Eric Roberts is, and there's very few actors as bad, he does give his full effort here - but he never stops being Eric Roberts... and that's never a positive.
Bloodmarsh Krackoon
½
(from The Watermark 05/12/96) Just what we always wanted - a long, slow, depressing movie about AIDS. Roberts and Harrison are a gay couple who have been together two years. Roberts suddenly tests HIV+ and the relationship starts to unravel. Eventually Harrison throws Roberts out of their home, and they stop all communication. A year later, Roberts' medical condition is such that his vision and his mind will be completely gone in a few days. So he opts to commit suicide and has a gigantic party inviting all of his friends and family for one last goodbye. Writer-director Randal Kleiser (Grease) has a remarkably simple yet important story that could have illuminated many different dynamics between a gay man and those he loves. Instead, the film is a flat, one-dimensional parade of lesser superstars that reminds us of the tragedy of AIDS, and does nothing to encourage or uplift us. Razor blade, anyone? The main dramatic thrust in the film is when Harrison arrives at the party, uninvited, and wants to reconcile with Roberts. Naturally they still love each other, but the problem is that Harrison has already been painted as the bad guy, and we don't care about him. Even though some of their scenes are touching, the film reduces the impact that such an illness can have on a relationship to the simplicity of one of them being right and one of them being wrong. The entire film has a pared-down feel to it: with the party being the end of the story, flashbacks are used to tell the beginning and the middle. They give no real insight into the characters and clumsily interrupt the emotionality of the party itself. (A director friend of mine thinks they used the flashbacks because they must have run out of money.) True, the film was obviously made on a very low-budget: The sound is poor with snipets of conversation being lost and unintelligible; Margaret Cho's hairstyle inflates and deflates with each new camera angle; the one scene involving prosthetic makeup has Christopher Atkins near-death and looking like an alien specimen from the X-Files. Shortage of funds is no excuse for It's My Party's failure; better films have been made with fewer resources. Many performances help us through the weak material: Lee Grant as Roberts' mother (who should fire her cosmetic surgeon), Cho and Olivia Newton-John who both play concerned friends, Marlee Matlin as Roberts' sister, and Roddy McDowell as an old friend. But nobody works harder than Roberts to make sense of the story. His performance is a true achievement that still isn't enough to save the film. Any movie that can make a party full of gay people so damned dull has got some serious problems.
David Almeida
It's My Party Quotes
There are no approved quotes yet for this movie.
Discussion Forum
Discuss It's My Party on our Movie forum!