It's My Party and I'll Die If I Want To
(2009)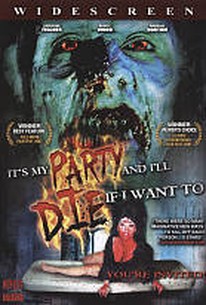 AUDIENCE SCORE
Critic Consensus: No consensus yet.
Critic Reviews for It's My Party and I'll Die If I Want To
There are no critic reviews yet for It's My Party and I'll Die If I Want To. Keep checking Rotten Tomatoes for updates!
Audience Reviews for It's My Party and I'll Die If I Want To
½
Nothing great, but it's decent for what it's. A fun cheesy, low budget horror movie watch around Halloween.
Lanky Man Pat
I have to admit that the first 50 minutes of this movie are awful. Make no mistake, this is a no-budget, entirely amateur, "hey kids, let's put on a show in the barn" flick that's full of bad acting. The story is lifted straight from classic 80's fright flick "Night of the Demons" and crossed with the tale of Lizzie Borden. I was barely able to keep watching. Yes, Tom Savini is in it, playing a bit part as an electrician for all of four minutes, probably as a favor to the special FX makeup artist who graduated from his school. For everyone else, this is a freshman effort, including the director and writer. It's so badly done that the video is shot at the wrong rate, resulting in the whole film looking jerky and stiff. The mistakes *far* outnumber the successes. But in the last few minutes of this otherwise awful flick, something happened. It actually got better. There was a quick succession of genuinely creepy scenes laced with adequate gore and good makeup. It was like the film suddenly woke from a nap and got back to work. The last twenty minutes or so almost compensate for that first 50. There are some good ideas at work, even if the people making the movie didn't quite have the know-how to bring them to the screen. The acting never improves, but just about everything else does. The ghosts under the bed actually made me jump, for example. The special effects make-up on the creature involved in the silly kung fu fight set to "A Fifth of Beethoven" looked good enough to be in a professional film, even if the fight choreography wasn't. It really did get better. So, even though I can't say that I liked "It's My Party..," I can say that I hope the people behind the camera keep making horror flicks. There's a dim fire there worth kindling, and I can't help but have a hunch that if they work at it, they could deliver something really good one day. This is probably one that most horror fans can easily give a miss, but if you want to catch some raw talent on the way up, don't bother sitting through the whole thing. Just watch the last half hour or so as a sort of showcase of the direction of Tony Wash and the nascent skills of the makeup and special effects crews. I think you'll see their names attached to something much better one day.
Brian Seitzman
It's My Party and I'll Die If I Want To Quotes
There are no approved quotes yet for this movie.
Discussion Forum
Discuss It's My Party and I'll Die If I Want To on our Movie forum!