It's Such a Beautiful Day
(2012)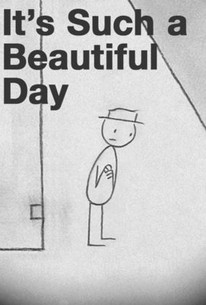 TOMATOMETER
AUDIENCE SCORE
Critic Consensus: A collection of three shorts by Don Hertzfeldt, It's Such a Beautiful Day is an impossibly dense and affecting piece of animated art.
Movie Info
Independent animator and two-time Academy Award nominee Don Hertzfeldt has seamlessly combined his three short films about a man named Bill ("Everything will be OK" (2006), "I Am So Proud of You" (2008), and "It's Such a Beautiful Day" (2011)), into a darkly comedic, beautiful new feature film.
Critic Reviews for It's Such a Beautiful Day
Audience Reviews for It's Such a Beautiful Day
½
I was unaware of the cult that is Don Hertzfeldt until I was introduced to this film one lonesome night, sitting alone with a big bowel of popcorn. I was loopy from some prescription painkillers that I was taking for my back, and I wanted to watch something light, perhaps happy, to soothe my restless mind. Boy was I wrong to choose this film, which for all manner of purposes is one of the most ruthless, hard-hearted pieces of animation I have ever seen. http://www.bluefairyblog.com/reviews/2015/10/1/its-such-a-beautiful-day
Spencer S.
Super Reviewer
Don Hertzfeldt's trilogy of short films known as the "Everything Will Be OK trilogy," has been put together impeccably to create a feature film called "It's Such a Beautiful Day." In my opinion, this is one of the most important and though-provoking pieces of film that I have had the pleasure of viewing in this decade so far. Following an ordinary man (Bill) as he discovers new things about life, himself, and the world around him, things begin to happen to Bill at a very rapid rate. Almost every scene throughout this hand-drawn masterpiece will send chills down your spine, due to how true to life it can seem. Many families across the planet (and even the Universe for all we know) have had to deal with a family member such as Bill. What makes this film stand out from any other story of this sort, is it's genuine belief in the Universe around us. Brilliant scripted, perfectly sketched to represent our world, while also adding in real-life imagery, "It's Such a Beautiful Day" represents our world and the human race with flawlessness. I love every second of this picture, and dare I say, it is one of my favourite films of all time. It is both meant for a mature audience and a younge audience whom are ready to discover the world through an adults eye. No film with a story like this will ever be able to duplicate the intensity or frailty/fragililty of the subject matter. This has been my very opinionated review of "It's Such a Beautiful Day." You may or may not choose to agree with this high praise, but either way, I highly recommend giving this film your attention.
Nice, but monotonous. Between a 3 and 3.5 for me. I'd like to give a higher rating but I really had to force myself through it. The last few minutes almost redeem most of it, and are worth viewing. It reminds me of films like 'Somewhere' and 'Life in a Day' for its potential, that to me feels unrealized due to the emphasis on the crushing monotony. This film is more likely to depress than inspire, and the end in spite of its beauty doesn't quite pull itself off. Though the art is interesting and the unique viewpoint of the director is singular here, other films have accomplished much more on these themes. See 'Ikiru.' [This review is for the hour-long film].
Kyle Meisch
Super Reviewer
It's Such a Beautiful Day Quotes
There are no approved quotes yet for this movie.