Ivanhoe
(1997)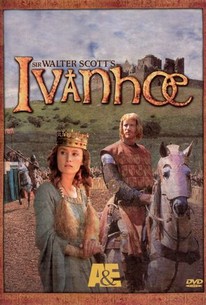 AUDIENCE SCORE
Critic Consensus: No consensus yet.
Movie Info
A century after the Normans conquer England, evil Prince John (Ralph Brown) seizes control of the realm in the absence of the rightful ruler, his brother Richard the Lion-Hearted (Rory Edwards), who has been crusading in the Holy Land. John means to replace Richard as king. John, a Norman, governs with cruelty and force of arms, and the Saxon natives despise him. Siding with John are fearsome warrior priests known as Templars. All seems lost for the Saxons. Then the Saxon hero Ivanhoe returns from the Crusades in disguise. Not far behind is Richard. Meanwhile, Ivanhoe's father, Cedric (James Cosmo), a Saxon lord who has disowned his son in the mistaken belief that he has betrayed Richard, betroths his beautiful ward, Rowena (Victoria Smurfit), Ivanhoe's beloved, to Saxon lord Athelstane (Chris Walker). If right is to prevail, the Saxons must unseat John, and Ivanhoe must restore his good name and win Rowena. John decides to sponsor a tournament between his Templar champions and Saxon knights. On the first day of the tournament, the disguised Ivanhoe heartens the Saxons by defeating the best of the Templars in a jousting match. On the second day, during sword-to-sword combat, he turns apparent defeat into victory with the help of a mysterious Black Knight (Rory Edwards). Ivanhoe suffers a wound, however, and Rebecca (Susan Lynch), a Jew, nurses him back to health. Ivanhoe had saved the life of her father, Isaac. The Templars capture Ivanhoe and other Saxons, as well as Rebecca and her father, and hold them in a castle. Then, Saxon men-at-arms led by Robin Hood (Aden Gillett) and the Black Knight storm the castle and free the prisoners. However, a Templar knight rides off with Rebecca, and his superior condemns her as a witch and sentences her to be burned at the stake. The film builds to its climax as Ivanhoe rides to save Rebecca, and viewers wonder about the ultimate fate of John, the identity of the Black Knight, and the future course of English history.
Critic Reviews for Ivanhoe
There are no critic reviews yet for Ivanhoe. Keep checking Rotten Tomatoes for updates!
Audience Reviews for Ivanhoe
½
I loved this vigorous adaptation of 'Ivanhoe', with its uniformly excellent cast. There really is not a weak performance in the film. Ciaran Hinds is especially compelling as the tortured villain Bois Guilbert. The late 12th century is brought to life, in all its filth, squalor, and lack of justice. Yet, chivalry and sacrifice were present too, in actions taken by the heroes, and even by a villain or two. The only negative comment I can make is that, due to a small budget, the number of extras (especially in the battle scenes) is rather small.
Hal Whitmore
Ivanhoe Quotes
There are no approved quotes yet for this movie.
Discussion Forum
Discuss Ivanhoe on our Movie forum!