Ivan's Childhood (Ivanovo detstvo)
(1962)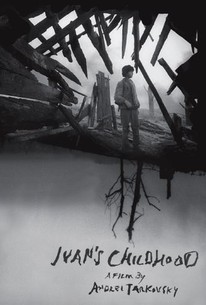 Ivan's Childhood (Ivanovo detstvo) Photos
Movie Info
A 12-year-old Russian orphan, because of his small size and ability to evade Nazi troops, works as a spy and a scout doing reconnaissance work for Soviet troops.
Critic Reviews for Ivan's Childhood (Ivanovo detstvo)
Audience Reviews for Ivan's Childhood (Ivanovo detstvo)
½
Tarkovsky's first major film is this wonderful drama about the loss of innocence and the horrors of war as seen through the eyes of a Russian orphan boy, and each shot is beautifully crafted, leading to a most poignant, devastating ending.
Carlos Magalhães
Super Reviewer
Ivan's Childhood is a fine, well crafted picture that showcases the subtlety of Andrei Tarkovsky's work. The film is brilliantly crafted with a simple, yet terrific story and it shows that you can pull off something truly wonderful with using the simplest ideas and putting them to a phenomenal style of filmmaking that elevates the film to art. Beautifully done, Tarkovsky crafts another stunning drama that resonates due to its strong characters, powerful story and breathtaking direction. I've said many times before that Tarkovsky was a master of his art, and here, he crafts something that delivers an impressive hour and a half of brilliant entertaining. Here the cast deliver some thoroughly powerful performances. This is another standout picture from a director who clearly is able to push the cinematic medium into new territory that has elevated films significantly. What I loved about the film the most was the idea behind the story, and the way it unfolds. Tarkovsky yet again delivers a stunning work and it's a well crafted work that is exciting, engaging and delivers a dramatic story well worth your time. The film is shot in beautiful black and white and it adds so much to the tone, atmosphere and feel of the movie. This is a stunning piece of cinema that ranks among the finest foreign films ever made, and it is captivating from the first frame onwards. I heavily recommend this film to anyone looking for a truly outstanding piece of cinema, and it's a movie that resonates with its message, and to me it was the loss of innocence due to a tragic occurrence of the main character, and Andrei Tarkovsky captures everything through his lens and in turn creates a stunning and haunting, yet beautiful portrait.
without question one of the most beautifully shot films in history. realizing that this is tarkovsky's debut only adds to its lure, first time directors just arent supposed to make masterpieces like this. every shot seems so carefully planned, from the trees gleaming off the lake, to the scene in the birch forest, to the various landscapes and even the indoor shots, everything is perfect.
Ivan's Childhood (Ivanovo detstvo) Quotes
There are no approved quotes yet for this movie.