I've Loved You So Long
(2008)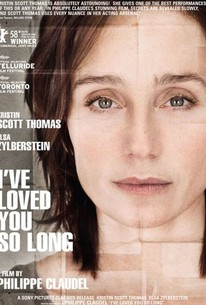 TOMATOMETER
AUDIENCE SCORE
Critic Consensus: I've Loved You So Long is a sublimely acted family drama as well as a noteworthy directorial debut from Phillipe Claudel.
I've Loved You So Long Photos
Movie Info
Their relationship fractured when older sister Juliette is sentenced to 15 years in prison, two siblings wage an emotional battle to rebuild their relationship, overcome the secrets that keep them apart, and finally express the thoughts that have lain dormant for well over a decade. The moment Juliette was convicted, her parents declared that they wanted nothing to do with her. Now, after 15 years behind bars, Juliette is a free woman and in desperate need of a human connection. When Juliette's younger sister, Léa, is approached by a prison social worker and asked if she would be willing to provide her recently paroled sibling with a place to live, she doesn't hesitate to open her doors and share her home. But Léa is happily married with two adopted daughters, and her husband, Luc, is uneasy with the arrangement. Still, the house is large, the couple is used to having company, and the two young girls are thrilled to have a new aunt. As Juliette gets settled, Léa does her best to make her feel welcome. Likewise, Léa's colleague Michel and emigrant couple Samir and Kaïsha also offer to help Juliette readjust to life on the outside. Along the way, Juliette slowly begins to emerge from her shell and Léa realizes just how much she missed her sister. Perhaps if she can put aside her feelings of guilt long enough to truly understand her sister's plight, these two strangers can finally remember what it means to be family. ~ Jason Buchanan, Rovi
News & Interviews for I've Loved You So Long
Critic Reviews for I've Loved You So Long
Audience Reviews for I've Loved You So Long
Kristin Scott Thomas puts this film on her back and carries it with her astounding performance as a long lost sister, returning to her family after incarceration for a crime that, sorry, I can't tell you before you watch the movie. The story keeps you watching based on one question: why? Everything you see, you don't know why it's happening, but as the story moves forward, you get new information that keeps you looking backward, assembling the events yourself. It's kind of like you're a member of the family as well, having little breakthroughs along the way. Some reviewers have called this manipulative, but I would say it's quite the opposite, a good story well told. It's an honest and original film that should not be missed.
Daniel Perry
Super Reviewer
½
A quiet drama. After 15 years in prison, Juliette Fontaine comes back into the community. She has to reconnect with her sister, the world and more important; herself. One look in those empty sad eyes and you can't help but feel deeply moved; what happened to this woman, what is her story? Kristin Scott Thomas was amazing.
a powerful film with wonderful performances, a masterful screenplay, and near perfect direction by claudel. the final scene is absolutely masterful, evoking wonder at the beauty of creation as well as sympathy for the struggles of the characters at a level rarely achieved in film. the themes in the film seem executed perfectly, and the subject matter unique enough that ive never seen a film quite like it. a great film.
I've Loved You So Long Quotes
There are no approved quotes yet for this movie.