Jack-O Lantern
(1995)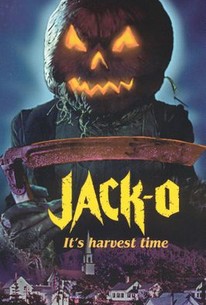 AUDIENCE SCORE
Critic Consensus: No consensus yet.
Movie Info
This Florida-lensed slasher silliness (not surprisingly produced by exploitation overlord Fred Olen Ray) is enlivened only slightly by posthumous cameos from John Carradine and Cameron Mitchell, as well as appearances from B-movie "Scream Queens" Linnea Quigley and Brinke Stevens. The plot is basically a riff on the standard Freddy Krueger-esque supernatural-maniac formula, only here the unstoppable psycho is merely a lumbering ghoul with a big pumpkin for a head, awakened from a cursed sleep on Halloween night by the usual handful of obnoxious teenage morons. Amid confusing flashback sequences and some phony occult blathering (courtesy of the town witch), we're told that Jack-O is the incarnation of a murdered farmer who has returned to avenge himself by taking a scythe to his killers' ancestors, but this particular pumpkinhead's people-reaping spree seems to cover a much broader swath, including a crop of nubile young things -- preferably just out of the shower, or fresh from a randy romp in the local cemetery. Even allowing for a certain camp appeal, there's not an original concept to be found amid the abundant nudity and severed limbs.
Rating:
R
Genre:
Directed By:
Written By:
In Theaters:
On DVD:
Runtime:
Studio:
Triboro
Critic Reviews for Jack-O Lantern
All Critics (2) | Fresh (0) | Rotten (2)
A cheap horror effort, it has pathetic acting, a jumbled up story and limpid pacing, yet there are several nice murders and somehow, for all its shortcomings, the film seems to capture the spirit of the day it honors. It is basically about a guy with a bi
Audience Reviews for Jack-O Lantern
Director Steve Latshaw's Jack-O is one of those movies you stumble upon and are intrigued by it because of the great artwork on the box. And as you watch the film you begin to realize the greatest thing about it is the artwork that pulled you in. Jack-O has very little going for it, and with each step it takes it only added more setbacks for the film. But this is one of those films that while completely ridiculous, it is rather fun to watch just to see how more absurd the film can get. The movie takes place in the fictional town of Oakmoor Crossing, where a local legend is about to return to extract vengeance on this small community. About a hundred years ago an alleged warlock was hanged for practicing black magic, and he put a curse on the people condemning him that would send a murderous jack-o-lantern headed demon after them. Jack-O, as it is called, is trapped and buried somehow but is released a hundred years later by a group of teens causing destruction in the town's cemetery. Oh stupid teens, you never fail to mess things up so easily in horror films! There were many things that confused me about Jack-O. For instance there is a female character named Vivian (Catherine Walsh), who says she is a historian interested in the town's legend of Jack-O. She knows that the Kelly family, primarily their son Sean (Ryan Latshaw), are in danger and sets out to help them. What confuses me is that she poses herself as someone writing a book about the town's legend and is in town asking people questions about the local history. And the Kelly family is more than willing to let her into their home, with knowing very little about her, and leaving this strange woman alone with their son. I know she means no harm, but these parents are very trusting with their kid around some creepy stranger. The acting in the film is just terrible, TERRIBLE! But it is kind of fun watching how bad things can get with the acting. No one in the film seems to be able to pull off being terrified when Jack-O (Patrick Moran) is after them, so there is no tension or suspense built up. Watch as Sean is nearly buried alive in a very shallow grave and listen to his almost careless pleas for Jack-O to stop. I wish the kill scenes in Jack-O could have been interesting, but they were weak. And while he looked great on the cover, the actual Jack-O in the film looks like he was assembled with cheap department store Halloween decorations. If you like bad movies then you will find a lot to like with Jack-O. In the subsequent 15 years since its debut the film has gone on to become a bit of a cult classic among horror fans. It is a terrible movie, but very much deserving of the infamous status that it has achieved. This one is worth a curious viewing if you're in the mood for a fun little cheesy flick.
Bryan Gomez
Jack-O Lantern Quotes
There are no approved quotes yet for this movie.
Discussion Forum
Discuss Jack-O Lantern on our Movie forum!