Jack the Giant Slayer
(2013)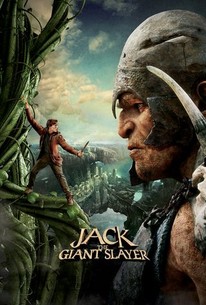 TOMATOMETER
AUDIENCE SCORE
Critic Consensus: It's enthusiastically acted and reasonably fun, but Jack the Giant Slayer is also overwhelmed by digital effects and a bland, impersonal story.
Jack the Giant Slayer Photos
Movie Info
"Jack the Giant Slayer" tells the story of an ancient war that is reignited when a young farmhand unwittingly opens a gateway between our world and a fearsome race of giants. Unleashed on the Earth for the first time in centuries, the giants strive to reclaim the land they once lost, forcing the young man, Jack (Nicholas Hoult) into the battle of his life to stop them. Fighting for a kingdom, its people, and the love of a brave princess, he comes face to face with the unstoppable warriors he thought only existed in legend-and gets the chance to become a legend himself.-- (C) Warner Bros
News & Interviews for Jack the Giant Slayer
Critic Reviews for Jack the Giant Slayer
Audience Reviews for Jack the Giant Slayer
½
'Fe-fi-fo-fum! I smell the blood of an Englishman' Yet another famous children's fairytale gets the big screen treatment but can you make a entire film out of a rather short and rather simple fable? The other question is which fable is this film supposedly based upon? Jack and the Beanstalk? or Jack the Giant Killer? Both are very different yet this film merges the two or so it seems. At the same time the films animated intro felt very much like a rip of the 'Hellboy 2' intro, whilst the entire plot about this magical crown felt like a rip off 'Lord of the Rings'. This whole idea felt very much like a one trick pony to me, that trick simply being the excuse to show huge CGI giants eating people and going on a rampage, and that's it. The rest of the film felt so utterly pointless it was almost laughable. Half the film seems to be based on the beanstalk fairytale with the second half based around the giant killer fable but at the same time neither are remotely accurate to the original sources. So why not just make a completely independent giant fantasy? Everything about this just felt like a misfire to me. The casting was poor, Nicholas Hoult is just a very average actor with a very odd haircut (what is going on with that parting?! had the same stupid cut for 'Warm Bodies'). Eleanor Tomlinson as the Princess was so very bland, not particularly attractive and not particularly useful in any way, whilst Ewan McGregor seemed to be doing his weak ass Jedi thing all over again. Only decent performance came from the ever reliable Tucci. Overall the characters weren't really developed much and there was a distinct lack of a really bad baddie. On top of that the effects weren't even that good! the giants looked exactly like what they were, big CGI giants. It looks like they're trying to make them appear realistic but not entirely, but they look awful. Especially the two headed giant leader with that shitty Gollum-like head, what the hell! giant fail there folks (see what I did there heh). Plus why are most of the giants Irish? am I missing something there? and why aren't there any female giants? how does this race keep going? am I being too picky? Even the beanstalk looked pretty naff frankly. The only thing that looked good was the CGI landscapes and the giant island in the sky, but as usual way too much reliance on CGI. There seemed to be many giant waterfalls going over the edge of the giant island, where exactly does all that water go?? Bottom line this just feels like a jump on that fairytale action flick bandwagon we have seen recently. All the usual big CGI battles, stunts, camera angles etc...the same recycled crud we've seen over and over again. Predictable as usual in that boring modern Hollywood cookie cutter fashion. The plot is thinner than a catwalk model after she's just stepped out of the toilet and to make matters worse the CGI effects are pretty terrible. So you can't even call this a sharp looking updated piece of crap, its just crap. Oh and the final twist at the end is useless. I mean really, is that suppose to be clever? gee...errr...genius. And while I'm at it, the films title is 'Jack the Giant Slayer', many giants get killed here but I believe Jack only kills one, so he doesn't slay much then.
Phil Hubbs
Super Reviewer
½
Really entertaining and charming fairy tale adventure that only suffers from the massive use of CGI. Especially the giants would have worked much better as real actors filmed in forced perspective. That doesn't mean there is plenty to enjoy here, though.
½
It is what one would expect.
Thomas Johnston
Super Reviewer
Jack the Giant Slayer Quotes
| | |
| --- | --- |
| Cook Giant: | Never get any good humans these days |
| Cook Giant: | Never get any good humans these days. |
| | |
| --- | --- |
| General Fallon: | I am now your king, now follow as I lead |
| General Fallon: | I am now your king, now follow as I lead. |
| | |
| --- | --- |
| Roderick: | Shuh. Can't you see i'm talking to giants now. |
| | |
| --- | --- |
| Young Jack: | Father? Could you read a bit of it for me please? |
Discussion Forum
Discuss Jack the Giant Slayer on our Movie forum!