Jackboots on Whitehall
(2010)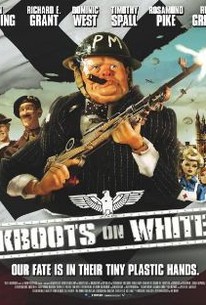 Jackboots on Whitehall Videos
Jackboots on Whitehall Photos
Movie Info
World War II: What if Nazis seized London and all of England had to band together? When scarily campy Nazi leaders invade by drilling under the English Channel and up through the cobblestones on Whitehall, Churchill leaves his quiet retirement with a cat that looks like Hitler to issue a call to arms from his bunker under Downing Street. Chris, a young farm worker with large hands, rallies the village to fight the good fight -- including an alcoholic Vicar, the oldest man in the town, several idiots, a random Frenchman and Bobby Fiske, a swearing American who believes he's battling Russia. -- (C) New Video
Rating:
NR
Genre:
,
Directed By:
In Theaters:
On DVD:
Runtime:
Studio:
Cast
Critic Reviews for Jackboots on Whitehall
Audience Reviews for Jackboots on Whitehall
It's hard to believe Jackboots on Whitehall isn't amazing, but, it's true. In fact I fell asleep.
½
78% "Do not run, the Germen army is your freind."-Nazi (scum) If you like Robot Chicken humor and can handle an hour and a half of moving, talking, barbie sized dolls, then this is a film for you. I think I would have enjoyed it more, myself had it been live action.
FilmGrinder Stone
In this reality, England was unable to evacuate its troops from Dunkirk in 1940, leaving it almost totally defenseless with the exception of the Home Guard which includes Chris who was exempted from military service due to having hands that are too large. Regardless, the Home Guard proves amazingly effective in fighting off the Hindenburg. Since the high road does not work, the dastardly Nazis instead take the low road by tunneling directly to London, forcing Winston Churchill to retreat to *gasp* Scotland. As much a fan as I am of alternate history stories, the bare production values of the animated "Jackboots on Whitehall," especially in comparison to the excellent vocal talent(Is it just me or is Timothy Spall making a career of playing Winston Churchill while waiting for Mike Leigh's phone call?), makes it hard to like it at first.(Look, I'm not big on production values but when it appears the guy from "Marwencol" could have done a better job...) It eventually does get better, throwing in pretty much every imaginable thing and accent it can think of, thankfully holding off on the pop culture references as long as possible. For the record, the Hindenburg is here probably just because it looks cool. But then there is how Scotland is depicted which goes beyond stereotypes with one moment that really made me cringe.
Discussion Forum
Discuss Jackboots on Whitehall on our Movie forum!
News & Features