Jackpot
(2001)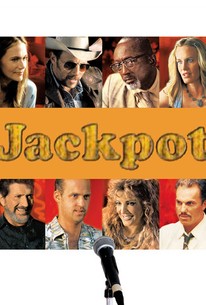 Movie Info
Set 100 miles south of the setting of the Polish brothers' first feature, Twin Falls Idaho, Jackpot tells the story of Sunny Holiday Jon Gries, a down-on-his-luck karaoke dweller who has hopes of becoming a country singer. He has abandoned his feisty wife Bobbi (Daryl Hannah) and young daughter to set off on a nine-month road odyssey with his manager Lester Irving (Garrett Morris), in an effort to collect cash at local karaoke gigs. Lester grooms Sunny by choosing what songs he will do, keeping up with what the judges are like, and negotiating with competitors like Sammy Bones (Mac Davis), another traveling hopeful. On his road journey, he encounters several women, including Janice (Peggy Lipton), a club waitress, and Cheryl (Crystal Bernard), whom he takes home after she has an accident in a restroom, only to find himself being enticed by her underage daughter Tangerine (Camellia Clouse). The road trip comes to a stop, however, when Sunny is pulled over by police who claim that his vehicle is stolen and that Bobbi has reported it. Sunny then seeks refuge with brother Tracy (Anthony Edwards) while he decides his next move. Jackpot is the first released film to be shot with the 24P HDTV camera, which was then blown up to Cinemascope 35 mm format.
Rating:
R (for language and sexuality)
Genre:
, ,
Directed By:
Written By:
In Theaters:
On DVD:
Runtime:
Studio:
Critic Reviews for Jackpot
Audience Reviews for Jackpot
What a weird little movie. No, not Tetsuo weird, but weird in a more, "Well, that was odd..." sort of fashion. I'm not sure what I think of the plot, but I know I liked the movie--that probably sounds insane, and maybe it even IS insane, but there you are. It stars Jon Gries who reminds me of some kind of cross between Thomas Cavanagh and Mark Knopfler and probably someone else in appearance, and I'm not sure who in terms of his acting. He plays Sunny Holiday, a singer-in-training looking to "make it" with fame, fortune and all the bells and whistles. We open on him fast-forwarding and rewinding a tape of his favourite song, George Jones' "The Grand Tour," which is his own signature song (to sing). We see glimpses of him arguing with his wife Bobbi (Darryl Hannah) while his daughter colours next to them at the table, and of someone angrily yelling at him and telling him to hurry up. We jump back and forth a few times through the movie, seeing this yelling man and his wife a few more times as we go along and piece together all of Sunny's life. We first settle, though, on an interview with a reporter (Adam Baldwin) that Sunny and his manager Lester Irving (Garrett Morris) have set up. They tell the reporter where their next show will be, and he takes their picture a few times. He seems to be quite an amateur, taking wild and blurry photos, and even accidentally snapping one of the license plate on their bright pink car, which they tour the country in. Soon after we see Sunny's next gig--and it's not at all what you might expect, if you believe Sunny and Lester's claims so far. It's a bar, and they're singing karaoke. We see all of his gigs, and each one his a simple karaoke bar, and they argue and debate over which songs are most appropriate. Lester constantly philosophizes and analyzes the placement of Sunny's performance, choice of song, who the judges of each contest are, and the crowd as a whole. He tells Sunny that by meandering to Los Angeles and stopping at every bar instead of heading straight there, they are gaining a market base, that the way to fame, fortune and money is by building a mass of people who can have the feeling they "discovered" him before he's ever big. Most of the movie is taken up with Lester's discussion of songs and song choices, the argumenst Sunny makes against his choices, the gigs themselves (which include other vocalists, also just as amateurish, despite the claims of Lester)--and what the two of them do after each bar. Sunny often picks up a woman and sleeps with her--the first wakes him and brings him a cup of coffee, a cup that is so hot it leads into...well, it's not quite what you might expect, but it does bring some things into perspective about where Sunny has come from. Another time he skips out on the woman he takes home (because she slipped and hit her head, no less) because her daughter hits on him when he wanders into the kitchen. We end up with the impression that Lester and Sunny are completely oblivious to the fact that Sunny is never going to make it--he doesn't have an awful lot of talent or skill (though he's better than a number of the other contestants, admittedly) and his attitude isn't that great either. But the two of them are convinced they can make it somehow, and we sort of want them to, for all that we know they have a snowball's chance in hell of doing so. The pace of the film felt a little off, a little slow for an hour and a half long movie, but it was not distressingly so. Still, it was enough to notice, though the clever construction of the film--the rewinding and fast-forwarding of the tape from the beginning continuously reappears, as Sunny seems to rewind and speed up past the slow parts of his life--and the performances kept me interested. Entertaining, but nothing I jump out of my seat to recommend.
R.C. Killian
½
The filmmakers throw in an extended flatulence routine and enough graphic references to female anatomy to make "The Vagina Monologues" blush.
Lee Mayo
½
Now that I've seen it, I can rank it as my least favorite Polish brothers film. Though, I have to say, there is some pretty good dialogue sprinkled throughout the film. And, I had to lauch at Mark Polish showing up towards the end singing 'Sad Eyes' in a karaoke bar. Overall, a strange, slow, colorful little story about a couple of guys on the road who don't quite manage to escape reality in their pursuit of a misguided dream. It's what would happen if, regardless of the consequences, you actually acted on that hypothetical question people like to banter about 'If you could do anything you wanted with your life, what would it be?'
jim d
Jackpot Quotes
There are no approved quotes yet for this movie.
Discussion Forum
Discuss Jackpot on our Movie forum!