Jalanan
(2014)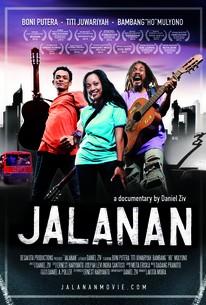 AUDIENCE SCORE
Critic Consensus: No consensus yet.
Movie Info
Boni, Ho & Titi are three gifted, charismatic street musicians in Jakarta. JALANAN follows these young marginalized musicians and their never before seen sub-culture, while also painting a striking, moody and intimate portrait of Indonesia's frenzied capital city. (C) Official site
Critic Reviews for Jalanan
All Critics (1) | Fresh (1) | Rotten (0)
Enhanced by its evocative soundtrack and genuinely touching personal stories, Jalanan does a great job at telling the stories of people who try their whole life to tell their story.
Audience Reviews for Jalanan
If you were poor and uneducated, how would you fare on the streets of a corrupt city where your only decent way of making a living is outlawed? If you're one of JALANAN's three irrepressible street buskers, the answer is: Through a wicked sense of humour, cutting through the bull****, writing your political frustrations into your guitar songs and performing them on buses throughout Jakarta, meanwhile looking out for cops who are always trying to bust you, and constantly striving to make a home wherever you can. I fell in love with the three characters and their stories. Having lived and travelled in Southeast Asia for 19 years, I know how rare it is to find such self-made characters who have spent their whole lives practising music and writing their own songs - not empty-caloric pop tunes, but quirky folk songs full of heart that will touch something deep in you, and that also happen to be easy on the ear. Their musings to the camera have been beautifully translated into English and reflects that they are not merely panhandlers with battered guitars, but poets of the street and philosophers of the poor. - Boni is a soulful guitarist; a quick and wiry figure with a cheeky grin. He has been living in a canal, under a bridge. For seven years. With his wife... and children. One of the most touching and comical scenes in the movie is when Boni fantasizes about staying at the Hyatt while he and his friends redecorate his little crawlspace abode. - Titi is a sweet, youthful woman who shrewdly plays songs praising Allah when she sees a predominance of women wearing headscarves on her bus. She has three children scattered in three different towns in Indonesia, and is squeezed between her chauvinistic, jobless husband and her conservative rural family who could not afford to send her to school despite her intelligence and drive. - The inimitable Ho. One could easily mistake him for an Indo-Rastafarian, but he is everything and nothing like that all at once. Loud and hysterical; he is chill and charismatic; a philosopher cynic; a pragmatic romantic. Director Daniel Ziv contrasts the prosaic scenes where Ho haggles with a courtesan to when he saves up to court his lady to a lavish street dinner. It's easy to see why the 6 months that director Daniel Ziv allotted to this documentary project blew up into a 5-year obsession, and for that his audience should be very grateful because it charts a dramatic sweep across his characters' lives, and each of the three story arcs comes to a very satisfying conclusion. I hadn't realized how saturated I was with Hollywood stereotypes until I watched this film and suddenly couldn't predict what was going to happen next. JALANAN is for all those audiences who need to be reminded how REAL and multifaceted! is that grand, ungraspable stream of life. Highly recommended.
Letitia Lew
Super Reviewer
Jalanan Quotes
There are no approved quotes yet for this movie.