Jamesy Boy
(2014)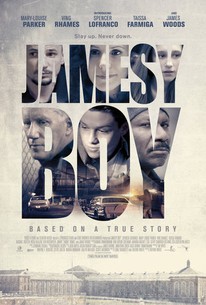 Movie Info
JAMESY BOY is the story of teenager James Burns (played by Spencer Lofranco) who goes from the suburban street gangs to a maximum-security prison cell surrounded by hardened criminals. In prison, he forms a friendship with a convicted murderer (Ving Rhames) who becomes his mentor and helps him turn his life around. In this unlikely setting, James ultimately emerges with hope and a brighter future. (c) Xlrator Media
News & Interviews for Jamesy Boy
Critic Reviews for Jamesy Boy
Audience Reviews for Jamesy Boy
I have always been a huge fan of real life drama, because lets face it, some of this stuff you just can't make up. Even the best writers couldn't imagine some of the things these people have had to endure, and it makes for some amazing films. On the otherside of that, there are other stories, which just aren't that unique or interesting, and in my opinion really don't warrent a full length feature film, Jamesy Boy is an example of this. James (Spencer Lofranco) is your typical rebellious kid from a single parent home. He's not poor and has a lot of opportunities, but for whatever reason, he's turned to drugs and crime. He's living the gangsta life on the streets until the inevitable happens, and he winds up in jail. Once there, James witnesses a crime, and meets a man who helps him unlock a talent he never knew he had, but will James turn to the straight and narrow or will his friends pull him back into his old life? This is a true story and newcomer Spencer Lofranco was fantastic, but haven't we seen stories like this done over and over again? To be honest the only reason I kept watching it was to see which path James chose after prison. I wanted to see how his life turned out, but either way, we've seen films like this many times before and Jamesy Boy doesn't stand out in any type of significant way. If you want to do a film that has been done over and over again, true story or not, there has to be something about it that makes it stand out from the pack, and that doesn't happen here. The bottom line, Jamesy Boy is decent and it's fine if you're just looking to kill a couple of hours. It features a pretty good up and coming young talent and some old familiar faces, but beyond that, there's nothing really special about it.
Todd Smith
Super Reviewer
Stay up. Never down. Good Movie! While not nearly as powerful the movie did remind me a little of American History X in the the way that a person can live his life one way without apologizing but when removed from that life he realizes the error in his ways and tries everything he can to change. There are some pretty big names in this movie but the kid that plays James is a perfect choice and really carries as well as outshines everyone else. While this is in no way a perfect movie I do recommend this and was surprised by how good it was. Overall, a lighter version of American History X that I recommend. The fact that this was a true story helped as well. The true story of James Burns who, as a teenager goes from the suburban street gangs of Denver to a maximum-security prison cell surrounded by hardened criminals. In this unlikely setting, will James emerge with hope and a brighter future?
This crime drama directed by Trevor White and written by White and Lane Shadgett stars very fresh and invigorating young star Spencer Lofranco in the main role. The film relates the true story of James Burns which manages to attract the stars like Mary-Louise Parker (as a desperate single mom), James Woods (as a hard-nosed warden) and Ving Rhames (as a convicted murderer/mentor) in supporting roles. Good acting is something to be remembered in this movie, the rest was, pretty much, average. First-time feature writer-director Trevor White has shaped the rise, fall and redemption of teenage street thug into parallel storylines, crosscutting between the three years leading up to his incarceration and the few months he spends in maximum-security prison (after four years in juvenile). His way of directing wasn't bad at all, but some of the decision to narrate more than to show, were poorly made. Screenplay dialogue is one of the weak points, and the story itself is a formulaic tale of redemption which would not bore you... or excite you either. But the acting was on a different level! Mary-Louise Parker was almost ready to give up acting, but decided to stick with it ... and the role in the Jamesy Boy could earn her award, I think. Cinematography was standardly good, music was outstanding in parts of the movie, as well as the camera work. If you have some time to "kill", try with this one. Not as bad as the critics want you to believe.
Jamesy Boy Quotes
There are no approved quotes yet for this movie.