Japanese Hell (Jigoku)
(2000)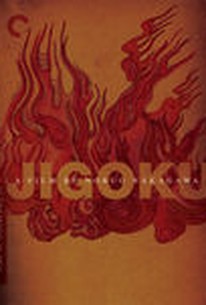 AUDIENCE SCORE
Critic Consensus: No consensus yet.
Movie Info
Rating:
NR
Genre:
,
Directed By:
In Theaters:
On DVD:
Runtime:
Critic Reviews for Japanese Hell (Jigoku)
There are no critic reviews yet for Japanese Hell (Jigoku). Keep checking Rotten Tomatoes for updates!
Audience Reviews for Japanese Hell (Jigoku)
The 1960 original Jigoku (Japanese word for Hell) is not a film I would consider a classic due to it's unintentional humor to its serious plot, but it's a film I would have no problem recommending because story structure is perfect for it, has amazing visuals (especially the impressive third act), and a meaningful message through relatable human actions. As for the remake I could only say bad things about it to the point that I would be send to Jigoku. It's soulless from the unsalvageable story right down to the half baked force message will encourage viewers to do certain things to the filmmakers than make you think about your way of life as intended. Japanese Hell is about the goddess of death name Enma ("terrifying") giving a tour of Hell to an innocent young women and showing the consequences of sinners past, present, and future. I'm going to give a scenario to best get across why I hate this story and the meaning it's hoping viewer will find in it soulless message. So picture a sick dog who has a terrible, incurable disease suffering for days. It's constantly coughing up blood, unable to eat anything solid, and crying on a day to day basis from pain. Finally having had enough of seeing the dog suffer you decide to euthanize the dog much to your displeasure. According to this film you earn your ticket to Hell. The fact you ended a living creature life with a good intentions and you had no pleasure in putting it down doesn't matter one bit to this film. Things like morals are a joke in this film. You either have to be 100% perfect good or 100% percent evil with no middle ground to be accept in either Heaven or Hell. If the film wasn't trying to say something towards its audience this simplistic view on humanity would have been fine, but it deliberately set up to send a message you have to follow someone to be "saved" by force not will. Conformity is not the answer for everyone as it could work the other way making people do questionable activities. Oh the film ending....okay one of the deadly sins is Lust and the last thing we see are naked women. Why after taking a tour of Jigoku (Hell) would the last thing we want to see are naked women? Backward thinking like this is one of many, many, many, many, many, many, many reasons this film story is worthless. Personal hatred aside here are other reasons why it's an unsalvageable story regardless whether or not you seen the original. Narrative structure is messy, sloppy, and nothing connects it together. As a traditional narrative it doesn't work because it has no central protagonist and deviate too much from the central characters preventing any meaningful to be gain from their journey. In the form of an anthology narrative it's a bigger disaster because it only has two different story making it very evident which had more focus. One of the two sinners story is short while the other one overstays its welcome. The first sinner is a person who takes pleasure in killing young girls with no redeeming values. Automatically there's the main problem as this kind of character will relate to a slim number of its viewer if any at all. Never does it bother to look into why the sinner temptation controls him and never bother to explore why this sinner is unable to gain a positive change. This also applies to the second sinners which is a false religious group who scam their believer out of millions of dollars for personal gains. At no point does the film attempt to use these characters wrongdoings as a correlation to how some outsiders might view religion in general. None of the characters are ever developed only being split into good or evil with no reasonable middle ground nor a reason why the character are who they are. Also, for a film with its setting in the title it does a terrible job incorporating Hell into its story. We never spend that much time in Hell never coming across as this unspeakable place of never ending sufferings of the essence of evil. Not to forget the most annoying thing is yes the lord of evil Enma who punishes people comes across as a hero. I'm might be looking to much into this, but this film supports the goddess of death more so than it does any positive religious figures. Production values are a joke. Upon entering Jigoku and traveling on the Sanzu river we see a gate shape like a demonize women va....better that I keep it vague. It also has rejected costume from I could only assume are for a lost gritty reboot of "The Flintstones". Apparently the minions of Hell are a compilation of cavemen with horns, a horse-man creature, and a very disfigured old man. The attention to detail given to these costumes is impeccable rivaling those you would see at a cheap costume store. That same amount of care also went into creating Hell which is constantly being covered in fog only adds an extra layer of detail to hide the blank canvas of the sets. Gore effects are cheap made more evident when the sinners punishment take a long time to get their point across. Another trait aside from the fog are the constantly spinning backdrops that attempted to give the allusion of an otherworldly place, but just makes the viewer think how the poor use of it budget was this bad. Acting like everything else is of the lowest quality. Ranging from over the top to no effort was even into put into that performance. If anything this film does serve as a blueprint on how not to spend your money in a low budget flick. It's nothing short of amazing how director Terui Ishii manages to not only destroy all essence of good filmmaking, but absolutely have no understanding of the original film execution of its message nor the value behind the existence of Jigoku which is quite sad. Japanese Hell is about as soulless and phoned in you can get with a horror remake. Nothing that made the original worthwhile is present and this new version of the story does nothing more than encourage its viewer to do things to the filmmakers it wants us to avoid. It's a film that both believers and non believers could agree is unsalvageable, soulless, preachy trash. If you ever have more good things to say about Satan than you do the actual film focusing on Hell you pretty much know just how little hope you have left after it's all over.
Caesar Mendez
Super Reviewer
Odd little movie that consists of 3 vignettes and are connected with visceral depections of - Japanese Hell. Those scenes are done kind of 70's campy-like with a lot of makeup and even the occasional dragon thats a hand puppet. The goriness is so fake it doesn't really register, sorry - I'm immune. What doesnt work is that the movie goes into slow motion with these vignettes, especially the sarin gas cult one. While interesting it just impedes too much with the rest of the movie.
Julio Soto
It's not incredibly often that you see a film as brilliantly designed but as ridiculously plotted out as Jigoku. From a technical aspect, it's a groundbreaking achievement, but from the basic aspect of storytelling, I can't call it a complete success at all. Jigoku tells the story of a young Theology student whose got a pretty good life going for him. He's set to marry the professor's daughter, become a scholar, lead a normal life. It all starts going wrong when a hit-and-run car accident puts him under the conscience-crushing guilt of having a man's blood on his hands. Then, promptly, every single person he knows starts to die in bizarre ways in the vein of Shakespeare if Shakespeare were about ten times more fucked up. The story goes absolutely apeshit trying to introduce characters fast enough to kill them off, and the plot goes absolutely goofy. To say it's full of holes would be underselling it. People pop in and out completely inexplicably, even if you allow the suspension of disbelief necessary to explain the doppleganger who pops in and out and knows of everyone's secrets. Finally, the movie's main point kicks in, and everyone ends up in hell for an orgy or explicit torture and agonizing hallucinatory violence. It's in this final segment that Jigoku really hits its stride. Outstandingly freakish sets and design give the film a real feel of hell, and the gloriously imaginative deaths, even if very obviously done in a 1960s studio, are still unsettling. Again, technically, the film really has to be given due credit. The problem is that throughout Jigoku I never really cared, and in fact, was often annoyed. The actors are stuck throwing out soap opera style dialogue that really doesn't motivate audience interest while everything random plot twist feels like its just being set up to serve the crazy hell sequence we're rewarded with at the end. Nothing long-term plot-wise is very surprising or interesting. Jigoku is a film for art nerds, color junkies, gore hounds, and film geeks because it's crazy and innovative and pretty in its insanity, it just couldn't really crossover and tell a great story.
Alex Keipper
Japanese Hell (Jigoku) Quotes
There are no approved quotes yet for this movie.
Discussion Forum
Discuss Japanese Hell (Jigoku) on our Movie forum!