Japanese Wife
(2010)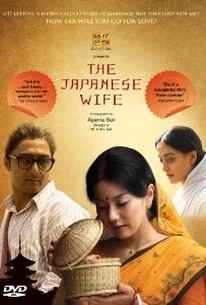 AUDIENCE SCORE
Critic Consensus: No consensus yet.
Movie Info
A shy schoolteacher struggles to reconcile his marriage to the Japanese wife he never met with his relationship to a widow who helps him realize his fleeting dreams of fatherhood and domestic bliss. Snehamoy Chatterjee was a student at Serampore College when he saw an ad for a pen-pal in a magazine. Unable to relate to his extroverted classmates, he sent a letter and soon got a response from Miyage, a friendly Japanese girl hungering for human contact. Unable to communicate in their native tongues, the two exchange letters in English, forging an intimate bond on the written page. Eventually, Snehamoy and Miyage agree to marriage, exchanging gifts through the mail as symbols of their union since they can't afford to meet for an actual ceremony. Years later, Snehamoy is teaching arithmetic in West Bengal when a young widow named Sandhya and her eight year old son Poltu come to stay with him while Sandhya attempts to find a new husband. Meanwhile, Snehamoy discovers the joys of parenthood while acting as a surrogate father to Poltu, and finds out what it's like to share a home with a spouse as Sandhya starts helping out around with the housework. But when Miyage falls ill, Snehamoy takes a leave from work in a desperate attempt to find a doctor who can save her. Later, Snehamoy falls ill with pneumonia, drifting into a delirious fever dream about his far-away wife as Sandhya dutifully cares for her ailing host.
Rating:
NR
Genre:
Directed By:
Written By:
On DVD:
Runtime:
Studio:
Critic Reviews for Japanese Wife
There are no critic reviews yet for Japanese Wife. Keep checking Rotten Tomatoes for updates!
Audience Reviews for Japanese Wife
½
a sweet and touching long-distance penfriendship turned romance turned marriage. poignant portrayal of humble simple folk and the sincerity of their hearts despite the linguistic, cultural, economic and telecomm barriers. the aunt steals the show with her supportive yet humorous nature. and the medicine men are hilarious too.
Aaron Chuah
A young Bengali man and a young Japanese woman carry on a pen pal relationship that becomes a "marriage" of several years, even though the two never meet. It's a concept that sounds a little bit sweet and a little bit creepy, but in execution is mostly just creepy. Aparna Sen's career as a director has been spotty, and this is her worst yet. She holds up this marriage as a kind of quirky romantic fantasy, without ever really addressing the disturbing social retardation behind it. That might be forgiveable, if it wasn't for the awful performances. Rahul Bose plays his character with an embarrassing nebbishness, and Chigusa Takaku lays on the "meek Japanese girl" schtick way too thick. Most of the movie is played out in broken English narration, and both parties sound like they're overdoing the "broken" part. Tack on some really blunt symbolism and cheap plot contrivances. The cinematography is beautiful, though, and I did think the ending was rather sweet. But otherwise, a huge disappointment.
Martin Teller
Boring, but I loved it, about two foreigners falling in love, marring, & keeping in touch only through letter!
MyFriendAli .
Japanese Wife Quotes
There are no approved quotes yet for this movie.