Jason Becker: Not Dead Yet
(2012)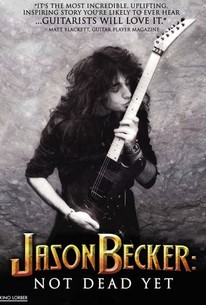 Jason Becker: Not Dead Yet Photos
Movie Info
When doctors diagnosed 19-year-old rock star Jason Becker with Lou Gehrig's Disease, they said he would never make music again and that he wouldn't live to see his 25th birthday. 22 years later, without the ability to move or to speak, Jason is alive and making music with his eyes. Jason Becker : Not Dead Yet is a feature-length documentary film that tells the incredible story of a guitar legend who refuses to give up on his dream of being a musician despite the most incredible odds. It is a story of dreams, love, and the strength of the human spirit.
News & Interviews for Jason Becker: Not Dead Yet
Critic Reviews for Jason Becker: Not Dead Yet
Audience Reviews for Jason Becker: Not Dead Yet
½
Jason Becker: Not Dead Yet is a terrific documentary about virtuoso guitar player Jason Becker who had his career dramatically cut short by Lou Gehrig's disease. The odds were against him as he was given a short time to survive and he would never write music again. But that was not to be. He did indeed survive and with the help of software that follows the movement of his eyes, he still writes music. This documentary is really inspiring and eye opening experience. I've been playing the guitar since Iwas17 and was born with Cerebral Palsy, and seeing this film really made me realize how much Jason Becker is a man who overcame his ALS to write music again. As a guitarist, Jason Becker had great skills and was on par with the greats like Eddie Van Halen. This is a must see documentary that shouldn't just be seen as a "music" documentary and should also be seen as story of triumph over the impossible. Guitar players should enjoy this film, but anyone looking for a real and inspiring documentary should give this a shot. Just because it's about a musician, it shouldn't turn you off of wanting to see this one. This is truly an eye opening documentary that is well told and has terrific interviews with the people who know Jason Becker as well as his family. In terms of a documentary, this is one of the best that I have seen in quite some time and tells a really human story and overall a very important one. This documentary may actually help inspire people accomplish something and never give up in their goals. That is what I got out of this film and is the most important thing you can take away from it as well.
Jason Becker: Not Dead Yet Quotes
There are no approved quotes yet for this movie.