Jasper, Texas
(2003)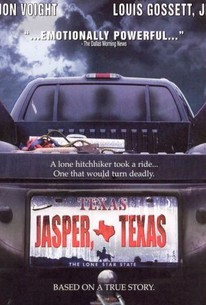 AUDIENCE SCORE
Critic Consensus: No consensus yet.
Movie Info
The time: June 1998. The place: The sleepy town of Jasper, TX. Three young, self-styled white supremists overpower a 49-year-old black man named James Byrd Jr., chain him to the back of their pickup, and literally drag him to death. What follows is a media firestorm, exacerbated by scores of network and cable-TV news services, the grim pronouncements of so-called pundits, and the intrusion upon Jasper of several extremist activists, ranging from members of the Ku Klux Klan to the newly formed Black Panthers. As the frenzy continues, the heretofore peaceful, if somewhat tenuous, relationship between the white and black residents of Jasper is severely strained, with echoes of past racism resounding throughout the area. In the center of the controversy are two decent, hard-working public servants: R.C. Horn, the first black mayor of Jasper, and Billy Rowles, the town's white sheriff. Also profoundly affected by the appalling murder of Byrd are the respective parents of the victim and the killers. Happily, when the dust clears, justice is done (two of the murderers are condemned to death, the third sentenced to life imprisonment), and, instead of being wrenched apart, the black and white communities of Jasper draw closer together than they have ever been. Made for cable TV, this feature-length reenactment stars Louis Gossett Jr. as Horn and Jon Voight as Rowles. Although certain liberties are taken (the actor playing Byrd is clearly much younger than his real-life counterpart and the Black Panthers and KKK are incorrectly shown descending upon Jasper the same day), the film is, by and large, accurate. Better still, there is a minimum of preaching and proselytizing. Previewed at the Philadelphia Film Festival, Jasper, Texas was given its official Showtime network cable premiere on June 8, 2003 -- almost five years to the day after Byrd's death.
Rating:
R (strong violence/disturbing images and language)
Genre:
Directed By:
Written By:
In Theaters:
On DVD:
Runtime:
Studio:
Critic Reviews for Jasper, Texas
All Critics (3) | Fresh (3) | Rotten (0) | DVD (1)
Rowles and Horn are the glue that hold Jasper together and the two fine performances from Voight and Gossett are the central core to the movie as well.

Audience Reviews for Jasper, Texas
A powerful and disturbing film, The cast does well. It's hard to believe something like this could have happened, and so recently too. It does drag a little sometimes, but it was always interesting, just slow at times.
James Higgins
Intense, very powerful movie. Sickening to know that this is true, and shit like this happens all the time, maybe not to this extent, but this is a sick world. Great acting and such a sad film. Highly recommended.
Jamie Lynn <3
½
Very graphic crime scene photos. A frightening look at how strong racial hate can and is in our country. Yet shows how we all can look beyound the color of ones skin and work together as one if we really chose too. If you enjoy true crime this is for you.
CAROL H.
Jasper, Texas Quotes
There are no approved quotes yet for this movie.