Jeffrey
(1995)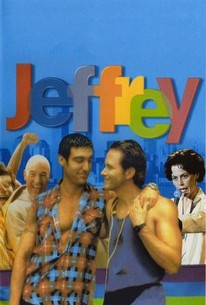 Movie Info
Based on a popular Broadway play, this comedy chronicles the experiences that made formerly-promiscuous homosexual Jeffrey take a vow of celibacy. After having several sexual disasters, Jeffrey decides to not have sex again. Unfortunately, no sooner does he take his vow than he meets the man of his dreams.
Rating:
R
Genre:
, ,
Directed By:
Written By:
In Theaters:
On DVD:
Runtime:
Studio:
Westchester Films
Critic Reviews for Jeffrey
Audience Reviews for Jeffrey
½
Jeffrey (Christopher Ashley, 1995) [originally posted 1Feb2002] What a wonderful little film this is, easily one of the best releases of 1995. Unfortunately, it went almost unnoticed by everyone but a few stray critics and some hardcore Trekkies who were able to withstand the traumatization of witnessing Jean-Luc Picard running around behaving like a flaming queen. (One can easily imagine Patrick Stewart imitating Alan Rickman's immortal one-liner from Galaxy Quest: "I played Richard III...") Jeffrey is a love story gone horribly awry in the best of ways. A young gay man named Jeffrey (Steven Weber, probably best-known for taking on the role of Jack Torrance in the recent miniseries adaptation of Stephen King's The Shining), obsessed with the spread of HIV, swears off sex, much to the horror of his best friend Sterling (Stewart). Needless to say, as soon as he decides this, he meets Mr. Right, a chap named Steven (Michael T. Weiss before his Pretender days). As we go through boy-meets-boy, boy-loses-boy, boy-gets-boy-into-pickle, boy-gets-pickle-into-boy, we're treated to a number of sideshows in Jeffrey and Steve's fantasy lives (some of which are positively horrific; Jeffrey's imagining of how a phone conversation with his parents might go is the kind of thing recurring nightmares are made of), a twisted self-help guru (Sigourney Weaver) who tries to get Jeffrey over his fear of intimacy, some sidebars with Sterling and Sterling's AIDS-infected lover (the deliciously funny Bryan Batt), and various other pratfalls. The end result is hysterical in all the right places. What struck the few people who noticed the film back in 1995 was the transplanting of the typical Hollywood slapstick-romance-forties-comedy framework onto a gay relationship; these days that's common enough we can forget about that angle. Today we look at it and are astounded at the number of bit players in this film who have gone on to stardom; Stewart and Weaver were the only really big names in the cast at the time, but since then Weiss, Camryn Manheim, Kathy Najimy, Ethan Phillips, and a host of others have all become recognizable faces. Either the casting director was a genius or the movie was simply a secretarial pool from which every major Hollywood agent has since drawn. Either way, it's a great film to play spot-the-future-star with, in addition to its many other fine qualities. Very, very highly recommended in every way, shape, and form. **** 1/2
Robert Beveridge
The breaking of the third wall and fantasy moments that really distinguish the story work better on stage, but there are enough enjoyable moments and strong performances (especially by Michael T. Weiss) to make it a worthwhile film.
Alec Barniskis
Super Reviewer
½
A fun but already-dated gay dating comedy with a touch of AIDS sadness. Patrick Stewart adds to the silliness. It ranks up there with Torch Song Trilogy.
Lafe Fredbjornson
Super Reviewer
Jeffrey Quotes
There are no approved quotes yet for this movie.