Chronicle of the Raven
(2004)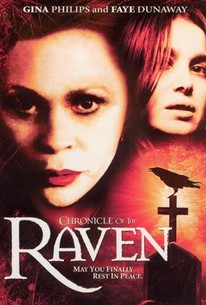 AUDIENCE SCORE
Critic Consensus: No consensus yet.
Chronicle of the Raven Videos
Chronicle of the Raven Photos
Movie Info
Chronicle of the Raven concerns Jennifer, a young woman who must combat an evil curse placed on her family by her grandmother. The curse takes the form of an illness that wastes away its victims. In addition to showing signs of the disease, Jennifer is plagued by nightmares in which a raven slowly eats away at her body. She must figure out how to stop her grandmother before her entire family meets a grim fate.
Rating:
R (For some violence and disturbing images)
Genre:
Directed By:
Written By:
In Theaters:
On DVD:
Runtime:
Studio:
Hybrid Films
Critic Reviews for Chronicle of the Raven
All Critics (1) | Fresh (1) | Rotten (0)
The film is elevated by an unexpectedly compelling lead performance from star Gina Philips, along with some effectively creepy visuals.

Audience Reviews for Chronicle of the Raven
½
Jennifer's Shadow (Daniel de la Vega and Pablo Pares, 2004) This is another one of those movies where, when I read the comments on IMDB, I weep for the generation below mine's cultural intelligence. Along with the usual "how original!" comments that really aren't sarcastic and the "worst movie EVAR" comments, I found a real gem: someone asking about films with a similar atmosphere. Which means at least one person who watched this movie has no clue that Suspiria even exists. (I'll give the other guys a pass in just missing all the similarities, I guess.) For Jennifer's Shadow, also released under the title Chronicle of the Raven (presumably for more publicity, though given that as I write this the movie has 289 votes on IMDB, I don't think it worked), is about as close to being a Suspiria knockoff as possible without de la Vega and Pares, working from a script by P. J. Pettiette (Bad Dreams), simply remaking one of Argento's greatest films. Plot: a young, rather unlikable, lass, Jennifer Cassi (The Sickhouse's Gina Phillips), flies off to the other coast-we're never sure where she is or where she's from, though she does mention she went three thousand miles to get there-to oversee the sale of the family estate after the sudden death of her twin sister Johanna (also played by Phillips). The mansion is at present only inhabited by two old ladies, her aunt Emma (the fine Argentinian actress Hilda Bernard), of whom Jennifer is inordinately fond, and her grandmother Mary Ellen (Faye Dunaway, who should need no introduction), of whom she is... not. Now, it should be noted that many of the family members suffer from what seems to be a hereditary disease in which the body attacks itself, slowly eating away the internal organs. Emma is in the final throes of it, both of Jennifer's parents died from it, and while it's too early to say, it looks like Johanna also succumbed. In fact, the only two people in the family who seem immune are Mary Ellen and Jennifer. But Jennifer is still young. And, of course, as soon as she steps back into the house, the disease manifests, along with nasty nightmares about ravens eating her every time she goes to sleep. With the help of a possibly-cracked old ex-doctor turned gravedigger, Bardevil (The Inquisitor's Duilio Marzio), and her sister's executor, Roberto (Nueces para el Amor's Nicolas Pauls), she aims to get at the bottom of what causes this "disease", and whether her grandmother's seeming immunity to it is a coincidence. (You know better than that, right?) Now, I have to admit right off that bat that Faye Dunaway slumming it in B horror pictures is nothing new, though if you're not old enough to remember Suspiria, there's no way you're going to remember The Eyes of Laura Mars. So the 1977 Best Actress Oscar winner (for Network) isn't entirely out of place here. And when it comes right down to it, it's a pretty solid cast, save low-budget veteran Phillips. But even Phillips brings a cold sliminess to the role that really works; I've heard a few people pan the film for Jennifer being so unlikable, but let's face it, that's what she's supposed to be. Aside from some clichéd silliness in the dialogue, actually, it's a pretty solid flick. Which makes sense, since it's almost entirely based on Argento. I grant you, you've changed the ballet school to the family mansion, but come on. Rudimentary changes like that, and the changes that radiate out from them by necessity, are the only changes in this movie. I mean, even the big talk Jennifer has with Roberto where everything starts falling into place mirrors Jessica Harper's talk with Rudolf Schundler in Suspiria, with the only difference being that the fountain in the background in Suspiria is replaced by a tree (but note it's still got a concrete bench surrounding it, just like the fountain!) in Jennifer's Shadow. Given a touch more original thinking here, de la Vega and Pares, both respected directors of horror shorts working on their first feature, might have pulled off something good. There's certainly enough potential here for me to look into their seconds (De la Vega's came with Death Knows Your Name, Pares' with Filmatron, both released in 2007). But I can't get past the Suspiria-ripoff angle to enjoy this one as much as perhaps I should. * 1/2
Robert Beveridge
Horribly, horribly dull. Can't believe they tried to mix Suspiria with The Tell Tale Heart (complete with the beating heart and "Nevermore"). UGH!
Christina Evelyn
½
This movie was ok....definately not the greatest suspense flick out there. There were some scenes in here where I gotta admit were pretty terrifying and bloody, but it doesn't make the film "great."
Jacob Palacio
Super Reviewer
Chronicle of the Raven Quotes
There are no approved quotes yet for this movie.