Jerry Seinfeld: I'm Telling You for the Last Time
(1998)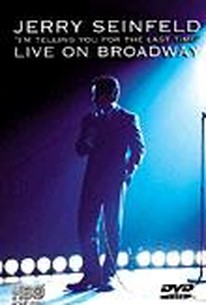 AUDIENCE SCORE
Critic Consensus: No consensus yet.
Movie Info
Prime-time sitcom star Jerry Seinfeld gets back to his roots in stand-up comedy with this performance at the Broadhurst Theater in New York City, which was one stop on his sold-out international tour. And just as in the comic's hit TV show, everybody's a target -- from octogenarian motorists and cab drivers to doctors, dry cleaners and innocents buying milk at the grocery store. Not that there's anything wrong with that.
Rating:
NR
Genre:
Directed By:
In Theaters:
On DVD:
Runtime:
Audience Reviews for Jerry Seinfeld: I'm Telling You for the Last Time
Seinfeld does a "Best of" rendition of his material just after his show bowed out out on NBC. It's typical Seinfeld: hilarious and clean observational comedy.
Ryan Voss
Jeery Seinfeld goes to the Broadhurst Theater on Broadway to retire the comedic act that made him a star. [center][url="http://www.rottentomatoes.com/m/JerrySeinfeldImTellingYouFortheLastTime-1089719/dvd.php"][img]http://images.rottentomatoes.com/images/movie/coverv/74/143874.jpg[/img][/url][/center] The show was taped for an HBO broadcast, and it starts with an opening funeral segment in which Jerry and many comedic greats bid farewell to Seinfeld's wonderful jokes. There's the bit about chop-sticks: [b]Jerry[/b]:[font=Courier New] I'll tell you what I like about Chinese people. They're hanging in there with the chopsticks. You know they've seen the fork. They're staying with the sticks. I don't know how they missed it. Going out all day on the farm with a shovel. Come on. Shovel. Spoon. You're not plowing 50 acres with a couple of pool cues.[/font] He also has that classic Seinfeld delivery. Commenting on airline peanuts: "It's just such a big bag." He covers the gauntlet of issues from taxi-drivers, airline security, drugstores, and buying milk. It's quick at 75 minutes and includes a Q&A with Jerry after the show. [font=Courier New]Watching Seinfeld work the crowd in this performance is like watching Michael Jordan shoot unopposed practice shots from the three-point line: There's little challenge involved for the artist, but watching someone so skilled perform even simple tasks is a source of delight.[/font] [url="http://www.rottentomatoes.com/author-5806/"]James Rocchi[/url], [url="http://www.rottentomatoes.com/source-1031/"]Netflix[/url]
Dean Dixon