Jess + Moss
(2012)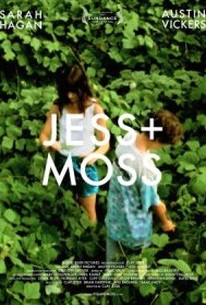 Movie Info
Jess, age 18 (Sarah Hagan) and Moss, age 12 (Austin Vickers) are second cousins in the dark-fire tobacco fields of rural Western Kentucky. Without immediate families that they can relate to, and lacking friends their own age, they only have each other. Over the course of a summer they venture on a journey exploring deep secrets and hopes of a future while being confronted with fears of isolation, abandonment and an unknown tomorrow. -- (C) Official Site
Cast
Critic Reviews for Jess + Moss
Audience Reviews for Jess + Moss
½
A quiet, slow film composed mainly of small glimpses at the way these two young people deal with their abandonment issues. Watching the film was almost like visiting an art gallery or museum, with gorgeous images stacked one on top of each other that did little to advance the story, such as it was, but kept this viewer completely enthralled. One felt there was an emotional developmental delay in Jess (Sarah Hagan), possibly caused, we eventually discover, by the tenuous hold she has on her mother, who disappeared from her life in some indeterminate past. Meanwhile Amos, or Moss (Austin Vickers), is dealing with the loss of his parents to an accident. A few other people float about the edges of the film, but it is these two young actors who carry the bulk of the film and were certainly up to the task. The images are what stays with one as the credits roll. It truly is a beautiful film that would normally be out of my comfort zone with such a minimal story, but somehow this one succeeds where many have failed to engage.
Mark Abell
Super Reviewer
½
An uber-indie nostalgia-laden deeply allegorical Southern Gothic fairytale with a lyrical melancholy attaching to a mosaic of both memory and sexual awakening .
Lee Mayo
½
The story of two kids in rural KY during a lazy summer. "Story" is kind of stretching it. It's really two kids Talking a doing kid shit in various abandoned houses / barns / cars. "Kids" is also stretching it. He's certainly pre-teen. And while she could never over-mature him; it's clear that she's fully teen + . Why their together and alone becomes clearer as we move through. But beyond the story, which is admittedly slow, is some of the most visually satisfying direction/cinematography I've ever seen in an independent film. Someone really saturated the color in post-production and it is worth the watch.
Nik Browning
Jess + Moss Quotes
There are no approved quotes yet for this movie.
Discussion Forum
Discuss Jess + Moss on our Movie forum!