Jesse James Meets Frankenstein's Daughter
(1965)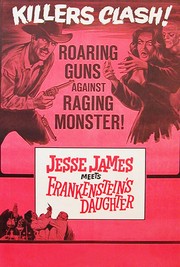 Movie Info
William "One Shot" Beaudine's companion piece to the equally nonsensical Billy the Kid vs. Dracula represents a memorable closing to the eccentric "Z"-movie auteur's amusing body of work. The hare-brained concept finds the legendary outlaw Jesse James (John Lupton) stumbling into the decrepit lair of Maria Frankenstein (Narda Onyx) -- not the daughter but the granddaughter of the infamous monster-making Baron. Maria is, of course, following in Grandpa's footsteps by creating a creature of her own, transplanting the dormant but still-intact brain of Frankenstein's original monster into the body of one of James' cohorts. The lumbering, homicidal monster -- imaginatively dubbed "Igor" -- begins terrorizing townsfolk until the inevitable showdown between living and undead gunslingers. Though not as flamboyantly awful as its predecessor (mainly due to the absence of John Carradine), this is still worth a look for trash-movie completists.
more
Watch it now
Cast
News & Interviews for Jesse James Meets Frankenstein's Daughter
Critic Reviews for Jesse James Meets Frankenstein's Daughter
Audience Reviews for Jesse James Meets Frankenstein's Daughter
½
***Due to the recent RT changes that have basically ruined my past reviews, I am mostly only giving a rating rather than a full review.***
Steve Smith
½
While westerns and sci-fi crossovers are usually interesting, this one ends up feeling dull and slow- though still entertaining enough to sit through. The characters aren't as interesting as one might think, and the plot is generic. Watchable, but not memorable.
Discussion Forum
Discuss Jesse James Meets Frankenstein's Daughter on our Movie forum!
News & Features