Stray Dogs
(2014)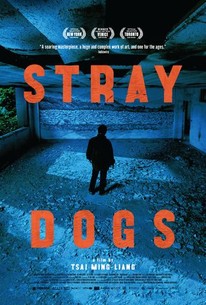 Movie Info
A father and his two children wander the margins of modern day Taipei, from the woods and rivers of the outskirts to the rain streaked streets of the city. By day the father scrapes out a meager income as a human billboard for luxury apartments, while his young son and daughter roam the supermarkets and malls surviving off free food samples. Each night the family takes shelter in an abandoned building. The father is strangely affected by a hypnotic mural adorning the wall of this makeshift home. On the day of the father's birthday the family is joined by a woman-might she be the key to unlocking the buried emotions that linger from the past?
News & Interviews for Stray Dogs
Critic Reviews for Stray Dogs
Audience Reviews for Stray Dogs
It seems like Tsai is trying way too hard to be Tarkovsky (his previous film also gave strong indications of that) with extremely elongated static shots that can be really tiring for most viewers and dilutes into near banality the strength of the sad story that he wants to tell.
Carlos Magalhães
Super Reviewer
½
If "Stray Dogs" is a challenging movie for some viewers, it might have to do with more than just its deliberate pacing. In fact, director Tsai Ming Liang has structured this movie unlike most others in that it resembles a jigsaw puzzle more than anything else. So, what might seem confusing at first, soon clarifies to show a portait of a family in crisis living on the edge of starvation with the mother having just left because she can no longer stand it even before the opening credits. After which, her daughter and son hang around a supermarket all day, eating free samples and buying a cabbage. Whether this is because of the fractured family dynamic or the daughter just being one weird kid is up for debate. In the meantime, the father works at a miserable low paying job holding a sign advertising apartments in a highway median in all sorts of weather which is certainly not for the faint of heart. What Tsai Ming Liang does well is use the irony of all of these luxury apartments being built and then left unoccupied and compare that to people like this family who are homeless and living in squalor in Taipei.
Stray Dogs Quotes
There are no approved quotes yet for this movie.