Jim Henson's Dog City: The Movie
(1989)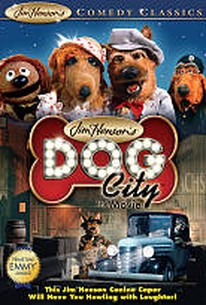 AUDIENCE SCORE
Critic Consensus: No consensus yet.
Movie Info
Directed by Jim Henson, this Emmy (R) award-winning film follows Ace the dog as he tries to navigate the criminal underworld of Dog City circa the 1930s. After inheriting a saloon from his uncle, Ace finds himself at odds with Bugsy, a powerful bulldog who controls the goings-on of the city. His only chance at putting an end to the Bugsy's reign is a gorgeous collie willing to help Ace knock the corrupt dog from power.
Audience Reviews for Jim Henson's Dog City: The Movie
½
Very stupid, and I was surprised to not like this Jim Henson TV-movie. Ace Yu is in some serious trouble with local mob boss Bugsy, so he teams up with new friend Colleen to go and stop Bugsy from crime. The reason I didn't like it: Too many dog puns. "I will not sit for this" results in a nearby dog sitting. It's just not funny, a bit too...well...doggish. Maybe the kids will like it more.
Jordan Krampf
½
But Where's the Rest of the Series? It was a long, long time ago when I watched [i]The Jim Henson Hour[/i], because it's been a long, long time since I had the chance to do so. There's a new movie coming out in November, and I guess I'm looking forward to that. But what's with Disney? We only have three out of five seasons of [i]The Muppet Show[/i] available on DVD. [i]Muppets Tonight[/i] and [i]The Jim Henson Hour[/i]? Nothing. Oh, except apparently this single episode, which for some reason you can also review here. I mean, don't get me wrong. I really hope that the new movie reminds me of the old stuff, and in the good way, not the "Brian Henson needs to give up" way. But it just kind of bothers me. I think the classic Muppet stuff is pretty much the ultimate definition of "family entertainment," a point I'll be defending in a bit. I wasn't sure this was going to be as good as I remembered, but it was. That's generally the case with Muppets material, and I wish more of it were available. At any rate, this is the story of Ace Yu (Kevin Clash, the voice of Elmo). He has inherited a bar called the Dog House from his uncle, who accidentally fell into the harbor while wearing a lead swimsuit after he'd stabbed himself a bunch of times. Turns out Dog City is run by Bugsy Them (Jim Henson), a bulldog with a weird tail, who demands Ace's profits. Ace won't fight, because he had traumatic experiences when he was a shepherd, but he won't give in, either. And then he meets Colleen Barker (Fran Brill), and he's got the Love of a Good Dog, which Hollywood has long assured us is all you need to overcome anything. Doubly true if you're a dog, too. One way or another, he and Colleen are going to get the better of Bugsy, keep the Dog House safe, and generally overcome whatever hardships are thrown at them over the course of forty minutes. Which is how long this is, because it's an episode of a TV show. There is only one Old Beloved Muppet in this; Rowlf, naturally, is our narrator. But I think in many ways Jim was hoping to be able to get back into the more experimental stuff he did before the Muppets became a Thing. There's another episode of [i]The Jim Henson Hour[/i] which, as I recall, was set in a rainforest and had no Old Beloved Muppets whatsoever. I guess technically other parts of the show are on DVD; I've got the Storyteller collection. However, I think a lot of people forget that he did things which weren't set in the Muppet Theatre or on Sesame Street, and that's a shame. Don't get me wrong; I actually do really love Rowlf, and he works really well in this story. However, when Jim died, he was still trying to do more than people were expecting of him. This wasn't all that unusual, Muppets-wise, but it was branching out, and that was what Jim was always trying to do. Even [i]Sesame Street[/i] was incredibly innovative when it got its start. This is basically a comic film noir with dog puppets. This, of course, could be terrible. It's really that they are technically dog [i]Muppets[/i] which saves it. Yes, it's full of cheap puns. Yes, as I recall, the animated TV series which followed was pretty terrible. Or at any rate, it missed what was so positive about the "movie." As frequently happens, the characters in the story at least in part know that they're in a fictional world. (An important clue is left with a musical tag. As in, after the information needed, the person wrote, "Dun dun dun dun!") However, that doesn't mean they treat their problems any less seriously or act as if they are any less real. They're quite serious about the whole thing, and the fact that Rowlf is pedaling about on a bicycle-piano combo doesn't change that fact. One of the secrets of the Muppets is that they know that they're characters but at the same time don't really let that bother them. At the very least, they know they're [i]always being watched[/i]. So family programming. It isn't even just that Rowlf himself refers to it as such when interrupting Colleen's song. (She is about to use a technical term for herself.) It's that the jokes in most Muppet entertainment are really literally intended to be funny on more than one level. After all, when this aired, my little sister was nine. (Actually, probably eight, depending on when it aired.) She had not then seen much in the way of film noir and therefore was not terribly familiar with its conventions. She still thought it was hilarious, because it was dogs! As mobsters! I have by now seen more than my fair share of noir, and I get a lot of jokes that I didn't even know were in there when I was thirteen. (Or twelve. Probably twelve.) However, I got a lot of jokes that my sister didn't, because I did have more experience and more exposure to popular culture than she. The Muppets have always layered the humour; look at [i]Monsterpiece Theatre[/i] if you want more examples. And you don't even have to be stoned in order to watch and enjoy it.
Edith Nelson
Jim Henson's Dog City: The Movie Quotes
There are no approved quotes yet for this movie.
Discussion Forum
Discuss Jim Henson's Dog City: The Movie on our Movie forum!