Jimi Hendrix - Blue Wild Angel: Live at the Isle of Wight
(2002)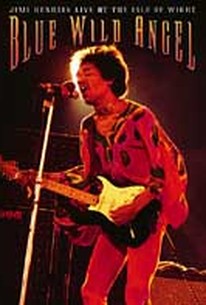 AUDIENCE SCORE
Critic Consensus: No consensus yet.
Critic Reviews for Jimi Hendrix - Blue Wild Angel: Live at the Isle of Wight
All Critics (1) | Fresh (1) | Rotten (0)
His performance is beset by disaster, from faulty amps to out-of-tune guitars, yet his music emerges clear-voiced, perfectly on key, and spellbinding. Undoubtedly, this is part of Hendrix's brilliance - he mastered chaos and turned it into beauty.

Audience Reviews for Jimi Hendrix - Blue Wild Angel: Live at the Isle of Wight
½
From Murray Lerner, director of Woodstock. The band is a simple trio. An earthy, gritty feel to this up close and personal filming. While a bit long for all but the most devoted fans, this is pure Jimi. We are on stage as cameras work the performance. We often see Jimi plugging in his own equipment, setting up for the next song. He talks to the audience between songs too, a sorely missed quality in many bands today or then. (Note: The blue streaking you see is "as" filmed. The particular camera doing the filming had a problem.) The 3rd and final 1970 Isle of Wight festival. FIVE days of performances by the then young The Who, Free, The Doors AND, Jimi Hendrix. Hendrix, an unlikely U.S. 101st Airborne veteran. 600,000 people attended this performance. Not 6000, not 60,000..... Six Hundred THOUSAND. Twice the size of famed Woodstock. Filmed just before Jimi's death, the concert has an ominous tone. We know it, no one in the crowd does. An up front on stage look at the man in action. His part of the concert started at 2 A.M. ! The footage you see here is from six cameramen shooting every part of the performance. Hendrix did not perform for the camera, so camera crews had to be ready. The booklet enclosed in this fateful last concert of Jimi tells the story. While the filming is perhaps not as crisp and clear as we are used to today, it is a final look at what guitarist historians since consider the gold standard. Clapton is today acknowledged as some sort of guitar legend in his own right. Can you imagine if Jimi lived till today? On the other hand, no. Let our legends die early. No one wants to see a balding, fat Hendrix. Let's watch this dvd and remember him in his glory here. The beginning of the dvd has interviews and such, so just hit the next scene button on your remote to get to the concert. A noteworthy segment, however, not to miss here is Dick Cavette's television show guest, Jimi Hendrix. Don't miss it. But if you must, just cut to the concert. Playlist includes, in order: God Save the Queen Sgt. Pepper's Lonely Hearts Club Band (scratches and all) Spanish Castle Magic All Along the Watchtower Machine Gun Lover Man Freedom Red House Dolly Dagger Foxey Lady Message to Love Ezy Ryder Purple Haze Voodoo Child In from the Storm Running time 154 minutes, stereo, color, 5.1 surround sound. Experience Hendrix, LLC 2002. Produced by Janie Hendrix. The Hendrix Experience band is : Jimi Hendrix, Mitch Mitchell, Billy Cox. Extra features include: Multiple camera angle viewing of the concert for 4 songs. Interview with Murray Lerner, director. Views of festival posters, tickets, and Hendrix's handwritten directions to the festival. If you want to "experience" the sensation* that was Hendrix, watch this, Wild Blue Angel. * The rating for this dvd was based on an overall experience, not any particular attribute. Obviously, the quality of the filming in terms of clarity are lacking. But the up close intensity of nearly being there on the stage makes up for the deficiency. (or so it seems to me) As was during the height of Jimi's career, not everyone will enjoy this concert. The wailing guitar, the distortion. But if you want a dose of the way it was, this is your ticket.
monsieur rick
Jimi Hendrix - Blue Wild Angel: Live at the Isle of Wight Quotes
There are no approved quotes yet for this movie.
Discussion Forum
Discuss Jimi Hendrix - Blue Wild Angel: Live at the Isle of Wight on our Movie forum!