Jimmy P.
(2014)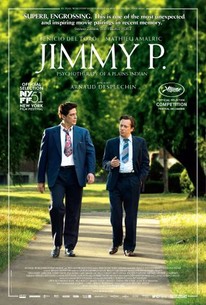 TOMATOMETER
AUDIENCE SCORE
Critic Consensus: Jimmy P. has interesting ideas and talented stars, but director Arnaud Desplechin can't seem to figure out how to bring them together.
Movie Info
In "one of the most unexpected and inspiring movie pairings in recent memory (The Village Voice)," Jimmy P stars Academy Award winner Benicio Del Toro and Mathieu Amalric in a true story about two very different men who build a unique and powerful bond through psychotherapy. A WWII vet plagued by excruciating headaches, dizzy spells, hearing loss and bizarre dreams, Jimmy Picard (Del Toro), a Native American Blackfoot, is labeled schizophrenic by a military hospital confused by his condition. Enter French anthropologist and Native American researcher Georges Devereux (Amalric), called in by the hospital to make sense of their baffling patient. Through increasingly vivid conversation, Picard and Devereux develop a compelling friendship as they embark on an exploration of Jimmy's memories and dreams, an experiment they conduct like a couple of detectives in this intelligent and extraordinarily moving film from Arnaud Desplechin (A Christmas Tale, Kings and Queen). (c) IFC
Rating:
NR
Genre:
Directed By:
Written By:
In Theaters:
On DVD:
Runtime:
Studio:
News & Interviews for Jimmy P.
Critic Reviews for Jimmy P.
Audience Reviews for Jimmy P.
A French made, fast slide into a psyco-drama movie. American Indian tale of former WWII veteran who becomes mentally and physically ill and the French man who tries to help him while in hospital. SEE the trailer here: https://www.youtube.com/watch?v=JpThmmshJ-M [img]https://encrypted-tbn0.gstatic.com/images?q=tbn:ANd9GcSwjyLgycqxe4tWGqZhQsYM0kjaMdCh0nckcSAyB98V83Pxbw3d[/img] I am thinking that this French film is so typically French it is annoying. It is disjointed, it cuts back and forth from the past to the present and from the present to the recent present. A huge disappointment. Stereotypical treatment of the American Indian in every way, our lead actor is made to be a grunt, broken English drunk in every scene. [img]https://encrypted-tbn1.gstatic.com/images?q=tbn:ANd9GcRTdsTBAc2TSGGpNrACeKG3VJMaK1kSLa3XVgYSx-EZbs8nmhF6MA[/img] REVIEWS by those like us: 60% It's a fascinating true-life story that would seem more than capable of making the direct translation to film, 0% Confusing, ponderous, a waste of time. [img]https://encrypted-tbn0.gstatic.com/images?q=tbn:ANd9GcSfhQX_MhHoEj6XEMOmaV2tqkbspZzL7FoH_Ym173eTKF0IgzulTg[/img] NOTES: 1 Jimmy P: Psychotherapy of a Plains Indian is a 2013 Franco-American drama film directed by French film director Arnaud Desplechin. 2 Desplechin, Kent Jones, and Julie Peyr wrote the screenplay, adapted from Devereux's 1951 book. 3 The film was well received in France and the United States, especially for its sensitive portrayal of Blackfoot Jimmy Picard. 4 Roger Ebert awarded the film with 3.5 out of 4 stars, citing, "the movie offers the most psychologically complex screen portrait of a Native American character in at least twenty years, probably more" and "those who have undergone such treatment will appreciate how accurately the film portrays the process, never simplifying anything, never going for the easy dramatic epiphany, always respecting how analyst and patient circle around and around the edges of meaning." 5 The film was nominated for the Palme d'Or at the 2013 Cannes Film Festival. In January 2014, it received three nominations at the 39th César Awards, including Best Picture, Best Director, and Best Adapted Screenplay. [img]https://encrypted-tbn0.gstatic.com/images?q=tbn:ANd9GcQZdjjshDiHUo2i7OvN2RKU8xKd1-N9cRO0-TeQbTO_THQdo2Q4[/img] Benicio del Toro as Jimmy Picard Mathieu Amalric as George Devereux, born Georgy Dóbo Elya Baskin as Dr. Jokl Gina McKee as Madeleine Ricky Wayne as Dr. Braatoy Larry Pine as Dr. Karl Menninger Gary Farmer as Jack Michelle Thrush as Gayle Picard Misty Upham as Jane A Martinez as Bear Willie Claw Michael Greyeyes as Allan [img]https://encrypted-tbn0.gstatic.com/images?q=tbn:ANd9GcQJdlIS5whFmMUO4iEHNazjP1y6BoxiBFSdNt4IoVjoYXDahviQKA[/img] Directed by Arnaud Desplechin Produced by Pascal Caucheteux Grégoire Sorlat Written by Arnaud Desplechin with Julie Peyr and Kent Jones Music by Howard Shore Cinematography Stéphane Fontaine Release date(s) 18 May 2013 (Cannes) 11 September 2013 (France) Running time 120 minutes Country France, United States [img]https://encrypted-tbn3.gstatic.com/images?q=tbn:ANd9GcQjQJYlbei3U_vmnBszOJ4jgWC4wIXp-koUt5L5SMW6DiC3dMQx[/img]
monsieur rick
Slightly mentally non-decolonized. Good Film! A worthwhile film but a little odd insofar as it under emphasizes the ethnocultural forces in the characters in favor of a "special friendship" (in a universalized way) despite the fact that it is the decultured nature of American psychiatry which was at the root of doctors' inability to help Jimmy in the first place. Also couldn't stand the way a couple of actors who think that acting means being as anxious and/or intense as possible in every scene. Jimmy P is enlightening about the psychic damage that happens when cultural and ethnic peoples are punished for who they are and made to ape other cultures to become accepted. A Native American Veteran suffering from a series of psychological issues develops a deeply powerful friendship with his progressive French psychoanalyst as they discover and attempt to understand the source of his illness.
Discussion Forum
Discuss Jimmy P. on our Movie forum!