Jingi naki tatakai: Dairi senso (Battles Without Honor and Humanity: Proxy War)
(1973)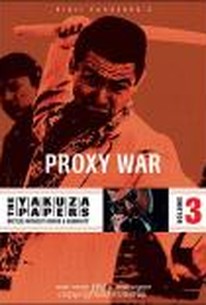 AUDIENCE SCORE
Critic Consensus: No consensus yet.
Movie Info
When Battles Without Honor and Humanity first hit Japanese screens in January 1973, partially inspired by the success of The Godfather, it blasted out a new Ground Zero for crime cinema not only in Japan, but in the rest of the world, and spawned a legendary series that would lead to additional episodes, spin-offs, and countless imitations. 1947. Ex-soldier Shozo Hirono (Bunta Sugawara), after proving his ability with a gun, emerges from the teeming black markets of postwar Kure City into the professional world of the yakuza. Shozo makes his way from prison to boss in the newly-formed Yamamori family via gang feuds, assassinations and the shifting allegiances of his fellow mobsters, despite his own growing disillusionment with the men he is supposed to respect. Based on the true account of a Hiroshima mob boss and supplemented by meticulous research by screenwriter Kazuo Kasahara, this ferocious, violent saga was directed in a dynamic, newsreel-like style by Kinji Fukasaku, and stunned cinemagoers in Japan upon its release. Like a head-spinning mixture of Martin Scorsese and Paul Greengrass, the film's frenetic cinematography, colourful characters, and iconic score by Toshiaki Tsushima will leave you thrilled and exhausted, as you embark on one of the world's greatest gangster film series.
Critic Reviews for Jingi naki tatakai: Dairi senso (Battles Without Honor and Humanity: Proxy War)
There are no critic reviews yet for Jingi naki tatakai: Dairi senso (Battles Without Honor and Humanity: Proxy War). Keep checking Rotten Tomatoes for updates!
Audience Reviews for Jingi naki tatakai: Dairi senso (Battles Without Honor and Humanity: Proxy War)
½
Liked the comparison of proxy wars between USA and USSR to that of Yakuza gangs by the narrator at the beginning. I thought the pointless violence might be turned down a notch in favor of a smart script focusing on inner politics of the Yakuza, which happened to some degree but not enough to make this a smart film. I loved the fact that Shozo and Yomomori played larger parts in this film than they did in "Deadly Fight in Hiroshima". Shozo's character by this film, the 3rd in the series, had grown considerably complex, which just added to the joy of watching the series and his life unfolding as a Yakuza. Uchida was a great character to add along with what his presence added to the story. Yomomori is one of the funniest and lamest crime bosses I have seen: he weeps when Matsunaga tries to defy him and says "Can't you see how I feel!"-just hilarious. Another nice touch was the camaraderie between Matsunaga and Hirono. The interaction between all the underbosses was great too. Nice ending as well here. The problem was that it was confusing at times and was more of a set up for Police Tactics.
The Yakuza Papers is Japan's answer to America's The Godfather which was released a few years before. The yakuza and mobster are distant cousins that follow similar codes and are bound by a sense of honor to their boss. Director Fukasaku doesn't use violence for the sake of violence and his films, like those of all true artists, represent the reality that surrounds them. If you've made it this far into the series, chances are you really enjoy the story or at least the ultraviolence portrayed among the whiny crime bosses (makes you wonder how they got there in the first place) and the tough as nails gangsters that back them up....when they're not changing sides.
El Hombre Invisible
Super Reviewer
Jingi naki tatakai: Dairi senso (Battles Without Honor and Humanity: Proxy War) Quotes
There are no approved quotes yet for this movie.