Jingle All The Way 2
(2014)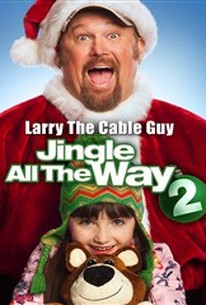 AUDIENCE SCORE
Critic Consensus: No consensus yet.
Movie Info
Larry the Cable Guy embarks on a wacky journey to defend Christmas from cancellation per the demands of the new mayor.
Critic Reviews for Jingle All The Way 2
There are no critic reviews yet for Jingle All The Way 2. Keep checking Rotten Tomatoes for updates!
Audience Reviews for Jingle All The Way 2
Larry the Cable Guy attempts to bring yuletide cheer in the formulaic and trite family comedy Jingle All the Way 2. The film follows a dad and stepdad as they compete to get their daughter her most wanted Christmas gift; with one buying out the stores so that the other won't be able to get it. The acting is all pretty terrible, and Larry's comedy stylings are extremely lame. Also, there's really no sense of fun to any of the crazy antics or charades that the two fathers go through. Incredibly bland, Jingle All the Way 2 has nothing really going for it.
Dann Michalski
Super Reviewer
It should've been better. I mean... yes. A lot better.
EpicLadySponge the Adventurer
Super Reviewer
½
I never thought that, in my wildest dreams, I'd ever review two Larry The Cable Guy movies in a one week time span. I really didn't. If you had told me that I would be doing this, I probably would've jumped off the Golden Gate Bridge. Seriously though, Larry the Cable Guy doesn't do anything for me as a stand-up comedian. He doesn't do anything for me as a comedic actor either, but he has a likable enough presence as an everyman that gives a glimpse as to why he's so popular with the blue collar crowd. Of course, the movie's description is all fucked up on this website. Maybe it started out as such and, seeing upon how ridiculous such a concept sounds, cancelling Christmas, they just went ahead and followed the formula the first film had. Except instead of two fathers feuding to get the doll for their respective sons, it's a father and a stepdad fighting for the affections of the same little girl by trying to get her this talking bear after they both misinterpret her letter to Santa. You know what to expect, sitcom-y hi-jinks and slapstick. Larry the Cable Guy is about as subtle as a hammer to the face as it relates to his style of comedy. Like I said last week with the Madea movie, Larry doesn't do jack shit for me as a comedian. I think his style is just too exaggerated. It's obvious this Larry the Cable Guy is just a character as there is footage on YouTube of the guy, YEARS ago performing normally and he was just about the most boring comedian you could imagine. This character has done absolute wonders for his career in terms of success. But, much like I mentioned, the guy has a likable presence and that lends itself to this type of movie. To be perfectly honest, and maybe I was in a good mood today, but this film wasn't as horrifically terrible as I was expecting. Larry did The Tooth Fairy 2, so you know this guy has no quality filter. It's still clearly no good, but considering this was done as a strictly family movie endeavor, not meant as high art or anything like that, I think it can survive in that demographic. Something silly you can watch with you and your family. Of course it's no good, it's not really that funny, outside of Jeffrey, the manager at the toy store, that has some pretty funny lines. I don't know who this guy is, or if I've seen him before, but I thought he was, easily, the comedic highlight of the film. I realize that that's not saying much, but the guy did give me a couple of laughs with his overenthusiastic character. The story is what you'd expect, there's some preposterous developments, such as how can Welling be at all stores at the same time in order to be able to buy all available Harrison talking bear dolls. Almost the entire town is unable to gain access to one because of this guy, so how does he do this? I don't know how, but he does it. I realize looking for logic in a direct-to-video christmas film is about as useless as finding a drop of rice in the ocean, but it just gnawed at me. I completely realize that I'm nitpicking, this is a relatively minor issue. But really, I realize I'm coming off as being kind on this film, but it's really no good. The acting, particularly from the little girl, leaves a lot to be desired. There's a minuscule amount of talent here, but it doesn't feel like they're wasted. It's not like this is the cast of American Hustle or anything of the sort. It's suitable given the type of film they made and the budget they had. This is largely unfunny, uninteresting, nonsensical in parts, poorly acted, but I think that this can be something that a family can watch and have a good time with it even if they know it's not good. It's definitely that type of film, like a 'family bonding' thing. I realize that sounds pathetic, but that's what it comes across like to me. Of course, none of this excuses the fact that it was a really bad movie. At the very least I can say that it was a slight improvement over Madea's christmas movie with its ignorant message. This is still a bad movie, no question about it. But this one will disappear from the public eye, if it even came close to being on it, by the end of this year. There are far more superior holiday movies than this, so you can clearly do better.
Jesse Ortega
Super Reviewer
Jingle All The Way 2 Quotes
There are no approved quotes yet for this movie.