Jinxed
(1982)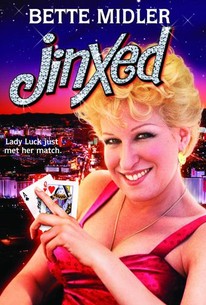 AUDIENCE SCORE
Critic Consensus: No consensus yet.
Movie Info
In this black comedy, Bette Midler stars as an aspiring cabaret singer who enlists Las Vegas blackjack dealer Ken Wahl in a plot to kill her gambler boyfriend Rip Torn.
Rating:
R
Genre:
Directed By:
Written By:
In Theaters:
On DVD:
Runtime:
Studio:
United Artists
Audience Reviews for Jinxed
½
Mildly amusing comedy, yet a Bette Midler winner. This is a film elevated by Bette Midler. Without her, this film is just another kill your victim for the money, an average stinker. [img]http://upload.wikimedia.org/wikipedia/en/thumb/4/48/Jinxed_Poster.jpg/220px-Jinxed_Poster.jpg[/img] "Harold, a professional gambler, and his girlfriend Bonita, a lounge singer, follow Willie, a young blackjack dealer, around the western U.S. Harold has a jinx on Willie and can't lose with him. Bonita and Willie meet and fall for each other and plot to do away with Harold and collect on his life insurance."--- Written by Dan Larsen For fans of the divine Ms. Bette, its one high and low point throughout the film. Jack Elam, veteran western great, also has a part late in the film. For fans of Bette Midler primarily and Rip Torn secondly. [img]http://t0.gstatic.com/images?q=tbn:ANd9GcR8ip0NJni6FZ9krwjJgK8CWOpbJaud9OOhYs2uy_Wl2HYangjN[/img] REVIEWS: 1 100% this movie is popular to bash (as we can see) but i think largely by people who wanna show how hip and intellectual they are ... 2 60% Not a great film, but I enjoyed Bette Midler. She lifted the film up a few notches. It's an unusual venture for director Don Siegel. 3 Siegel died in 1991 and Wahl's career died quickly in the mid 1980s. Midler is still going strong. So I liked it but I'll never say it's a GOOD movie. For Midler fans this is a must. [img]http://t3.gstatic.com/images?q=tbn:ANd9GcSg4sM5bkv7y5l1DHAyIbFNIWocB_As4IlHV6b5AF9ew72sKQW0RQ[/img] NOTEs: 1 Directed by Don Siegel, the veteran filmmaker would suffer a heart attack during the troubled production. This would be his final film. 2 The movie is noted for a unique collaboration between Siegel and director Sam Peckinpah. An original mentor to Peckinpah, who at this time was banished from the industry due to his troubled film productions, Siegel gave the director a chance to return to filmmaking. 3 The movie was filmed on location in Reno, Nevada and Lake Tahoe and received an "R" rating. 4 In addition to Siegel's health problems, Midler and Wahl reportedly fought viciously throughout the filming, making no secret of their open hostility towards one another. Years later, Midler would state that Siegel was also hostile towards her. In turn, Siegel said the experience of working with Midler was extremely unpleasant. Directed by Don Siegel Produced by Herb Jaffe Written by Frank D. Gilroy David Newman Starring Bette Midler [img]http://t1.gstatic.com/images?q=tbn:ANd9GcRlWoPtN9wQzDJxU2q_0r6gA0yEawtW0lJQ4oU0lw0w3K0qKh2SOGj6vgc[/img] Ken Wahl [img]http://t0.gstatic.com/images?q=tbn:ANd9GcTJHtNgm2A4jMJzf2Q4_LK0fS08CkwKfdsao79G9OJcsq6kJxUQ[/img] Rip Torn Val Avery Jack Elam Jacqueline Scott F. William Parker Music by Miles Goodman Bruce Roberts Cinematography Vilmos Zsigmond Editing by Douglas Stewart Distributed by MGM Release date(s) October 22, 1982 Running time 103 min. Country United States Language English
monsieur rick
I caught this on TV one night, I wasn't sure if it was supposed to be funny or not, but it wasn't funny if it was trying to be. It's mostly pretty boring, and not much happens.
Poor Bette after such a great start with the "Rose" she got stuck with this stinker where the best thing where the details of behind the camera's fight with the director and her co star. Jinxed it is
richard s
Jinxed Quotes
There are no approved quotes yet for this movie.
Discussion Forum
Discuss Jinxed on our Movie forum!