Jobriath A.D.
(2014)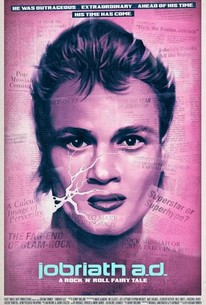 Movie Info
Seventies glam rock musician Jobriath was known as "The American Bowie," "The True Fairy of Rock & Roll," and "Hype of the Year." The first openly gay rock star, Jobriath's reign was brief, lasting less than two years and two albums. Done in by a over‐hyped publicity machine, shunned by the gay community, and dismissed by critics as all flash and no substance, Jobriath was excommunicated from the music business. He retreated to the Chelsea Hotel where he died, forgotten, in 1983 at the age of 37, as one of the earliest casualties of AIDS. In the years since his death, new generations of fans have discovered his music through acts as diverse as Morrissey, Def Leppard, The Pet Shop Boys, and Gary Numan, all of whom have cited Jobriath as an influence. Through interviews, archival material, and animation, audiences can experience the heartbreaking and unbelievable story of the one, the only, Jobriath. (c) Factory 25
Critic Reviews for Jobriath A.D.
Audience Reviews for Jobriath A.D.
This documentary is not getting much attention yet, however you need to take a look. During the 70s the Glam rock period was just starting and was a precursor actually to the 80s, Madonna, Marilyn Manson, and Lady GaGa. This time was a birth to someone whose rock music was layered and classical in many ways. Jobriath became a sensation overnight through hype and crashed after a couple of record albums; he was the first out rock artist in decade when it wasn't cool to be like Boy George. Big guns such as Carly Simon's promoter Jerry Brandt and Elektra records worked hard to get the public to see this musical genius...yet they were not ready. This is Jobriath's journey to the stars and his fall to Earth. I can not recommend this movie enough. If it plays in your area see it. Kieran Turner's direction and structure keeps you interested and show the love that he has put in to make this a compelling story.
Eric Archer
Jobriath A.D. Quotes
There are no approved quotes yet for this movie.
Discussion Forum
Discuss Jobriath A.D. on our Movie forum!