Joe and Max
(2002)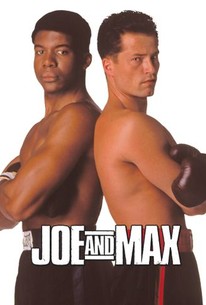 AUDIENCE SCORE
Critic Consensus: No consensus yet.
Movie Info
In the 1930s and '40s, the rivalry between Joe Louis and Max Schmeling was one of the greatest in the history of professional boxing. Louis was one of the first African-Americans to win the Heavyweight championship, and he was a great symbol of hope and achievement for blacks before the advent of the Civil Rights Movement, while Schmeling was a German who many Nazi supporters cited as an example of the innate superiority of the Aryan race. However, what few people knew is that despite their rivalry in the ring, between bouts Louis and Schmeling were good friends, and that Schmeling was not only never a member of the Nazi party, but spurned the attention of Adolf Hitler and helped save the lives of several Jews during the Nazi pogroms. Joe and Max is a made-for-cable drama based on the true story of the friendship of Joe Louis (played by Leonard Roberts) and Max Schmeling (Til Schweiger), and Schmeling's secret heroism during World War II. The supporting cast includes Peta Wilson, Richard Roundtree, and Bruce Weitz.
Rating:
PG-13
Genre:
,
Directed By:
Bruce Weitz
,
David Paymer
,
John Toles-Bey
,
Leonard Roberts
,
Paul Collins
,
Peta Wilson
,
Richard Roundtree
,
Siena Goines
,
Steven James
,
Til Schweiger
,
Steve James
Written By:
In Theaters:
On DVD:
Runtime:
Studio:
Sony Pictures Home Entertainment
Critic Reviews for Joe and Max
There are no critic reviews yet for Joe and Max. Keep checking Rotten Tomatoes for updates!
Audience Reviews for Joe and Max
Good movie for a low budget film...of course I enjoy movies about boxing AND Nazi Germany, so that helped quite alot.
Cynthia S.
Super Reviewer
½
[font=Book Antiqua][size=5][color=#000033][font=Book Antiqua]Hey All,[/font][/color][color=#000033][/color] [color=#000033][font=Book Antiqua]I received yet another film in the mail. How about that? Uh? LOL! I shouldn't complain though. It's better than standing in line. LOL! Any who, the film I received is called; "Joe and Max". Now I tried to see this film on cable but I wasn't able to catch the whole thing for what ever reason. I'd either catch the middle or at the end but never the whole thing. So, I decided to rent this movie and lucky for me they had it. I thought that Til Schweiger and Leonard Roberts did an amazing job at bring this equal wonderful script to life. I thought this whole thing worked as well as rest of the cast. "Joe and Max" is based on the true story (how much I don't know but I think a good part of it) of Joe Lewis and Max Schmeling. This film is also about before and after their fight. It's also about the friendship that came out of it. I thought this was a beautifully made film and I would suggest this film to any one. Now there isn't any extra stuff on the DVD but like I've said before some films don't extra stuff on their DVD. Please see what you think.[/font][/color][color=#000033][/color] Fritz ;) [/size][/font]
Jennifer Parks
[font=Times New Roman][font=Courier New]Now most of the time when I watch a made for tv movie i expect it will be bad and nothing changed for this one. Come to my surprise this film was actually half way decent, never spending to much time on fighting and never spending to much time on character development. The acting in this film is good for a tv movie and some of the situations are played out real well. My only problem is that the film has boring moments and an ending that makes you wonder what did I miss.[/font][/font]
Ryan Helms
Joe and Max Quotes
There are no approved quotes yet for this movie.