Joe's Apartment
(1996)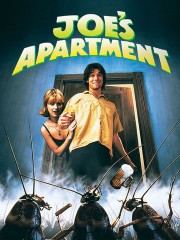 Joe's Apartment Trailers & Photos
Movie Info
This film is based on an innovative short film made for MTV about a guy living in a horrible downtown apartment filled with scores of mischievous, smart-alecky roaches. The story chronicles the adventures of Joe (Jerry O'Connell), a hapless rube from the rural Midwest who journeys to the wilds of New York City. Mugged repeatedly on his arrival, his luck seems to turn when he finds an affordable apartment in a very dubious neighborhood. Unfortunately, his landlord (Don Ho) is more interested in evicting or, if need be, murdering his tenants, so that the building can be turned into a (highly profitable) penitentiary. Joe finds the allies he needs in his apartment's cockroaches, who sing and dance their way into his heart. This film should be of interest for fans of 1930s musicals; it makes reference to Busby Berkeley's elaborate dance phantasmagorias and the odd water ballets of Esther Williams. Many of the scenes utilized real roaches who were "choreographed" via tiny filament harnesses and other devices. Animal rights activists will be pleased to note that no roaches were intentionally harmed during filming.
more
Cast
News & Interviews for Joe's Apartment
Critic Reviews for Joe's Apartment
Audience Reviews for Joe's Apartment
½
I saw this film when I was a kid and I always thought it was a fun little flick. This is a film without its flaws, but it is pretty entertaining for what it is, and manages to be funny as well. I found this film pretty underrated and it doesn't deserve the flack it has received. I do agree it's flawed, but for the most part, it's a mindless comedy that is not meant to be taken seriously. If you love mindless humor, then this film is for you. The film's script is uneven, but most of the time there's plenty of good material here to make it work. The effects may look dated by now, but Joe's Apartment is still a fun little time waster that isn't meant to be taken seriously. The film has its moments and doesn't try to be a great flick, but it manages to be pretty fun due to the singing cockroaches, which is what saves the film from being a total dud. The performances are good for what they are, and are never anything great, but for what it is, the cast do a fine job here. Although mindless fun, the film definitely left a lot of room for improvement, and it could have been a far better one at that, if the ideas were much more thought out. This is an interesting idea for a flick that like I said, is entertaining and fun, but in the end could have been much better than what it turned out to be. None the less, I really liked the film, and if you like no brainer comedies, this film is for you.
A cute film but forgettable.
Tim Salmons
Super Reviewer
Discussion Forum
Discuss Joe's Apartment on our Movie forum!
News & Features