Johnny Apollo
(1940)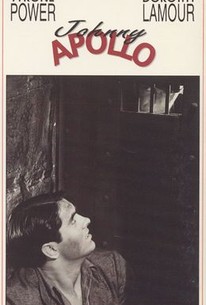 AUDIENCE SCORE
Critic Consensus: No consensus yet.
Movie Info
Tyrone Power plays the college-grad son of jailed-embezzler Edward Arnold. Power tries to find work, only to be turned away because of his father's reputation. When he decides to use a phony name, he is still fired, because his ex-convict boss feels that Power is being unfair to his imprisoned father. If you can't win for losing in a 1940 film, you turn to crime. Power hires on as the right-hand man of personable but deadly gangster Lloyd Nolan. Arnold, who has become a model convict, is disgusted that his son has turned to crime. He even refuses to have anything to do with his son when Power lands in the slammer himself. Through the intervention of Nolan's moll Dorothy Lamour, a nightclub singer who has grown to love Power, Arnold realizes that his son is still a good guy underneath. Power proves as much by preventing a climactic jailbreak engineered by the homicidal Nolan.
Rating:
NR
Genre:
, ,
Directed By:
Written By:
In Theaters:
On DVD:
Runtime:
Studio:
20th Century Fox Film Corporation
Critic Reviews for Johnny Apollo
All Critics (1) | Fresh (0) | Rotten (1)
Moderate crime thriller never rises above being pat and routine, and barely remains credible.

Ozus' World Movie Reviews
Audience Reviews for Johnny Apollo
½
IN PROGRESS Underappreciated film noir Henry Hathaway 's Johnny Apollo is well scripted, well filimed, and well played. The pacing doesn't let up as Johnny is inexorably drawn into the criminal underworld. Lloyd Nolan is brilliant as the crook, Mickey Dwyer, by turns both charming and violent. Dark haired and glamourous Dorothy Lamour and Tyrone Power are two wonderfully attractive stars who work perfectly together. They are outstanding from their first scene together when they meet on the stairs. The look of bright lights, dark shadows and ominous steam lends the whole a very stylish noirish feel. A first class gangster film. Thanks TCM for airing The first of many "Johnny" movies in the 40s, 50s, and 60s, "Johnny Apollo" reminded me of 1941's "Johnny Eager." A few commonalities include the now comic book character-like name for a title, Johnny being involved in criminal activity, the presence of awesome actor Edward Arnold, a future WW 2 pinup princess whose character falls for Johnny (Lamour and Lana Turner), and an intelligent souse who attempts to do good (Grapewin, from "The Wizard of Oz," and Van Heflin, who won an Oscar for his role). In this simple morality tale, I agree with Mr. Maltin -the acting is good Johnny Apollo is a good film with crackerjack performances by the cast that Henry Hathaway directed. It's probably best compared to MGM's Johnny Eager where Louis B. Mayer was also trying to broaden their studio's heartthrob Robert Taylor's appeal. Johnny Eager is the better film, but no one in Johnny Apollo need be ashamed of anything. Best performances in the film are from Nolan as gangster Mickey Dwyer. Nolan was never bad in any film he was ever in. Second best is alcoholic mob attorney Charley Grapewin. Dorothy Lamour was brought over from Paramount for this film, playing a part that Alice Faye or Betty Grable might normally have been assigned to. She gets two of her best movie songs to sing, This Is The Beginning Of The End by Mack Gordon and Your Kiss by Frank Loesser and Lionel Newman. Johnny Apollo is a fine gangster film from a studio that normally did not do that particular genre. At least at this time Lloyd Nolan plays a low-key gangster and Tyrone Power plays a guy who exhibits good and bad. Dorothy Lamour, Edward Arnold, Charley Grapewin and Lionel Atwill all add to this talented cast. Lamour's tough-talking "dame" character and good cinematography helped this movie be characterized as a very early entry into the film noir genre. Edward Arnold, Dorothy Lamour and Tyrone Power are first-rate, although Arnold is the workhorse here and Power was a questionable choice for the title role, try as he might, and he did try. But as with Gary Cooper in "City Streets", Power is not a gangster. There are lots of familiar character actors and Dorothy Lamour gets to sing a few songs in her husky voice, and "Beginning Of The End" is a gorgeous song hardly heard at all these days. I found the movie a little flat, although as usual I hoped for a happy ending. Of course the plot strains credibility. Many crime pictures of the period do. But it's a nice, enjoyable movie in any case, well directed and expertly acted by Nolan, Arnold, and Lamour. Tyrone Power is classy and handsome but not very exciting in this role, or believable.
John Tandlich
power is i think the handsomist gangster ever well neck n neck with kirk douglas in 'out of the past'
Greg Wood
Nice tough little crime drama. Good performances from Power, Arnold and Nolan but best of all is Dorothy Lamour in one of her best, if not THE best performance of her career. Worth your while.
Johnny Apollo Quotes
There are no approved quotes yet for this movie.