Johnny O'Clock
(1947)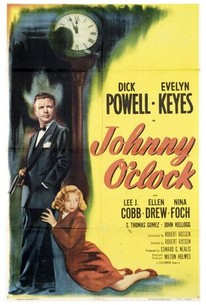 AUDIENCE SCORE
Critic Consensus: No consensus yet.
Movie Info
In this film, a worldly and successful gambler nearly loses it all after he and his crooked partner begin running a financially struggling casino. The trouble begins when a bad cop tries to get the gambler ousted from the deal. Things get really dicey when someone murders the cop's girl.
Rating:
NR
Genre:
,
Directed By:
Written By:
In Theaters:
Runtime:
Studio:
Columbia Pictures
Audience Reviews for Johnny O'Clock
Do you mind if I laugh in your face? In an underground gambling casino led by gangsters a woman mysteriously dies leading to her sister coming to the casino and poking around. She falls in love with Johnny O'Clock, the gang leader's muscle. Johnny makes plans to settle down with the girl but he may find getting out of the gang harder than he anticipated. "Come here." "I've been there." Robert Rosen, director of All the Kings Men, The Hustler, The Roaring Twenties, The Strange Love of Martha Ivers, and Island in the Sun, delivers Johnny O'Clock. The storyline for this picture is fairly straightforward but contains interesting characters and an old school murder mystery plot. The cast delivers solid performances and includes Lee Cobb, Dick Powell, Evelyn Keyes, Ellen Drew, and Nina Foch. "If you get in my way, I'll kill you." "You took the words right out of my mouth." I came across this movie on Turner Classic Movies (TCM) and thought the plot sounded interesting and decided to DVR this old school picture. The movie was okay and worth following but wasn't an all time great or contained enough unique elements to truly standout in the genre. Overall, this is worth a viewing if nothing else is on. "All you ever think about is yourself." "You and me both." Grade: C+/B-
Kevin Robbins
Decent noir with a fine cast but Powell seems disengaged in the lead. He doesn't ruin the picture but it would have been a stronger film with Mitchum or Kirk Douglas in the lead.
Johnny O'Clock (1647) Here's another great, hard-boiled Dick Powell movie with a fine script. He's in good form as gambler, Johnny O'Clock (is that supposed to be an Irish name?). Johnny is partners in a casino with Guido Marchettis (Thomas Gomez) who's beautiful Wife, Nelle (Ellen Drew), still holds a torch for Johnny. The feeling isn't mutual with Johnny, who feels that was over a long time ago. Guido is also being squeezed by "bad cop" Chuck Blayden (Jim Bannon) who is also using & abusing the naive hat check girl, Harriet Hobbs (Nina Foch), who Johnny is trying to protect. Things really go south when Inspector Koch (Lee J. Cobb) finds poor Harriet dead in her apartment of an apparent suicide, but Koch is wise to that. Nina's beautiful Sister, Nancy (Evelyn Keyes) comes into town to pick up her sister's things and find out what really happened, and the sparks fly between her and Johnny. This movie has a nice cameo with Jeff Chandler who plays a visiting gambler named Turk.
Rick Rudge
Johnny O'Clock Quotes
There are no approved quotes yet for this movie.